Posts tagged
Plantronics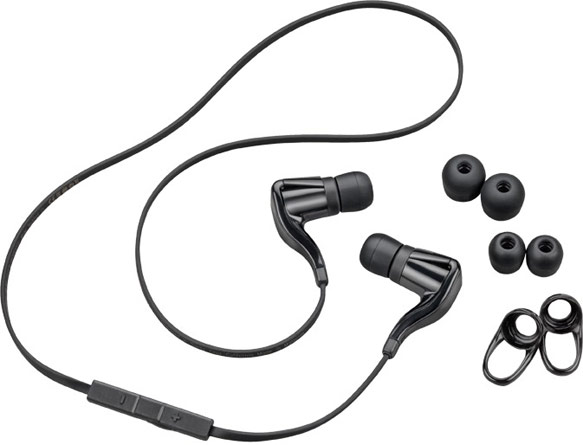 What's there not to love about wireless headphones? How can these not be standard issue already? We live in the 21st century. We can fit entire music, movie and gaming collections in our pocket, but we still have to be audio-tethered to our smart devices and tablets? Not so, people. There's a better way.
Plantronics BackBeat Go wireless headphones are the truth. They're manufactured in Santa Cruz, California (go Slugs!) and they do exactly what they were designed to do. It's easy to connect these things to any Bluetooth enabled device. It can handle voice calls, music, podcasts, movies and all that stuff.  The unit features an intuitive and unobtrusive control section right near the right ear bud. It's easy to power the unit on or off, adjust volume and control calls. When fully charged, you can get 4.5 hours of continuous listening action out of these things or up to 10 hours of standby juice.
If you're searching for insanely sophisticated noise cancellation or big time booming bass, these aren't the headphones you're looking for. The Digital Signal Processing and full duplex echo cancellation isn't terrible, but there are better options out there on the market, especially if you're willing to sacrifice the wireless factor. You can also get a lot more bass boost with another set of head phones, but again you'd be sacrificing comfort for boom boom.
And the comfort factor shouldn't be underestimated. The lightweight unit weighs less than half an ounce. The tangle-free cord combined with the lightness of the headphones makes for a super comfy experience all around. The cord that connects the two ear buds rests on the back of your neck, which makes it seem like you aren't wearing headphones at all. The cord doesn't tangle and it doesn't feel weird resting on your neck. It comes with a few different earbud options as well, so you can find the buds that fit you just right.
The Plantronics BackBeat Go headphones cost $99.99. Not cheap by any means, but the convenience and comfort factor is unmatched. If you want to keep listening to tunes in the office and walk up to 33 feet away from your desk, if you use your phone in your car and you need voice clarity or if you just like the idea of having headphones on that you'll totally forget about, these are worth picking up.