Posts tagged
Peter Mandoyan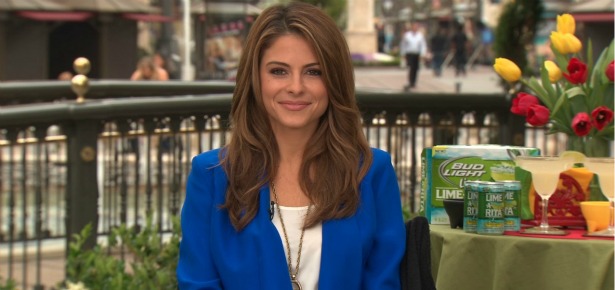 It's a Cinco de Mayo weekend, people! And if you're having a hard time deciding what to drink – beers or margaritas – Bud Light has a solution for you. The Bud Light Lime-a-Rita is an 8oz can of 8% alcohol that's a combination of weekend-ready margarita and a splash of Bud Light Lime. Best served over ice, this malt beverage will take the guesswork out of your weekend drinking plans. It's an all-in-one, all-inclusive answer to your Cinco de Mayo party needs.
To celebrate the launch of Bud Light Lime-a-Rita, we spent a few minutes chatting with the beverage's lovely spokeswoman, Maria Menounos. Menounos was born in Massachusetts. Her parents are Greek immigrants and she can speak fluent Greek and Spanish. In addition to being an absolute stone-cold fox, Maria balances a sporty/beauty pageant/journalism background with acting, TV hosting, celebrity dancing and even professional wrestling duties. Basically she does it all.
And when she's not putting up perfect scores on Dancing with the Stars, interviewing President Obama and the First Family, catching touchdowns from Joe Montana, winning tag team matches at Wrestlemania or losing Super Bowl bets that require her to sport a bikini in the middle of winter, Menounous still finds time to enjoy a beer or a marg or in this case, a beer-marg combo like the Lime-a-Rita.
We talked with Maria about the upcoming Bud Light Lime-a-Rita kickoff party this weekend at the Mandalay Bay Hotel & Casino in Las Vegas, dominating dancing and wrestling, staying so damn fit, what her Greek parents think about her racy photo shoots and a whole lot more. Here's the full interview:
We're heading out to the kickoff party in Vegas this weekend. We'll let you know how it goes! Have a safe and fun Cinco!