Posts tagged
Pepsi Next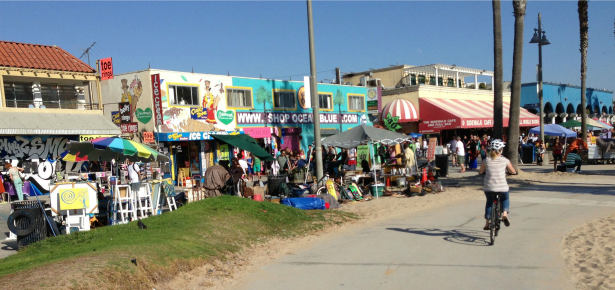 If you live on the Westside of Los Angeles, you've probably hung out in Venice at some point. There's just something about that slice of coastline where the bars the meet beach and tourists, hipsters, homeless folks and beautiful people all share the same gorgeous views and breathe in the same kush-flavored, spray paint-filled air.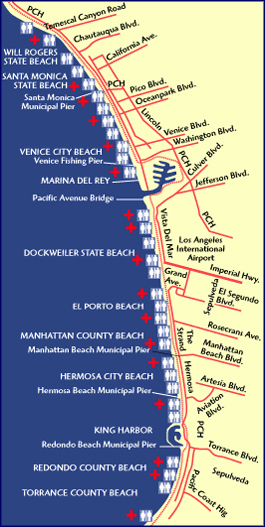 The best way to experience Venice is to combine day drinking with beach cruising on a warm, sunny day. The Venice Beach bike path is one of my favorite spots in the city. That little stretch of beachside boardwalk fun that runs from Venice to Santa Monica is a great spot to eat, drink, cycle and be merry. It's actually part of a larger path called The Strand (aka the Marvin Braude Bike Trail) that starts at Will Rogers State Beach in Pacific Palisades and ends 22 miles down the way in Torrance.
The current path was first proposed in the late 60s, but it didn't receive final approval until 1988. Beachfront homeowners weren't super keen on the development of the bike trail and all the riff raff it would bring to the area. Sullied views and all. These homeowners managed to block the path from reaching Santa Monica for more than two decades. The full path was finally completed in 1989.
My favorite spot on the path is On the Waterfront Cafe. It's on the Venice Beach Boardwalk and it's a great place to eat pretzels, drink Swiss and German beer (Bitburger, hmmmmm) and enjoy fantastic sunsets. Before you hit the Santa Monica Pier, Big Dean's is a great spot to grab a Newcastle, catch some sport and enjoy a really good burger.
You can carve a whole day out on the bike path. Beach cruisers can be rented at the end of Washington in Venice right by The Whaler. The path cuts through the sand and the Boardwalk and Muscle Beach and more herb doctors per square mile than any other place in LA. This place has its own particular character, and it's a must-see for anyone visiting the area.
So we've told you about some of our favorite Taste Escapes, but Pepsi NEXT wants to hear about your local gems. Follow the hashtags #PepsiNEXT and #TasteEscapes to learn about more cool spots. And if you want to win one of four fun getaways, make sure to visit the Unbelievable Taste Escape site today. It's the last day to enter!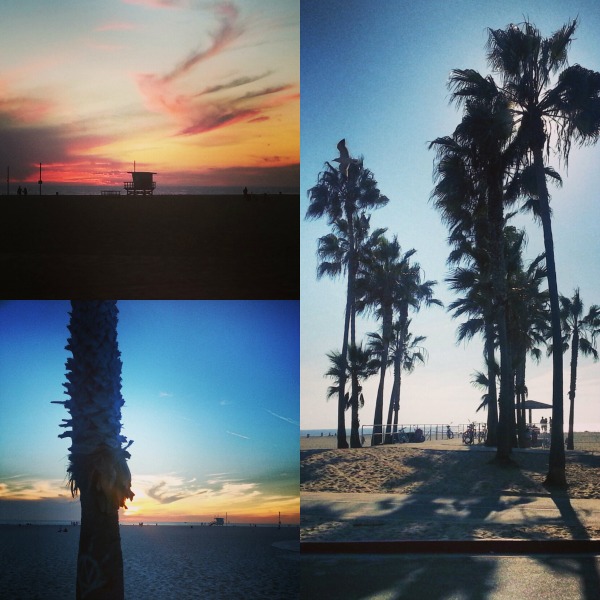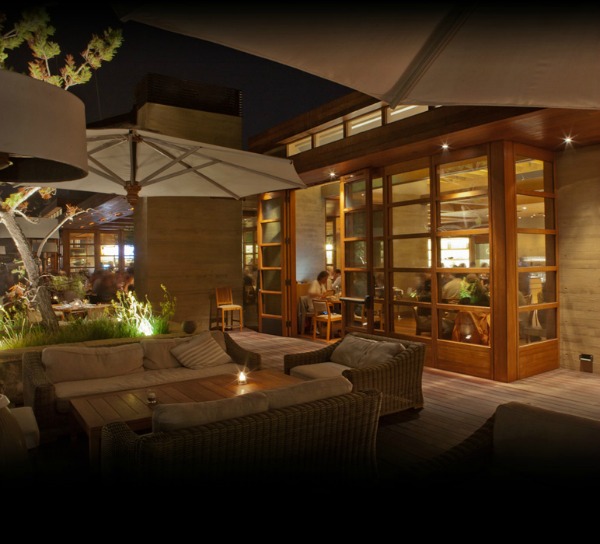 Pepsi NEXT is partnering with Airbnb to send lucky winners to cool destinations as part of their Unbelievable Taste Escape contest. Fans can get involved by sharing notorious hotspots and hidden gems using #PepsiNEXT and #TasteEscapes hashtags. You can also visit the Unbelievable Taste Escape site and win one of four fun getaways.
Our friends at Pepsi NEXT encouraged us to share some of our favorite local hot spots. Well there's are no shortage of amazing places to eat in the LA area. We got food trucks for days, authentic cuisine options from countless cultures, hidden hole-in-the-wall joints, quality fast food (I'm looking at you In-n-Out and Zankou Chicken), and upscale venues in every corner. Everyone fancies themselves a foodie in Los Angeles. It just goes with the territory. And it's not like we're all snobby about it either. We really do have some fantastic places to eat in this town, and we're damn proud of it.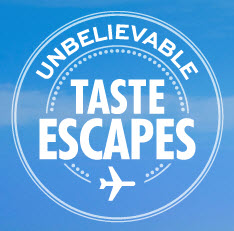 Nobu Malibu is one of these places. It's an experience. An event. Are there more legit hole-in-the-wall sushi joints in town? Most definitely. Hamakaze on Washington in Venice comes to mind. The Malibu location isn't the first or most notorious Nobu spot, either. Celebrity Chef Nobu Matshuisa has opened Nobu restaurants all over the world, from multiple locations in New York and LA to satellite restaurants all the way from London to Dubai to Melbourne to Moscow. There are more than 20 Nobu restaurants worldwide, but the Malibu spot is something to behold.
Nobu Malibu first launched in 1999 as a quaint restaurant couched in the confines of the Country Mart shopping center in Malibu. Last year, the new beachfront location opened up on PCH with tons of fanfare. It's a sprawling, grandiose location with floor to ceiling windows, rustic woodwork and views that can't be beat. I mean check out this sunset:
And that's just during cocktail hour. Things look this gorgeous before you even start tasting the food.
Then you get to the Yellowtail Sashimi with Jalapeno Peppers. I mean, just look at this plate: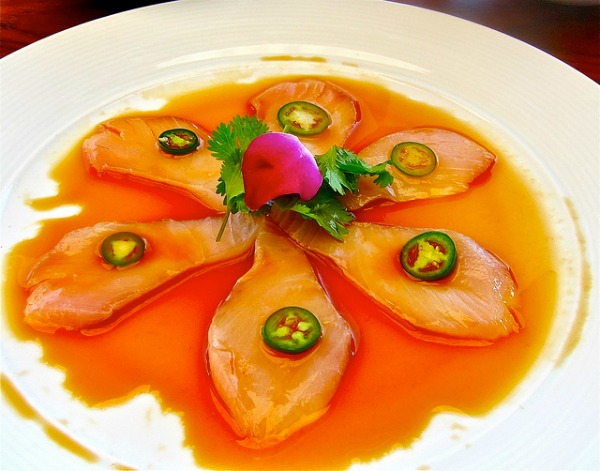 And then you hear the wait staff talk about the Japanese Wagyu Beef and how these cows are treated, how they get daily massages and live a life more luxurious than yours. After sampling top shelf sake in bottles the size of an offensive lineman's leg, you finish everything off with an amazing variety pack of deserts.
So yea, this place is a total trip, man. The wait staff is flawless (no unattended napkin shall remain unfolded!) and the sunsets are gorgeous. The parking lot is lined with supercars and it's a situation where you're like, oh look, there's Sting sitting at that table and there's secret service-level security all about to make sure he gets back into his Sting-mobile safely when he exits. All part of your typical Tuesday night out. Go check this place out!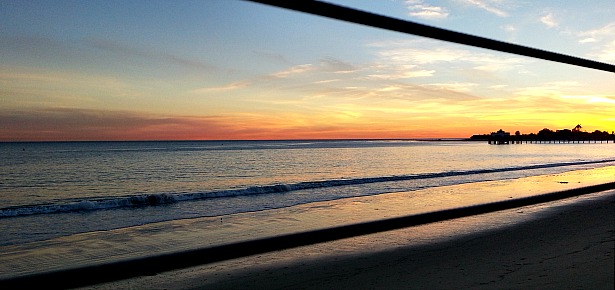 Yellowtail Photo Credit: jayweston@sbcglobal.net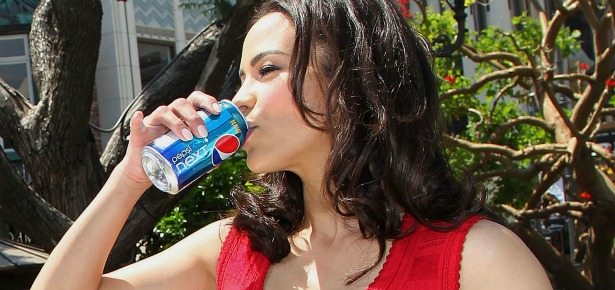 Paula Patton is a stone-cold fox. But I'm not telling you something you don't already know. You've seen Paula in films like Déjà Vu, Mirrors and Mission Impossible: Ghost Protocol. She's like a younger, longer-haired, happier version of Halle Berry. All comparisons aside though, Paula Patton is talented and gorgeous enough to merit all the attention she's getting.
In addition to promoting the latest Mission Impossible (now available on DVD) and her upcoming role in the film Disconnect, Paula just signed on to play Denzel Washington's love interest in 2 Guns. She's also been working with Pepsi to get the word out on their new product, Pepsi Next.
Pepsi Next combines four different types of sweeteners to deliver a cola product with 60 percent less sugar. The combination of high fructose corn syrup, aspartame, sucralose and acesulfame potassium results in a Pepsi that doesn't quite taste like a diet soda and is a bit mellow on the syrup factor than an original Pepsi. A regular Pepsi contains 150 calories and 41 grams of sugar. Pepsi Next has 60 calories and 15 grams of sugar.
To be honest, if I was walking around Los Angeles and Paula Patton asked me to taste-test a beverage as part of a "Drink It to Believe It" campaign, I'd probably drink just about anything. Believe that.
I did a quick interview with Paula this week and we talked about her involvement with Pepsi Next, the filming of Mission Impossible 4, Swedish actor Michael Nyqvist, Paula posing nude for her hubby's album cover and whether or not the original script for the film Mirrors called for Paula's character to sport a wet t-shirt through the entire third act of the film. Here's the interview:
Now go support Paula and try out this Pepsi Next business for yourself.