Posts tagged
Paula Patton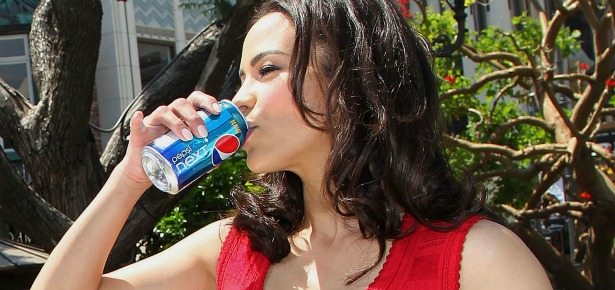 Paula Patton is a stone-cold fox. But I'm not telling you something you don't already know. You've seen Paula in films like Déjà Vu, Mirrors and Mission Impossible: Ghost Protocol. She's like a younger, longer-haired, happier version of Halle Berry. All comparisons aside though, Paula Patton is talented and gorgeous enough to merit all the attention she's getting.
In addition to promoting the latest Mission Impossible (now available on DVD) and her upcoming role in the film Disconnect, Paula just signed on to play Denzel Washington's love interest in 2 Guns. She's also been working with Pepsi to get the word out on their new product, Pepsi Next.
Pepsi Next combines four different types of sweeteners to deliver a cola product with 60 percent less sugar. The combination of high fructose corn syrup, aspartame, sucralose and acesulfame potassium results in a Pepsi that doesn't quite taste like a diet soda and is a bit mellow on the syrup factor than an original Pepsi. A regular Pepsi contains 150 calories and 41 grams of sugar. Pepsi Next has 60 calories and 15 grams of sugar.
To be honest, if I was walking around Los Angeles and Paula Patton asked me to taste-test a beverage as part of a "Drink It to Believe It" campaign, I'd probably drink just about anything. Believe that.
I did a quick interview with Paula this week and we talked about her involvement with Pepsi Next, the filming of Mission Impossible 4, Swedish actor Michael Nyqvist, Paula posing nude for her hubby's album cover and whether or not the original script for the film Mirrors called for Paula's character to sport a wet t-shirt through the entire third act of the film. Here's the interview:
Now go support Paula and try out this Pepsi Next business for yourself.