Posts tagged
Paul the Octopus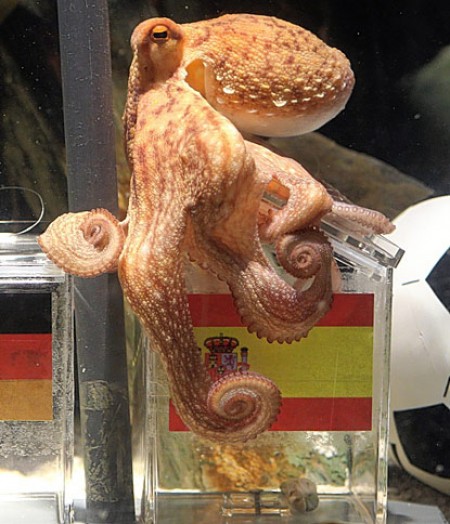 Paul, the psychic Octopus who's stunning accuracy in picking World Cup games earned him global fame this past summer, died on Tuesday at the tender octopus age of two and a half. Actually, two and half years is a long time for an octopus to live, and Paul lived a life that most cephalopod molluscs only dream of.
Paul the Octopus became an international star after correctly picking all seven of Germany's 2010 World Cup matches. He also accurately predicted the result of the final. This modern-day Nostradoctopus displayed 100 percent accuracy during the tournament. Paul also correctly picked four of Germany's six matches in the UEFA Euro 2008 tourney.
Before each Germany match, Paul would be presented with two plastic cases. Each case featured a flag of two competing countries and each case contained a tasty mussel. Whatever plastic box Paul swam to would be the team that prevailed on the pitch. Bitter Germans threatened to eat Paul after he picked Spain to beat Germany in the semi-finals. Paul the Octopus also received death threats after picking Spain to beat the Netherlands in the final.
Rest in peace you crazy psychic Octopus.