Posts tagged
Panthers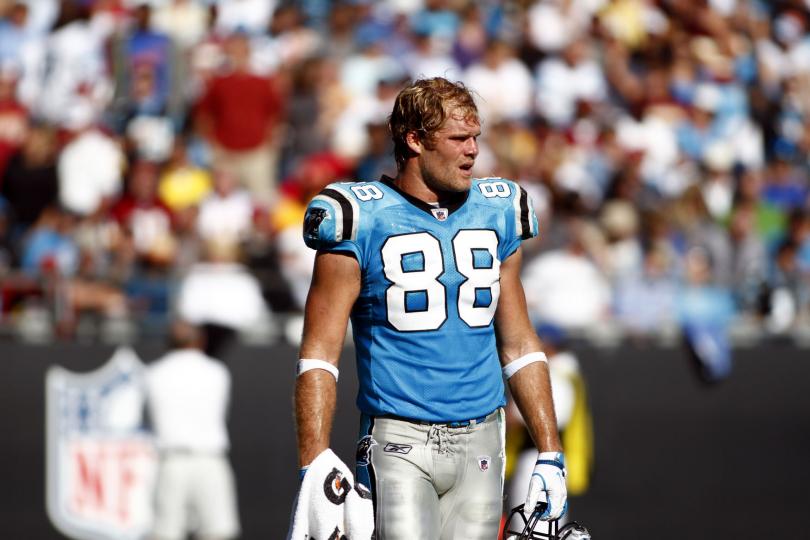 Greg Olsen plays in the National Football League as a tight end for the Carolina Panthers. He started his career with the Chicago Bears in 2007. He has been through a lot in the league, but he had his toughest challenge off the field. During the offseason in 2012 Greg and his wife, Kara were ecstatic when they received the great news of Kara being pregnant with twins. They already had one son and now their family was about to get bigger.
Sadly they got news that one of their babies would be born with a severe congenital heart defect (CHD), called Hypoplastic Left Heart Syndrome. Thankfully Greg and Kara went to Levine Children's Hospital where both babies were born. Their son TJ has CHD and he needed a few operations on his heart. Now almost a year and a half has passed and TJ is doing well.
The Olsen's wanted to help out other families who would deal with CHD. They set up "T.J.'s 'HEARTest' Yard" program under their Receptions for Research foundation. This program provides families of babies affected by CHD with many programs that include in-home, private nursing care, physical therapy and speech therapy as well as more outstanding services.
Greg was kind enough to chat with me about his family's journey with TJ and CHD, his foundation, and a bit of football.
Art Eddy: The second week of February is CHD Awareness Week. I am very grateful for you to take the time and talk about how CHD impacted your family. Two years ago when you found out that TJ had CHD what was going through your mind at that point?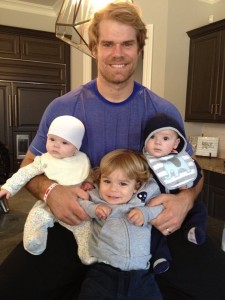 Greg Olsen: It was scary. Up to that point we really didn't know anyone who had a congenital heart defect. We got the news that he was going to be born with a serious heart defect called Hypoplastic Left Heart Syndrome. It came to us as a great shock. We were obviously scared. There was a lot of uncertainty. It was something as a family that we had to work through.
We have had unbelievable doctors and the care that our son was able to have here. We were very fortunate that he is almost a year and a half. He really has come a long way.
AE: Reading up and watching videos on your family's journey it looks like TJ's battle with CHD made you guys a stronger family. You don't sweat the minor things. It is incredible to watch the strength that these kids have as they battle with CHD. As a father how did you try and keep it together for the rest of the family while TJ was going through his procedures?
GO: It was hard. We had our weak moments. We definitely had our moments where we could have handled it better. You just try and do the best you can. We took it one day at a time. We would try not to get ahead of ourselves trying to predict the future.
That worked for us. Worrying about the moment now. What is the best thing that we can do for the long term health of our child, but what could we do today? It wasn't what can we do in six or eight months. We got the diagnosis early before the babies were born. It gave us a lot of time to help prep ourselves. It also gave us a lot time to sit back and worry. It was a tough time there before the babies were delivered.
Once they were delivered I think it was nice to just move forward to the surgery. At that point it became real as opposed to just sitting around waiting.
AE: I really appreciate all the work you and your staff do for your foundation Receptions for Research. Tell me a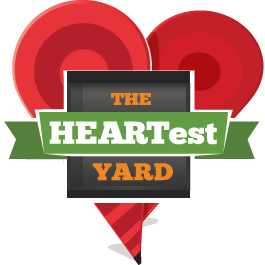 bit about the foundation and T.J.'s 'HEARTest' Yard.
GO: Receptions for Research is our family's foundation. In the past year or so we started the "HEARTest Yard" program with Levine Children's Hospital here in Charlotte. This is where TJ has had all his surgeries. That is where we have gotten all our medical care.
We approached them about starting a cutting edge, never been done before privatized health care program. Administered by the hospital, but completely funded by us through our foundation. It is done either by us personally or by our fundraising efforts. It brings that world class care from the hospital and bridges it into the home.
That is the biggest thing that we felt we could have used. More help to bring in specialists. Bringing in nursing care. Bringing in physical therapists. All of those things. That is really the inspiration of what the program is. There is a handful of families that have already started in the program. We continue to get unbelievable feedback about the efforts to help the family's peace of mind and more importantly the health and future of the baby. It really has been positively received and we are very excited about it.
AE: How can people help your foundation out?
GO: They can visit our website, Receptions for Research dot org. One of our main pages there will be the "HEARTest Yard" link. It will bring up all of our future events. It will give ways that people can sponsor. It will give a little more information about the actual program. It will give more information on what Hypoplastic Left Heart is. They can pretty much get everything about the foundation, the hospital, what actually HLHS is all on the website.
AE: How has becoming a dad changed you?
GO: You learn a lot as a person. You learn a lot as a family. It is the most scary, the most nerve racking, but also the best thing that has ever happened to me. Being able to come home and see these kids every day. All three of them run to the door now. They say hi and their eyes light up. It is just something special. Until someone is a father it is really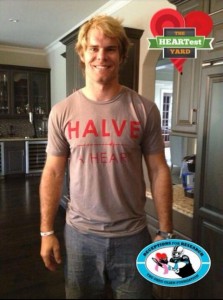 hard to explain it to them. I could go on for what it means to me. Especially what has gone on in our family over the past year has made it even that more special.
AE: What advice do you have for new dads out there?
GO: It is not going to be easy. There is no manual. It is not just come home and play catch all day. There is a lot of work. You need to put the time in to teach your kids on how they are supposed to act. Everything they learn is from you as their parent and as their dad. Especially the different relationships depending if you have a boy or a girl and the different dynamics that are in those relationships.
You kind of just learn on the fly. That's at least what I did. You are not perfect, but you try to be the best you can for your children.
AE: Switching to the NFL. You and your team the Carolina Panthers started off rocky, but finished strong to get the number two seed in the NFC. What did you learn about your team this season?
GO: We really came along way. We were able to accomplish a few of our goals. We won the division. We were able to make it to the second round of the playoffs. We were able to accomplish some of our goals. Obviously we fell a little short of the ultimate goal of making it to the Super Bowl. It is something to at least build off of. We are eager to get started again and make another run.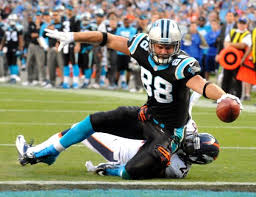 AE: When do you start to worry about the next season?
GO: Probably sometime in the next couple of weeks. I will start back up my training. Start getting everything lined up to get prepared physically and put all of that inline. I have taken the past few weeks just hanging with the family. Each day we take a few trips with the kids. Just trying to be around here and taking them to school, picking them up from school, and being there for dinner. That is something this time of the year that you have to take advantage of. I will get back to my training in a few weeks.
AE: Growing up did you have a NFL team that you would root for and did you have a favorite player?
GO: No I didn't. I grew up in Northern New Jersey right outside of New York. So the New York teams were very prevalent up there. We would follow them there. They were the local games. So I guess them, but we were more into college football games. College football was something that was more on our horizon when we were growing up and getting into high school. I don't think any of us could have imagined playing this long in the league. It is something that is incredible, but I don't know if it was something I thought I could do all along. So I would say college sports was more of a bigger deal growing up.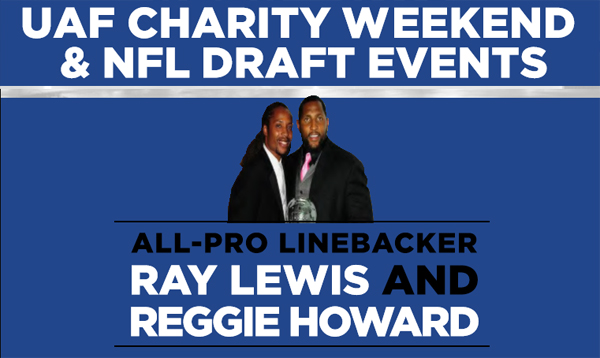 Reggie Howard played for six years in the NFL. He played for the Miami Dolphins and the Carolina Panthers. He is retired from the game and is now helping out other athletes by empowering then to impact communities through education and social development. Along with Ray Lewis, Julius Erving and others they are looking to make a difference in their communities with the United Athletes Foundation.
They are having a raffle where you have a chance to win a trip to New York City to meet Ray Lewis during NFL Draft weekend at various VIP events! The deadline to enter is April 23! Click here for more details.
The United Athletes Foundation is a 501c3 public non-profit organization created in 2008 by a group of professional athletes who understood their unique role in improving the lives of both the athlete fraternity and society in its entirety. To date, there are more than 90 professional athletes associated with the UAF including members of the NFL, NBA, MLB, WNBA and professional boxing.
I was able to chat with Reggie about the NFL Draft weekend promotion, the UAF, and football.
Art Eddy: Tell me about the promotion you have for your foundation, the United Athletes Foundation and how it revolves around the NFL Draft weekend.
Reggie Howard: We have a nice promotion for the fans. For the past four years we have been working events at the NFL Draft weekend with players become of aware of financial security. We also have an award ceremony where we give an award to the MVP of the community.
So this year we thought it would be great to have this promotion where we put out a raffle where one lucky fan can have the opportunity to attend the event with an all-expense paid trip to New York City and bring one guest to hang out with the UAF. We have been getting the word out about and people are getting excited. This year we have one of the key members of the United Athletes Foundation, Ray Lewis and he is the key spokesperson for this. The winner gets to spend time with us and see what our foundation does and how we help out the community.
AE: You are working with Ray Lewis for this promotion with the UAF for the NFL Draft weekend. How is it to work with Ray for this promotion?
RH: Ray has been great. He is actually one of the co-founders of the United Athletes Foundation and is also the chairman. He is a guy that really cares about the community and has a big heart. One of the main things that we focus here in our organization is to let guys know how important it is to be community leaders.
The second thing is that the NFL is great, but there are things outside of the game that we really need to have a focus on and that is family, community, and a great understanding as it pertains to financial literacy. That is one of the big things in our organization. We need to put things in place where guys have resources where they can learn more about finances. They can also learn to be protected from fraudulent financial activity from advisors.
It is a great weekend because we have great events planned. We had Jim Brown pass the torch so to speak to Ray and one of the people we are thinking of presenting the MVP award to is Adrian Peterson. He is a great guy that is not only a stellar player on the field, but also has a big, big heart for his community. UAF is all about team concept in the world of philanthropy and showing the importance of what our responsibility is to the community.
AE: In your NFL career you played mostly for the Panthers. Looking back at your career what stands out the most with your time in the NFL?
RH: I really enjoyed my time playing in the NFL. It was a great experience. I would say the biggest thing is the camaraderie of playing with players and competing on the top stage. Playing in the NFL is going up against the best of the best. Every day that you go out you are competing at your highest level.
One thing coach (John) Fox told us is that if you are not getting better you are getting worse. Nobody ever stands still. It is a true statement. Anytime that you are not putting forth your best effort you give an opportunity for your competition to get better. For me it was definitely the camaraderie of it. The highlight was playing in the Super Bowl. There is no feeling like that. To be on stage where all eyes are on you and you are trying to win a championship. Not everybody gets that opportunity and when you get there it is a special, special moment.
AE: Speaking of Super Bowl XXXVIII, you and the Panthers fell short of beating the New England Patriots. You did intercept Tom Brady though not that many people can say they did that. Do you remember that play?
RH: You remember everything you did in that game. It was funny because when we were preparing for the Patriots it was very hard. They had so many packages out there offensively that you never knew what they were going to do. They had so many things that they could do as an offense that it was hard to prepare for them. It is hard for a defense to pick up tendencies on teams like the Patriots. That is why they are so successful offensively.
On that play that I got the interception on is funny because that is one of their key plays and key formations that they run. This was one formation that we prepared for that week. They like to have trips on one side and two receivers on the other side. They like to run double smashes from the outside receivers and have the inside receiver run the seven route to the corner.
I basically recognized the formation. I played it where I led Tom believe that I was going to man to man and then I actually backed up and I got the interception. I got tripped up by one guy and if not for him I could have taken it all the way. Muhsin Muhammad took it to the house after we got the turnover and helped us with gaining some momentum. It was a great game and it came down to the wire. We are not the only team to lose to the leg of Adam Vinatieri. (Laughs) After that the NFC Championship ring went back in the closet and I didn't want to see anything with a Patriot sign on it. It is no fun being second place at the Super Bowl.
AE: Playing cornerback is tough since you are going up against some great athletes. Who was the hardest wide receiver to cover?
RH: I would have to say Randy Moss. At that time he was playing in Minnesota and that guy was tough to cover. He was well feared by players back at that time.
AE: Who talked the most trash?
RH: Keyshawn Johnson by far. Keyshawn talked a lot. I would say looking back it had to be Keyshawn. That guy was always talking.