Posts tagged
Nick Offerman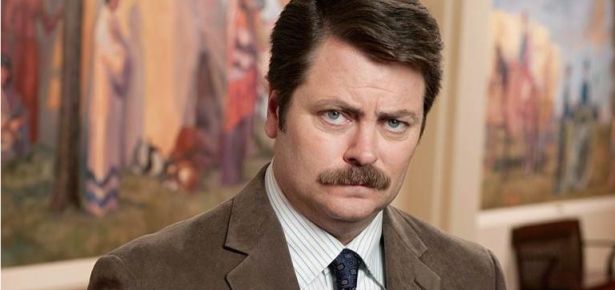 Nick Offerman, who plays salty department head Ron Swanson on NBC's Parks and Recreation, knows a thing or two about awesome facial hair. His character's signature stache is Selekesque. Really, it's that impressive.
Now Offerman is putting that impressive facial hair to work for a good cause. Offerman recently teamed up with Budweiser for the"Grow One. Save a Million." campaign. The campaign asks guys to hold off on shaving for 10 days leading up to World Environment Day on June 5.
On average, dudes waste an estimated five gallons of water with each shaving session. By asking guys to grow out their beards and staches, Budweiser hopes to save 1 million gallons of water.
We got to chat with Nick about the campaign, his Chicago theater roots, beards vs. staches and woodworking. We also asked Nick who gets more laughs at home, him or his wife, the always funny Megan Mullally from Will & Grace and Party Down. Here's the full interview:
To learn more about the Budweiser "Grow One. Save a Million." campaign, check out Budweiser's Facebook page.