Posts tagged
New York Yankees

For die-hard New York Yankees fans the world over, trying to put a list like this together is a ridiculous task. What the heck are you supposed to do? It's the stuff of nightmares, to be honest. What about this guy, what about that guy, better change up the list version, add another modifier, etc. Nightmares, I tell you. So — here was my list of solutions: narrow it down to the modern era. Like that's gonna' help much at all. Oh well. Second, don't make it about hitting or pitching or Gold Gloves or All Star nominations, etc. Make it about clutch players, the whole diamond over. Still, this is by no means a small feat.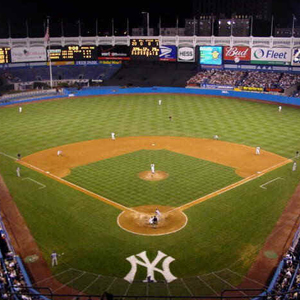 Here's my list of a few top Yankees, all playing in the modern era, all doing what they do to contribute in the clutch moments of the game, the season, the Series. That means biggest saves of all time. That means multiple home runs in the post season. That means home run records and super high RBI production. That means bottom of the ninth walk off hits like we Yankees fans have come to depend on. So here goes; Top 5 Clutch Yankees.
5) Reggie Jackson
The ego and brazen nature of the icon who is known as Reggie Jackson was not always a Yankee, no. We know this. And yet, you'd be hard pressed to try not including him in a list of this nature. Flash back: 1977 is the year. It's October, a month for which this man was ultimately nicknamed. And why? Well, figure it out. If it's hard enough to hit a tiny little ball coming at you from close range at nearly 100mph, then try to up the ante and do it when the entire title is on the line. That's what he's known for. Three home runs in a single game of the World Series? Notches in the belt also include 5 World Series titles, inclusive career-wise (two Yankees in that list), fourteen All Star game appearances and a spot at lucky number 13 on the all-time home run leader list, with 563 homers.
4) Mariano Rivera
Don't argue. Like a dog, I will tell you to go and lay down in your bed if you choose to argue. This is the single greatest closer in all of baseball, perhaps in all of the history of the game of baseball. Sure, they rack up stats that count to some people, saves, strikeouts, memories. Whatever. You want offense. You want twenty-plus wins a season. That's what you want to see to make a Top 5 Yankees list? Well this is clutch play, and there is perhaps no one of greater value to a team than their closer. And this is the Yankees closer for more than a decade. And astronaut alien grizzly bears using the state of Rhode Island as a baseball bat can't hit the guy, so go lay down. Four World Series and the lowest ERA in the post season, ever.
3) Whitey Ford
This is weird, but running down the statistics I don't see how to not include the guy. Here's his rap sheet, and you can argue this one amongst yourselves or in the comments of the post: Hall of Fame Inductee 1974, full career with Yanks, six World Series under the belt, Cy Young in '61, World Series MVP in '61, Babe Ruth Award in '61, retired jersey, ten All Star game appearances.
2) Mickey Mantle
Some of the longest home runs ever hit in the history of the game. Seriously. All Star game appearances in nearly every one of his eighteen total seasons. Seven World Series titles and eighteen total homers in those appearances. Three MVP awards in the American League, and a Triple Crown distinction as well. Retired jersey. Major League Baseball All Century Team, people. Check it.
1) Joe DiMaggio
Entire career played as a Yankee, which gets big points. Any contribution made during his career, was laced up with pinstripes. Multiple MVP awards for the American League. But that doesn't do any justice to the history making efforts of DiMaggio. Maybe you're reading this and you won't know what The Streak is. Hell, I'm too young too, but I know. You try doing anything 56 times in a row, in any organized sport. And try doing it with the thing being thrown at you. Unbroken record, people. There are few sports feats in existence that have that as a caveat. 56 games in a row with a hit. Yikes.
(Image Via: On the Buzzer)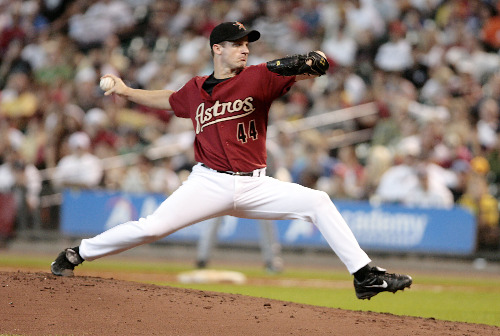 Oswalt is trying to be the nice guy. You can see it. You can hear it. He hasn't been overly demanding, but he wants the heck out of Houston. Who can blame him? It's so freakin' humid there. The franchise is well aware that freeing up Oswalt might also offer them a bat or two to build with, as well as a prospect or two, but where would Roy end up?
All signs have been pointing to Philadelphia. In fact, if you watched ESPN's Monday Night Baseball, it was all the commentators were talking about after the Cardinals went on a home run barrage, tagging 4 in two innings. At present, Oswalt's contract demands seem to be the issue in moving the deal forward between Philly and Houston, namely the 16 million dollar option he has for 2012. He wants it before he would agree to a trade. It's one thing to ask this Roy to go play second fiddle to the other Roy (Halladay) they picked up in Philadelphia in the off-season, but I just can't see Philly agreeing to the tie up an additional 16 mil. for the 2012 option.
I think this deal is dead in the water. Had they started negotiations earlier, or perhaps if Philly looked like they were going to compete with Atlanta in the NL East this year, it might be a different story. I think Roy will pitch out the season in Houston, and once the off-season rolls around, you might see some movement from one of the AL east coast squads with a little more money to toss around.
Other trade rumors a-flyin'? Well, not so much. A little bit of something surrounding Arizona Diamondback's Dan Haren, but other than my own personal bias for the St. Louis Cardinals and wanting to see the kid come back to where he began his career, not a lot has been said–some potential interest from Philly. I don't think Haren has much of a desire to pitch east of the Mississippi. I'm hopeful the Cardinals are doing things quietly, similar to their acquiring Matt Holliday around this time last year. (Yeah, I want Haren back in the STL. I'm still bitter about the Haren/Calero for Mulder trade back in '04. Worst deal ever.)
Someone is going to make a move before the July 31st deadline, and it will probably be a significant move–the only question: Who's it going to be? I certainly don't think it'll be Roy Oswalt
(Image via: Around the Horn Baseball)