Posts tagged
NASCAR Sprint Cup Series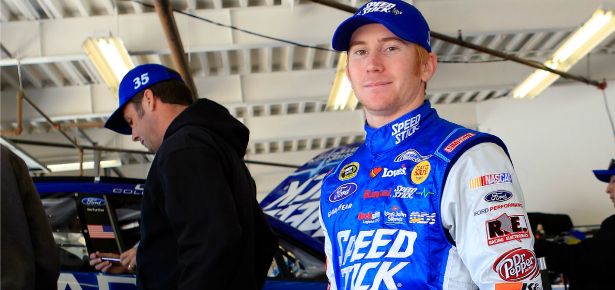 I'm not going to pretend to know Cole Whitt. I mean, how can you really get to know someone after two interviews and a weekend in Daytona? But I think I got a good read on the guy, and if I could use one phrase to describe him, I'd say that he's approachably focused.
He's equal parts humble and hungry. Whitt doesn't carry himself like a superstar race car diva. He's got work to put in and he welcomes that work. That doesn't mean he won't flash a big, genuine smile when meeting a fan or take time to answer silly questions from bloggers like me.
When you meet Cole, you sense quickly that he's a private guy. Not a limelight seeker by any stretch. He prefers CrossFit and the outdoors to press rooms and podiums. Behind this surface of shyness, though, there's a big heart and a ferocious sense of purpose. You don't earn a nickname like the Ginger Lion by being a pansy.
It should be noted, that racing ain't easy, man. Especially if you want to compete in the NASCAR Sprint Cup Series, the nation's highest stock car division. It's a taxing endeavor all around. You need financial backing from your teams and sponsors, and soul support from your family and crew. On a weekly basis, you have to overcome the physical rigors of driving hundreds of miles with inches separating you from disaster. Then there's mental prep required to get your head right before, during and after competition.
This is some seriously stressful stuff, but the stakes are high, my friend. This year's Daytona 500 had a purse of over $18 million. That's a lot of coin for 43 drivers to chase in one day.
Thanks to our friends at Speed Stick, we were able to follow Cole Whitt's full experience of the 2015 Daytona 500. Join us for a moment as we step into his racing shoes…
Imagine you're a pocket-sized, 23-year-old professional driver entering your second full season in the NASCAR Sprint Cup Series. You're a full-blown ginger and your height and weight aren't listed on your NASCAR profile. The biggest expectations you have come from within. You're confident, because you've been racing for more than half your life. There's doubters all around, but not in your inner circle.
Your first season had its set of challenges. Your car got jacked up during practice at the Daytona 500 and there was no backup car available. Your team rallied to make repairs, just to get you into qualifying. With no guarantee that you'd even compete, you make up eight spots on the final five laps of your Budweiser Duel to secure entry in the 2014 Daytona 500.
You showed a ton of promise in your first full Sprint Cup season. You finished better than you qualified in three of every four races you entered. You created some rookie of the year buzz and things looked promising.
With little warning, your racing team shuts down operations in April. You switch teams to close the year out and it's unclear who'll have a spot for you next season. Shoulder surgery that cuts into your offseason prep, but at least you secured a spot a new team. With your second season set to begin, you find yourself back in Daytona needing to fight your way in again.
This is where the Ginger Lion stood, right before the Budweiser Duels. Running in the #35 car for Front Row Motorsports, Cole Whitt was on the outside looking in and needed a good showing to earn a spot in the Great American Race. It's #DefyTheDoubt time for damn sure.
"I told all the guys, it's like, everything kinda rides on the 500," Whitt said after qualifying. "If we can get into the 500, from there, the pressure is a little bit off. We still got a lot of work to do for sure, don't get me wrong. But missing this race could turn the whole career to the wrong side. It could make it pretty hard to get through the season."
So, no pressure, right?
"I've been through this situation more times than I want to be. Last year was very stressful and this year was just as stressful. As far as I was concerned, we had to run top 15. And we did."
Whitt's strong finish in the Budweiser Duels meant that he punched his ticket into Daytona to start the 2015 season.
"To be able to lock ourselves in and get all three cars in and push Front Row down the right path, it's going to be awesome. I look forward to see what we can do this year."
Speed Stick gave us the opportunity to follow Whitt and his #DefyTheDoubt attitude around Daytona for an important weekend in his young career. Here's the beat and video we put together to chronicle the experience:
November Update
The folks at Speed Stick shared this sweet video chronicling our boy Cole Whitt's complete sophomore season in NASCAR. Check it out: