Posts tagged
Mt Dew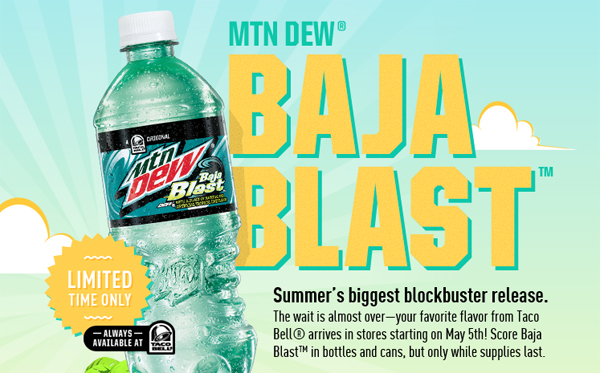 Mountain Dew announced today that, for the first time, Mtn Dew Baja Blast – which was introduced 10 years ago as a "Taco Bell® Original" – will also be available for a limited time in bottles and cans.  The tropical lime flavored beverage will hit shelves starting on May 5.  While Mtn Dew Baja Blast is always available at Taco Bell, consumers will have to move fast to buy it at retail, as the fan-favorite will head back to Taco Bell exclusively at the end of the summer…or when supplies run out.
Mtn Dew Baja Blast will be available in single serve 20 oz. bottles and 24 oz. cans, as well as 12-packs of 12 oz. cans.
On May 5, fans will also be able to download and play the "Baja or Bust" mobile gaming app.  Based upon the widely-played Motocross Elite app, "Baja or Bust" will be available for iOS and Android platforms and will: enable players to enter for a chance to win exciting prizes, including adventure and beach vacations; and be able to enter codes, available under every cap of Mtn Dew Baja Blast, to unlock in-game upgrades and advantages.
Visit www.MountainDew.com/BajaBlast or Facebook.com/MountainDew for more information, and join the conversation at @mtn_dew #SummerOfBaja and  @TacoBell #SummerOfBaja.