Posts tagged
Motorola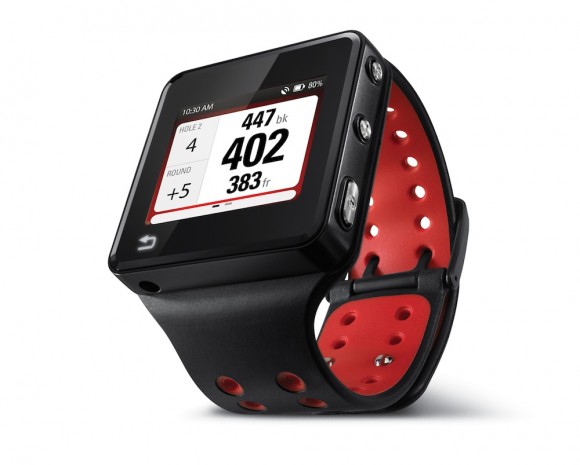 Do you love your dad? Of course you do. Have you been a cheapskate when comes to showing your Pops how much you care about him? You probably have, you thrifty spender, you. Do you have a game plan for a Father's Day gift this year? Dude, it's coming up quick. And seeing how you haven't really done anything super nice for your dad in awhile, why not splurge on a sick Father's Day gift this year? They guy's earned it.
Well if your dad is like most dads, he probably likes golf. There's just something about getting older that makes you appreciate man vs. well-kept nature situations, hanging out with other fellas in goofy looking clothes and so forth. If you want to support your father's golf addiction, do it in style this year. Get him the MOTOACTV Golf Edition.
This device is kinda complicated, so your dad will love it. The MOTOACTV Golf Edition combines tons of interesting fitness functions with a sweet set of techy, golf-related insights. This thing wasn't designed for the dad who enjoys the occasional round of putt-putt. This is a serious piece of technology with a bit of a learning curve that's designed for true die-hard fitness and golf-types. Motorola even teamed up with Masters champ and all around good-guy PGA star Bubba Watson when they developed this thing. Here's a video of Bubba breaking down the device:
The MOTOACTV wasn't always designed with golfers in mind. The original MOTOACTV was a small, clip-on device that provided tons of data on your regular exercise routines. The fitness functions are still a core part of what the unit does. This mini Android device can help you track the number of steps you've taken, the distance you've traveled, the amount of calories you've burned and the type of music you like to listen to when you're hitting your fitness stride (yea, built-in MP3 player). Users can also connect to MOTOACTV.com to upload stats and keep track of fitness progress.
Now in addition to all of these fitness features, the MOTOACTV Golf Edition adds in stuff like a GPS golf tracker, virtual caddy and an online clubhouse. You can visit 20,000 courses worldwide and this thing will pull up info on every single hole – distance to the front, center and back of the green, info about hazards, scorecards, club recommendations and a bunch of other stats. You can also sync up to the MOTACTV.com site and get visual representations of the rounds you've played.
I tried this thing out a couple times at a small par-3 course in West LA. Without connecting to the web, the GPS-function identified the course I was at and brought up info on each hole. If it can pull up a small par-3 course instantly, it'll be easy to find the regular courses you frequent.
Like I said earlier, the device does come with a bit of a learning curve. This isn't something that you whip out on the course without reading the manual first. It's not that it's counter-intuitive or anything. Navigating the buttons and screens is actually pretty easy once you get the hang of it. But to understand and appreciate all of the device's functions, you should certainly educate yourself on it before you put it to use.
Being a super novice on the golf course, I did find the thing useful. Knowing the distance to the tee before every shot will definitely help improve your game. The virtual scorecard is pretty cool too, but you may find the old fashioned pencil and paper routine to be an easier scoring option. Still, it's nice having a digital reference for multiple golf rounds, so that you can track your progression over time and identify holes that give you trouble.
The clip-on device can be combined with a wristband accessory for convenient, sporty use on the links. It charges via USB and can be synced up to your Android smartphone or desktop. The MOTOACTV Golf Edition isn't cheap – the MSRP for the device is $299.99 – but again, when was the last time you really splurged on your dad? If he enjoys working out and he loves to golf, you can't do much better than this.
So show your dad some love this Father's Day and get him a compacy, powerful piece of technology that'll improve his golf game and motivate him to get exercise a bit more. He'll certainly appreciate it.