Posts tagged
Mitchell & Ness Nostalgia Co.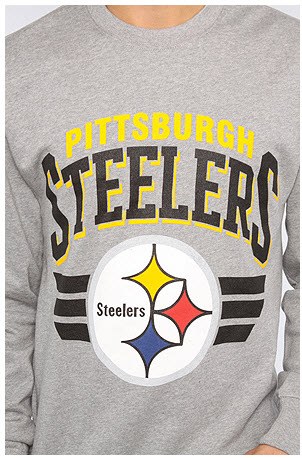 The NFL playoffs are right around the corner, and it's not too late to show your team spirit with a bit of an old-school flavor. Karmaloop's Mitchell & Ness Nostalgia Co. collection offers some pretty sweet throwback gear for teams from the NFL and other major sports.
Sure, Mr. Purist, it would be nice to get your hands on the real, authentic, old-school deal, but you know it's just way too hard to track down your favorite team's throwback stuff at a thrift store, flea market or other vintage purchasing spot. Plus, if you do find old-school gear for your team, it may not be in the best shape. And it may not be as comfy as the new-school throwbacks that are currently available from Mitchell and Ness.
We were sent an extra cozy Steelers sweater, and I got to say with LA temperatures hitting an all-time low of 55 to 60 degrees, I've been sporting this thing on the regular. It's super-soft, pretty durable, and it's something you can wear on the couch, in the bar, out and about, you name it.
So if you want to support your team going into the playoffs (or if you're a Jets fan and you just want to show your rebellious pride/hope for next season), I suggest checking out the collection of old-school gear (hats, jackets, sweaters, jerseys) available from Mitchell & Ness Nostalgia Co. Stuff isn't cheap, but you do get what you pay for: unique, high quality, throwback team support apparel that's totally worth the price.