Posts tagged
Michelle Beadle

The weekend's almost here, people. Things aren't that bad. If you need some help getting through the day, check out the SportsNation FAILy Awards on ESPN2 at 4PM EST. The FAILy Awards celebrate the most epic sports fails of the year.If you think you're having a tough day/week/month, just remember, it could be a lot worse. Take a look at all these FAILy nominees: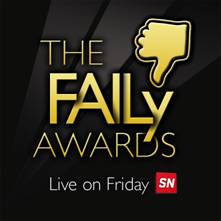 Celebration FAIL
Nate Robinson jumps on Paul Pierce and falls to the ground
Rollerblade racer celebrates too early and loses at the finish line
MMA fighter dives off top of cage and nearly knocks himself out
Teamwork FAIL
Virginia Cavalier falls off horse
Phil Jackson awkwardly misses fist-pound with Kobe
Scott Tolzien gets ignored by Wisconsin teammates
Goalie FAIL
David James misses bouncing ball, allows goal
Sander Boschker swings leg and misses, allows goal
Goalie does cartwheels on free kick, gets scored on anyway, taunted by opponent
Dunk FAIL
Suns spirit squad guy dunks himself by accident from trampoline
Streetball dunker gets leg stuck in rim, needs ladder to get down
Javale McGee takes off from free throw line, comes up short
Footwork FAIL
British cheese rolling down a hill
Asian hurdler wipes out, then cheats his way to finish
Minor league mascot falls off dugout while dancing
Helmet FAIL (Marcellus Wiley presents)
Owen Schmitt bangs helmet on head til he bleeds
Mike Orakpo crushes helmet off other dude
Two NFL guys get helmets stuck together
Equipment FAIL
Boxer's fall thru ropes of ring
Ohio State tuba player drills camera
Chelsea player's shorts fall off
Face FAIL
Dan Henderson gets kicked in the face by Anthony Pettis off the cage
Belfort gets kicked in the face by Silva
Amazing Race contestant gets hit in the face with a watermelon
Nothing brings people together like celebrating the failure of others with Colin Cowherd and Michelle Beadle! So tune in today, enjoy a chuckle or 10 and remember that no matter how bad you think you have it, someone else has failed even worse.