Posts tagged
Mazda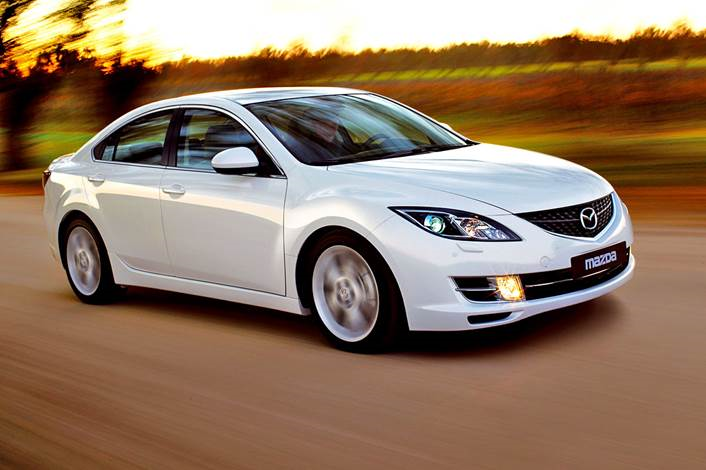 As classes begin at college campuses across the country and newly minted co-eds embark on the next big step, avoiding the infamous "Freshman 15," buddying up with the dormitory hall monitor and finding the right car to help make campus life a little easier are all things on the to-do list.
To help with the latter, Cars.com editors Jennifer Newman and Kristin Varela put their heads together to bring new meaning to the Freshman 15. Instead of counting carbs, they're counting cars, breaking down a list of the best rides for university living. From the tailgate-party ready Kia Sportage to the affordable yet sporty Mazda6, this list has a little something for everyone.
Cars.com "Freshmen 15" – Top Cars for College Students
Used Cars
2009 Ford Focus
It's not the most exciting-looking car, but this sedan handles well and has a plenty powerful four-cylinder engine that'll make it easy for college-age drivers keep up with traffic on the highway to university.
2008 Ford Fusion
This midsize sedan has good ride quality, but college students will appreciate its roomy trunk – perfect for hauling loads of laundry back to Mom and Dad's house.
2008 Ford Taurus
Whether you're hauling friends around town or hauling your worldly possessions to campus, the Taurus has plentiful passenger and cargo room.
2007 Honda Civic
Most of us remember scrounging for money to pay for gas when in college, but the fuel-efficient Civic, with a EPA-estimated 29 mpg city/highway combined, will help college students stretch their dollars.
2009 Hyundai Sonata
If Mom and Dad are buying a car for their college-bound student, the Sonata will likely be at the top of their shopping list because of all its standard safety features including an electronic stability system, which was optional in many other 2009 models.
2008 Kia Sportage
The Sportage is a small crossover with used-car affordability. A standard fold-flat front passenger seat makes the Sportage a great choice for those epic cross-country dorm-room hauls.
2008 Mazda6
The first-gen Mazda6 remains a compelling choice for the collegiate bound willing to sacrifice a little cabin room for sportiness. Vroom Vroom!
2007 Nissan Altima
Students excelling in the study of vehicular podiatry (aka lead-footed syndrome) have their chariot in the Altima, whose engines, a capable four-cylinder or big V-6, employed manual or responsive continuously variable automatic transmissions.
2008 Scion xB
If the xB's polarizing styling suits you, there's a lot to love about Scion's boxy runabout. Plenty of standard safety features, including six airbags and an electronic stability system, make the xB a natural choice for young adults lacking a fully developed frontal lobe.
2007 Toyota Prius
Even by today's standards, Toyota's iconic second-gen Prius still gets excellent mileage (46 mpg).  Its reliability is also a winner even in this above-average crowd, both features to be appreciated by the ramen-eating portion of our population.
New Cars
2014 Hyundai Elantra
This compact sedan, which also comes in coupe and hatchback body styles, is a good fit for college students thanks to its good interior quality, roomy seats and trunk, and top crash scores; and its lengthy warranty will put any college student's mind at ease.
2014 Kia Soul
Kia delivers an all-new Soul for 2014 in an ever-so-slightly more mature version that still manages to keep its youthful Soul soul. College students craving adult independence while still clinging onto their carefree youth will fit this functional hauler perfectly.
2014 Mazda CX-5
With its good looks and even better 2.5-liter four-cylinder engine that makes driving spirited, this compact crossover will be the car of choice for college drivers and their friends.
2014 Subaru Forester
The 2014 Subaru Forester may look only slightly different on the outside, but inside, it's a significantly improved SUV. This all-wheel-drive compact SUV beats competitors on price, fuel economy and performance is a top choice for penny-pinching finance scholars. It's also comfortable and quiet on the road.
2015 Volkswagen Golf
With a lower starting price of $18,815 and more standard equipment, the redesigned 2015 Golf fits the bill for money-conscious students.