Posts tagged
Matt Kenseth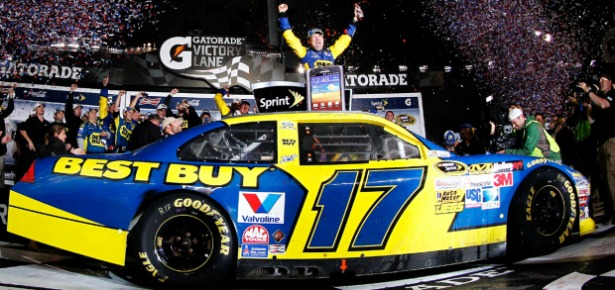 Matt Kenseth won a wild Daytona 500 a few weeks back. Due to the rain delay and the extra-late conclusion of the race, Kenseth wasn't able to attend his Champion's Breakfast until this week. We talked to Kenseth on Wednesday about his Daytona experience, social media, the new tandem racing rule changes and the upcoming race in Texas this weekend on FOX.
CS: So how does it feel to finally get Daytona 500 Champion's Breakfast out of the way?
MK: Well there's there problem, I showed up and there's no food.
CS: Oh what? (Laughs).
MK: I guess it's not breakfast. That was the bad part. We got jipped out of the food (laughs). But it's cool to come out here and see the car sitting there in the Daytona 500 Experience with all the confetti on it just like it was sitting in Victory Lane. It was really neat. I mean it's different coming now a couple months later and celebrating it, but it's always neat to come back and see the car, see the fans, and kind of relive the experience of the Daytona 500.
CS: That was such a wild race, man. I was following along on TV along with a bunch of other people. How did you stay in the right mindset with that extra long delay?
MK: Yeah it was different. Waiting till Monday night was one thing, but that delay in the middle of the race was really … it was really kind of a tough one. So it was after our last pit stop and I was worried about the track not getting fixed. And, you know, if we went back to green we were going to be the leader, the first off pit row, and the guys in front of us were going to have to pit. So it was just a lot of anxiety and you know, anticipating getting the race started and wondering what's going to happen.
CS: And what did you think about Brad Keselowski's Twitter antics during the red flag?
MK: Well he just seemed to be popular with the fans and the media and the TV and all that. It was very popular with the fans and the broadcasters and the TV and doing all that stuff. For me, it didn't really matter to me. I was more thinking about the race than I was about Tweeting.
CS: Do you use social media at all to connect with fans? I mean, when you're not racing?
MK: I do. I got on Twitter last August or something like that, so I was one of the later ones. But I do get on there at least a couple times a week, usually. You know, send some notes or pictures about what I'm doing or whatever and try to get on there and communicate with the fans on Fridays or Saturdays when I get a little down time at the track. I'm not on there every day and checking it every day, several times a day – I think like a lot of people do. I enjoy finding another way to connect with the fans.
CS: Gotcha. And what do you think about the new tandem racing rule changes?
MK: Oh I like the new rules that broke up the pack a little bit. You get back to kind of pack racing and kind of racing, you know, one against 42 and trying to make moves and not so much worrying about another car.
CS: You think most drivers have adjusted to the rule changes already?
MK: Yeah. Yeah I do. I think that's kind of the way it was forever and I think everybody's adjusting pretty well. That's a little different. You can still try to get locked up for a couple laps, but it certainly has changed the race ethic for the better.
CS: Now I'm sure you get asked this all the time but what was your initial reaction a few years back to the Matt Kenseth rule – the whole point change that was made after your first championship?
MK: Oh, I think the change to the Chase was great. I think, if you look at last year for instance, I don't think the battle or race could have been any more exciting. I mean at the ended up being the same amount of points and it went to the guy with the most wins, which I think is what they want. You had some people qualify for the chase, you know, with wins during the season but couldn't make the top ten for whatever reasons – they had a bad start, but won some races made the Chase and were contenders down the stretch. I think it's really added a new exciting element to the sport.
CS: Excellent. So last question, what's the race you're most looking forward to the rest of the way?
MK: Well, there's a lot of races left, but right now I'm really looking forward to going to Texas. That's always been one of my favorite tracks and we've had some pretty good success there in the past so I'm looking forward to getting out there and getting on the track tomorrow.
Matt is currently in fourth place in the Sprint Cup Series. Tune in to FOX this Saturday at 7pm EST to see Matt try for his third victory at the Texas Motor Speedway.
Last night's Daytona 500 likely did more to further interest in the sport of NASCAR than any race that came before. This race had it all – early controversy, chippy driving, a pyrotechnic explosion of jet fuel, a two hour delay that featured miraculous track repair work, an explosion of social media interest and if all that wasn't enough, a little bit of free, overtime NASCAR.
What a spectacle. What a way to recruit new fans to the sport. Pushing the race to a prime time platform was a stroke of genius. During the red flag, the anticipation that built up for those last 40 laps was palatable.
I really do see this as the moment when NASCAR crossed over to the mainstream sports consciousness. Listening to sports talk radio this morning, I heard Jim Rome say, "Damnit, we're talkin' NASCAR whether you like it or not."
This isn't to say that NASCAR didn't have a massive following before last night. Of course it did. But on a night when there was no basketball, no football, no baseball, no other major sport competing for eyeballs, the wild, unpredictable race in Daytona won over new NASCAR fans in droves.
Fox's rain-delayed broadcast of the Daytona 500 brought in 14.2 million viewers. The network finished ahead on Monday night, drawing in viewers away from regular programming on NBC, CBS, and ABC.
After Juan Pablo Montoya crashed into jet dryer containing 200 gallons of jet fuel, the race was delayed for a full two hours as NASCAR cleanup crews used Tide detergent and a bunch of other stuff to fix the damaged track. During this red flag pause, drivers started getting out of their cars and hanging out.
One driver, Brad Keselowski, started tweeting like crazy. He actually took a photo of the Montoya crash from his car while driving on the track. He tweeted the photo, became a topic of conversation, and used the red flag delay to generate over 100,000 new followers on Twitter. Keselowski ended up crashing out after the restart, but he sure did a lot to promote himself and the sport while other NASCAR drivers were standing around waiting to get back into the action.
Jeff Burton, our driver in the Daytona 500 Blogger Challenge ran well the whole night. He led for 24 laps and finished in fifth place. We'll have some JB autographed merchandise to give away soon, so make sure you keep an eye on that for your chance to win.
Matt Kenseth beat out Dale Earnhardt Jr and fellow Roush Fenway teammate Greg Biffle to win his second Daytona 500. The race ended with a green and white checked flag and two extra overtime laps. It was a fitting end to a crazy night of racing.
Congrats to Kenseth, Roush Fenway, Valvoline and The Smoking Jacket, who had Kenseth in the Daytona 500 Blogger Challenge. Make sure to tune in to Fox next week as the NASCAR season rolls on at the Phoenix International Raceway.