Posts tagged
Mark Ingram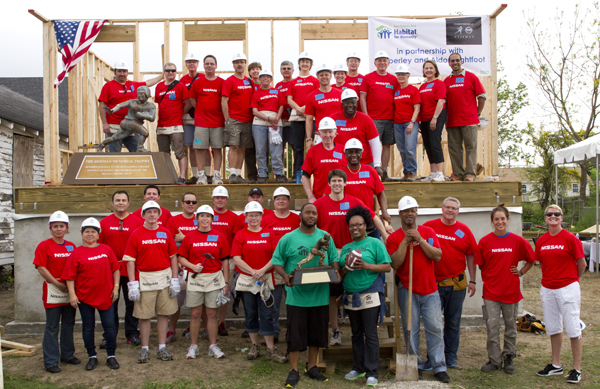 On most days, Aldon Lightfoot works with fellow longshoremen to load and unload ships at the Port of New Orleans. Earlier this week Lightfoot worked alongside seven members of an elite class of athletes, Heisman Memorial Trophy winners to build a Habitat home for his growing family.
The house of Aldon Lightfoot and Kimberly Jones and their three children will be built with help from a construction crew that includes celebrated Heisman Trophy winners John Lattner (1953, University of Notre Dame), Johnny Rodgers (1972, University of Nebraska), George Rogers (1980, University of South Carolina), Mike Rozier (1983, University of Nebraska), Danny Wuerffel (1996, University of Florida), Eric Crouch (2001, University of Nebraska) and Mark Ingram (2009, University of Alabama).
This unique collaboration grew out of existing relationships among Nissan and its partners Habitat for Humanity and the Heisman Trophy Trust. Together, the three organizations will team up with New Orleans Area Habitat for Humanity to build a home in partnership with the Lightfoot family.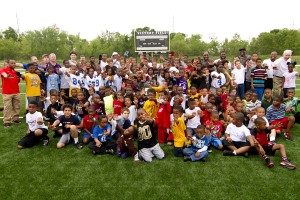 "Nissan is committed to improving the communities where our employees and customers live. Joining with Habitat for Humanity and the Heisman Trust, who share this mission of community service, is an ideal extension of our partnership with both organizations," said Nissan Marketing Vice President Jon Brancheau. "We are grateful to these athletes for joining in this one-of-a-kind partnership to build this house alongside a New Orleans family."
The "Heisman House" concept launched by Nissan in 2011 highlights its sponsorship of The Heisman Memorial Trophy, which is awarded annually to an outstanding college football player. The campaign gathers many of the most celebrated college football players of the last 30 years into the fraternal order of the Heisman House.
"We are proud to partner with our premier sponsor, Nissan, these former Heisman winners and Habitat for Humanity on this worthwhile project," said William J. Dockery, President of the Heisman Trust. "When most people hear the word Heisman, they immediately think of the trophy and college football. Many do not realize the mission of The Heisman Trust is to support the underprivileged and underserved. This is just another example of the work the Heisman Trust is doing all year long."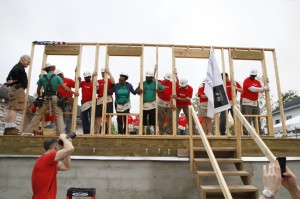 Partnering with New Orleans Area Habitat for Humanity, the Lightfoot family will move into their new three-bedroom Habitat home in Central City from a one-bedroom apartment. The family includes a daughter, 8, two sons, ages 5 and 2 months, and a new baby on the way.
"We are grateful for Nissan's long-time support in helping to make affordable housing possible and for extending an opportunity for the Heisman Trophy Trust and athletes to get involved in our work," said Kymberly Wolff, senior vice president of Development at Habitat for Humanity International. "We look forward to continuing to partner together to help families fulfill their dreams of home ownership."
Nissan's national partnership with Habitat dates to 2005, following hurricanes Katrina and Rita. Since 2006, Nissan has contributed more than $9 million to Habitat for Humanity. Nissan employees have helped to build more than 62 homes across the United States, and the company has donated 111 vehicles to support Habitat's mission.