Posts tagged
Lo Bosworth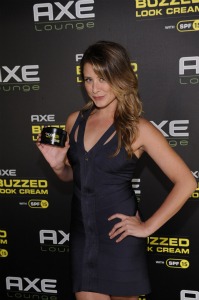 Summertime is here, so it's time to cut that friggin' mop, bro. You don't want to enter the beach season with overly floppy hair. Trim that top proper for the warm months ahead. Plus, studies show that chicks dig the buzz cut. Seriously. Based on a national survey conducted by StrategyOne earlier this year, three out of every four girls say they're more likely to run their hands through a buzz cut because they like the soft feel of the buzz.
But the buzz cut can also lead to too much sun exposure and scalp sunburns. If red, peeling scalp isn't the look you're going for, check out AXE Buzzed Cream + SPF 15. The cream gives your buzz some style while protecting it from the sun's rays.
As part of the product launch efforts, AXE donated $50,000 to the Wounded Warrior Project. This non-profit organization supports troops that are injured in the line of the duty. Lo Bosworth was on hand at the AXE Lounge in Southampton, New York to show her support for the Wounded Warrior Project. If you want to support buzz cuts and a good cause, just head over to the AXE Facebook page and give 'em a thumbs up.