Posts tagged
Leslie Nielsen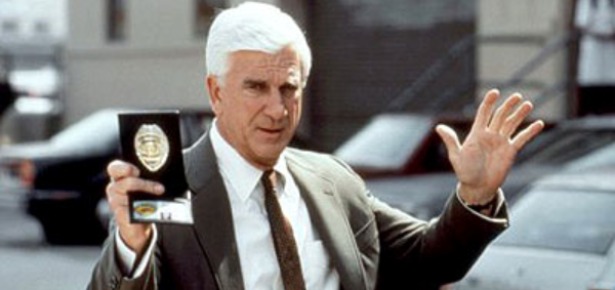 Master spoof specialist Leslie Nielsen passed away on Sunday at the age of 84. Nielsen's acting career spanned six decades. In 239 film and TV roles since 1950, he was embraced as a lead man, a serious actor and a dead-pan comedian who perfected the art of being oblivious to the shenanigans that surrounded his characters. To honor this legend, we came up with a list of the top 5 Leslie Nielsen films. It's certainly not an exhaustive list (it leaves out all of his TV work), but it's how we remember the guy. Feel free to share your favorite Nielsen moments in the comments.
Spy Hard
Spy Hard was the last great comedy that Nielsen made. The spoofs in his later career got a little bit out of hand, but Spy Hard was vintage Nielsen. His character's name is Dick Steele (Agent WD-40) and he runs around with Nicolette Sheridan while battling an evil Andy Griffith. There's just too many laughable moments in this 1996 flick to not have it on the list.
The Naked Gun 2½: The Smell of Fear
I watched this movie so many times growing up. The third Naked Gun movie was subpar, but 2½ was right up there with the original film and TV series. The second film brought in the most cash, too. The first Naked Gun grossed $78 million, the second film grossed $86 million and the third film brought in $51 million. Priscilla Presley was still hot in this one too.
Forbidden Planet
Oh yes, that is a young Leslie Nielsen in this sci-fi classic from 1956. If you haven't seen this film, you should really check it out. It's got Robby the Robot, a sweet electronic music soundtrack, amazing (for the time) special effects and a 30-year-old Leslie Nielsen as Commander John J. Adams. Forbidden Planet made a huge impact on Gene Roddenberry, who said that the film served as inspiration for his creation of the Star Trek universe.
The Naked Gun: From the Files of Police Squad!
The original film, based on the TV series, is still the best. You had O.J. Simpson as Nodberg, Ricardo Montalban as Vincent Ludwig, Reggie Jackson trying to kill the queen and that awesome baseball scene. Nielsen will forever be remembered as Lt. Frank Drebin, and that's not such a bad thing. That character can get laughs in any era.
Airplane!
This is by far Nielsen's best role. It was Nielsen's first attempt at comedy, and he created his 'super-serious in the face of all kinds of ridiculousness' style that would serve as his calling card for 30 years.
Rest in peace, Leslie. You will be missed.