Posts tagged
Kris Jenkins

The Jets have a lot of big dudes on their team. They also have a pretty big guy serving as head coach. Rex Ryan, that loveable loudmouth who brought in an element of swagger that the Jets sorely needed last season, underwent gastric-band surgery back in March. The slimming procedure was just the first step toward a larger weight loss program for Ryan.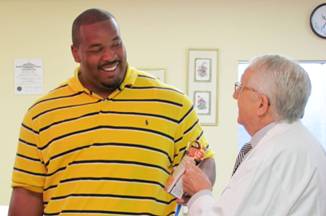 Back in May, Ryan challenged two other members of the team – defensive tackle Kris Jenkins and offensive tackle Damien Woody – to a weight loss competition. They called it "The Biggest Winner."
"I would say something like 'Get your popcorn ready,' but we don't need to be eating popcorn for this," Woody told the Jets team website back in May. "I don't have any trash-talking right now. This is an idea that Coach Ryan thought about and it's a great idea. We're going to see who the best man is."
Well the results are in, and Kris Jenkins, who Ryan recently convinced not to retire, is The Biggest Winner. Jenkins lost 33 pounds, Woody lost 26 pounds and Ryan dropped 20 pounds. How did Jenkins do-it? He enlisted the help of Miami-based weight-loss expert Dr. Sanford Siegal and followed the Dr. Siegal Cookie Diet. That's right. Jenkins did all that damage with cookies.
"I'm a very competitive person so I'm not surprised that I won, but I can't believe I won with the help of cookies!" Jenkins said after the final weigh-in.
The two losers of the competition, Woody and Ryan, will now have to make donations to Jenkins' favorite charity.