Posts tagged
Joe Horn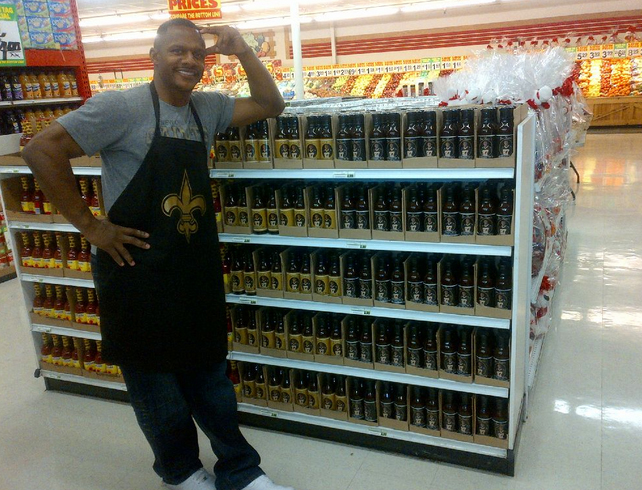 Joe Horn played in the NFL for 11 years most notably for the New Orleans Saints. The four time Pro Bowler was elected to the New Orleans Saints Hall of Fame and finished his career with 58 receiving touchdowns.
Horn went from having a great career in the NFL to starting his own business. For a few years now Joe has led a successful company called Bayou 87. Joe sells barbeque sauce and smoked sausage. Part of the proceeds from his company goes to various charity organizations. He played a role to help rebuild New Orleans especially after Hurricane Katrina.
Joe was nice enough to chat with me about his time in the NFL, the Saints chances to reach the Super Bowl, and his Bayou 87 sauce.
Art Eddy: First off you have a great barbeque sauce called Bayou 87. With people tailgating for the NFL season. What are some great recipes people can make with your sauce?
Joe Horn: Oh man they can make it with anything they have; salad, fish, ribs, hamburger. It is a great tasting sauce. I have been going against a lot of great sauces out there.  I have done a lot of promos with it. It is a great tasting product. I am just telling the fans when you see it just pick it up and try it. You will be a fan for life.
AE: Last time we spoke you were getting ready to launch your hickory smoked sausage. How has that been selling on the market? Any cool recipes for the sausage?
JH: The sausage started in January with the smoked sausage. There is a hickory smoked sausage that is doing absolutely well. I am enjoying that. The fans are enjoying it too. It is so rare the athletes or celebrities that have products and take time to promote it. I have been able to have the chance to go around and really promote it.
When the fans taste it they become branded for life. So I want the fans to go out and try the product. Don't just buy the product because it has my name on it. Try out the product and you will be a fan of the products for life. Wal-Mart and other grocery stores don't have your product just because you are former football player. These products have to sell. I am doing well with it. Hopefully down the road my kid's kids will benefit from this and the charities that I donate to will also.
AE: For those who are just getting into tailgating what is the best recipe that is quick and easy to barbecue at the stadium?
JH: Let me give you a quick insight. Most people when they barbeque they take up to six or seven hours to prep up the meat. Look if you want a quick, prepped up meat that tastes real well, probably tastes better than your average guy's barbeque, season up your meat. Cut it up. Boil it up. I know a lot of people say, 'Joe you are not supposed to boil up your meat.' I say, 'Whatever.'
Butter it up. Wrap up the meat in some saran wrap and put it in the oven. Cook it up a little bit like five, ten minutes. Take it out and throw it on the grill. You will have a quick barbeque that will taste better than the average guy, who takes a day to prep up his meat to barbeque all day.
I had a barbeque cook-off with my uncle. He has been barbequing for 25 years. We had a taste test and I destroyed him. It took me an hour and fifteen minutes. It took him nine, ten hours to get his meat together and get ready. I boil up the meat. I cook it up on the grill. I put some seasoning on it than I put it up on the grill. It is easier, quicker and everyone can eat quicker.
AE: Moving to your great career in the NFL, can you describe your feelings and mindset you had as a veteran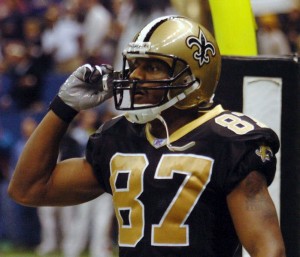 player going into Week 1?
JH: Training camp was basically a give and take type of thing. You knew you were going to be starting. You were comfortable with your team. I like to eat. So I came into training camp overweight. I just took my time and got in shape as I went further along. Basically the second or third preseason game you want to make sure that you are in tip top condition. You got to cut out the things that you used to do. That was the most exciting part for me.
Stay in shape, man. As a veteran you don't need to know too much when you are with a coach for three or four years.  It is the same thing probably with DB's.
AE: Saints fans had to deal with a tough season last year with Coach Sean Payton not being on the sideline. This year he is back and he, Drew Brees and the rest of the Saints look poised to make a run to the Super Bowl. How do you think the Saints will do this year?
JH: I don't know man. The really might be 16-0. It is really hard for me to give out records. When guys used to ask me, 'Joe what is your record going to be?' I never said 12-4. I never said 10-6.  I always said 16-0 because I don't know where we will be at when we will lose that game. I really can't predestined when we are going to lose. I can't do that.
I can't really tell you what record the Saints will have, but I do hope they make it to the playoffs. You just never know. The guys work hard. They learn the plays. You pray that you don't that many injuries. You try to build a camaraderie with your team that will last all the way through the playoffs like the Ravens last year.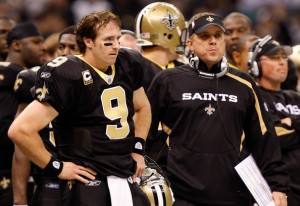 AE: What did you like about some of the offseason moves the Saints made this year?
JH: I don't get too caught up in what offseason acquisitions that the teams bring in because all of that really doesn't matter. You got to gel in training camp. You got to gel in the preseason games.  Anybody can go to different teams. You got to show people when the lights come what you can really do.
The first test for the Saints will be the Atlanta Falcons. No matter who you bring in it depends on what that person can bring to the game. You can't really judge a player until the stats go down on paper.
AE: Which team stands to be the biggest roadblock for the Saints?
JH: Do they play the Eagles?
AE: I don't thinks so.
JH: The Falcons are Super Bowl contenders. I would have to say Atlanta. I think the sneak up team this year will be the Eagles.
AE: Really? Why do you say that? Because of Chip Kelly?
JH: Because he is spicing the game up. It is like a do or die for Chip Kelly. He is bringing something new to the league that can make a mark for NFL history. The new offenses that he brings and the things that they will do to make the game fun. Take the team to the playoffs and the Super Bowl. It is a hard offense to stop.
However. However, it can also backfire on him. All that trickery can get you interceptions and fumbles, other coaches will call you stupid. So it is like a make or break type of year. Although it is his first year, this is a make or break type year for Chip Kelly and that offense. It could go great. Mike Vick and those guys can do a wonderful job with it or it can be a flusher down the stool.