Posts tagged
IPATH Cat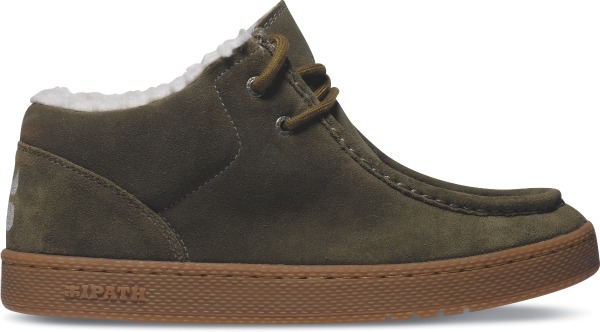 I'm usually a sneaker guy. I tend to sport a pair of Sauconys no matter what the situation is. What can I say? I just like having my feet feel comfy. If you enjoy foot comfort too (and really, who doesn't), check out the IPATH Cat.
I received a pair of these semi-moccasin things, and my first impression was that they were huge. The rubber outsole base is wide and the upper ankle portion makes these kicks feel more like boots than sneakers. But sneakers they are — cushy, boot-like house-shoe sneakers that surround your feet in with a thick lining of fluffy shearling fleece. It's like putting two sheep on your feet, only much more stylish.
So they're big and comfy, but they're not clunky. The shoe is form-fitted with thick tongue padding, and they're not too heavy. You can sport 'em as everyday kicks and not feel restrained. Each shoe has a pocket in the tongue for convenient storage.
Bottom line – there's a lot of personality to these kicks. They're half-sporty, half-causal and all kinds of comfortable. They may look like boats from afar, but once you slip 'em on, you won't feel burdened by their size. For $80, you'll feel like you're getting a relaxed fluffy foot hug all day long.