Posts tagged
Insane Clown Posse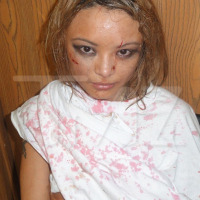 If you were to put on a concert event that catered to Insane Clown Posse supporters, Tila Tequilla has to be one of the first acts on your list, right? I mean, she's got hip hop and clown face written all over her.  But a funny thing happened at the 2010 Gathering of the Juggalos this Saturday in Cave-in-Rock, Illinois. The Juggalos turned on Tila. Big time.
According to TMZ, those trailer-badass, clown-face-painted Juggalos threw rocks, bottles, firecrackers, piss and shit (how can you throw piss?) at the MySpacer/singer/model. Pretty hardcore stuff. I guess the crowd turned on Tila immediately, hurling rocks at her and yelling at her to take her shirt off. So Tila did what anyone in the situation would do – she showed off her titties. That got the clown crowd even more incensed. Tila had to be escorted off stage by security guards. She was taken to her trailer, and the crowd followed. They abused her trailer and continued to attack.
The SF Gate is saying that the attacks were planned. Are you serious? Of course they were planned! Can you think of anything more incompatible than this chick and a pack of angry Juggalos? These are clearly two bad tastes that taste even worse together. I mean it's sad that the budding hip hop "star" got pelted with firecrackers and poop, but what did she expect?