Posts tagged
Grant Hill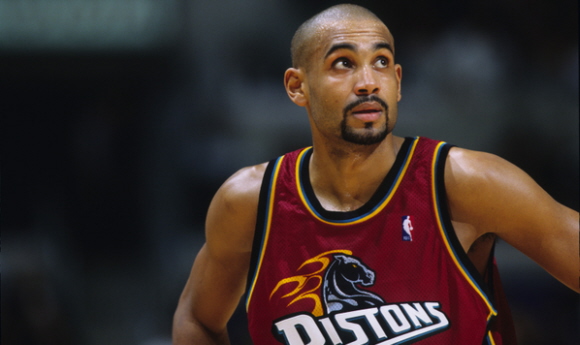 If you are a fan of the game of basketball than you are probably a fan of Grant Hill. From his college days at Duke University to his time in the NBA Hill always gave it his all on the court. If you don't believe just look at some of his accolades. In college he was a two time NCAA champion, the ACC Player of the Year, and NABC Defensive Player of the Year.
In the NBA Hill made his presence known right away by winning the NBA Co-Rookie of the Year award. He was a seven time NBA All-Star and was part of the All-NBA First Team in 1997.
Besides his great body of work on the court, Grant has helped just as much off the court with community service. Hill has been working with the National Association of Basketball Coaches (NABC) and Allstate to promote the 2014 Allstate NABC Good Works Team. This is a team made up of 10 college basketball players who have been recognized for their community service and work off the court. Hill is a member of the voting panel with other former student-athletes, coaches and media members to select the team.
Grant was able to chat with me about the NABC Good Works Team program, basketball, and his signature sneakers.
Art Eddy: First off let's talk about the 2014 Allstate NABC Good Works Team program. Tell how you are helping out with the NCAA and Allstate.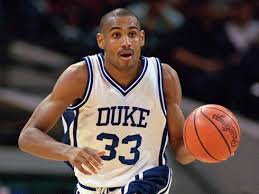 Grant Hill: I am proud to be associated with the National Associate of Basketball Coaches and of course AllState to be a national ambassador for this team. It is the second year of this program. Basically they select a group college basketball players who stand out in their community for their charitable achievements and activities.
We get a chance to honor the ten players who were selected for this team. It is really an outstanding group of men who exemplify and embody what this award is really all about. The great thing for me is that I had an opportunity to see the importance of giving back and making a positive impact on my community while I was at college in Duke. That is something that really stuck with me throughout my career and my life.
To know that there are basketball players all over the country that we had a chance to select from was great. Unfortunately not all could make it, but the ten who did are really exceptional. Just to know that there are other kids out there who understand this I think is really amazing and really important. I am honored to be involved and share it with people like you.
AE: How can fans participate?
GH: You can go to the website, nabc.org or bca.org. There is also a team for women's college basketball. There will be a program where we honor them at the Final Four this year in Texas. There will be a community project benefitting the city in the Dallas area. We will have an opportunity to get all ten of these honorees together. Certainly you can go onto the website and get all of the information.
AE: March Madness is here. Every sports station seems to always show your iconic moment with Christian Laettner to beat Kentucky. I take it that video highlight never gets old for you?
GH: No it doesn't. It is funny. You get a chance to relive great moments. Basically that happened about over 20 years ago. It is still one of those plays that I guess people will always remember. It is really just what I think the NCAA tournament is all about.
Those big game moments and great plays on that stage are fun. I don't have a problem whatsoever. I know that at some point during March Madness I get a chance to see it on television and I am not complaining. (Both laugh.)
AE: What were some of the things that Coach Mike Krzyzewski taught you at Duke that you still take with you in life?
GH: Coach K has taught me that there are so many values that you can take from the game and really apply them in life. There is hard work. There is preparation, discipline, collective responsibility, and pride. All these different things that he stressed makes him a great coach, teacher and a leader. It also translated into great teams.
Certainly all of his teams do not win the championship, but for the most part they play and do things the right way. I think a lot of those values you can take with you. I know I have. It stuck with me. I was a teenager 20 some odd years ago playing for Coach K. I still remember and go back and think about those lessons and apply them in all facets of life.
Coach K is the best. I am fortunate that I had a chance to play for him. He is still going. Coach is still continuing to contribute to the game. He still is having an impact over the span of 30 years at Duke University. It is pretty remarkable.
AE: Your first year in the NBA you showed the league what you could do. You won NBA Co-Rookie of the Year. What was your initial impressions about the NBA after your first year?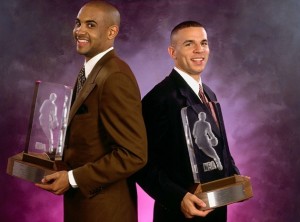 GH: At first it was interesting. There were certain things about the game early on that I realized were easier than I had anticipated. There also were some things that were more difficult. After a year under my belt and having the time to reflect after my rookie season I had an idea of what I needed to improve upon.
I had some confidence now. I can play at a high level. I can make the All-Star games. I was hungry like most young players to get better. After success early on you are still trying to prove yourself. After my first year I was still trying to prove myself. I locked myself in the gym. I worked on my game and I felt like I came out better the next year.
AE: Do you have a favorite all-time moment from your playing days in the league?
GH: It is hard to choose from. I feel like my career was separated in a few different careers. It was like two or three careers in one. In the 90s, which included my time at Duke from 1990 to my time in Detroit up to the year of 2000 were just amazing. I certainly couldn't have dreamt up anything better. Four years in college and six years in the pros, All-Star games, and all of that.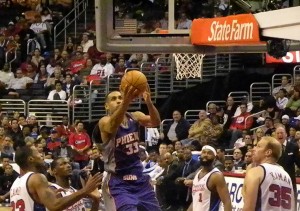 From the adversity of my time during the Orlando years, being hurt, and thinking that I might not be playing ever again. At the end there were some really neat years in Phoenix. Maybe because it was more recent I would say I enjoyed my time in Phoenix.  I had a new opportunity. I was appreciative of going through the fire and going through adversity.
Even though I was a different player it can be just the opportunity to play. Sometimes you can only appreciate things until they are gone. They were almost gone for me. My whole career was great. It had its ups and downs, but I wouldn't change it for one minute. I was just grateful that I was able to play and play for as long as I did.
AE: You had some cool signature kicks during your time in the NBA. Did you have a favorite?
GH: Not really. Maybe my first shoe might have been my favorite just because it was the first one. It really took off and did well. Those were fun times. I was real fortunate. A lot of things that I have dreamed of happened for me and happened right away. That seems like a whole lifetime ago. That was almost 20 years ago.
It was cool to have your own shoe. It is cool now for my kids to look back and see that I had my own shoe.