Posts tagged
gold medal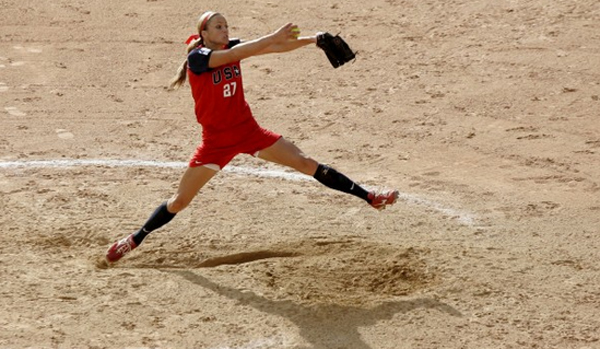 Jennie Finch is no stranger to the Women's College World Series. During her time at the University of Arizona she help the team win the College World Series. Jennie made such an impact at Arizona that she had her number retired by the university.
Finch is still active in softball today with her camps during the year. The three-time All American Player is working with Capital One for the Capital One Cup. This program helps with awarding a combined $400,000 in student-athlete scholarships. The winners will be selected in July at the ESPYs. Jennie is in her second year as an Advisory Board member for the Cup.
I had the pleasure to chat with Jennie about her great career at Arizona, the Olympics, and even her time on "Celebrity Apprentice."
Art Eddy: The Women's College World Series is starting at the end of the month. Who are some of the favorites for this year's World Series?
Jennie Finch: Oklahoma has been ranked number one all year. They came in second last year so I think they have a drive to bring home the trophy. Oregon won the PAC-12 for the first time this year. They are making a run for it. Honestly it is anyone's game. Nine SEC teams are in. There are eight PAC-12 schools in it. Nebraska, Texas, Michigan and a lot of other schools are in the running. The great thing about sports is the chemistry. If you have the right team anything can happen.
AE: Are there any underdog teams we should look out for?
JF: Last year we saw Hofstra and USF make it to the playoffs. LSU came out of nowhere. I think that there is always that possibility and chance for any team. There a lot of teams in the middle that could make a push and have a great weekend to go further into the playoffs.
AE: You played in the College World Series with Arizona. Talk to me about your memories during the World Series.
JF: There is nothing better to make it to the College World Series. All of the extra reps in the weight room, all of the early morning practices, and all the hard work spent the entire year makes it worth it. It was a blast to be able to play in that game. It is an honor to play for your university. It is a magical time. I have so many fond memories of being there and competing with my teammates.
AE: What was your reaction when you found out the University of Arizona was going to retire your number?
JF: I was completely honored. I was honored to wear Arizona across my chest. I am extremely blessed to have my education completely paid for and take part in the great tradition of Wildcat softball. To have my jersey number retired was the ultimate compliment. I am thankful for the many women who played before me and paved the way to create a great tradition at Arizona.
AE: You are working with Capital One to promote the Capital One Cup to help provide scholarship money to the winning universities. Tell me about your work with this promotion.
JF: I am excited to be on the athlete advisory board for the Capital One Cup as the spring season championships begin to play out. One reason is that one of the sports is softball. There are many schools that are close in the standings for the Capital One Cup. This program honors the best Division I program that has the most cumulative wins in on the field performance across 39 total men and women's sports. The winning school gets over $400,000 in total scholarships for student athletes. Not only is it fun for the school, but for the fans to see how their school is doing.
AE: Right now who is in the lead for the men and women's brackets?
JF: Stanford is in the lead for the women's, but Penn State and Oregon are just a couple points behind. In the men's bracket Indiana and Michigan are tied for first with Louisville and Alabama right behind them. As the spring season comes to an end it will be close to see who wins it all. For softball the school gets awarded 60 points and it will be interesting to see how this plays out.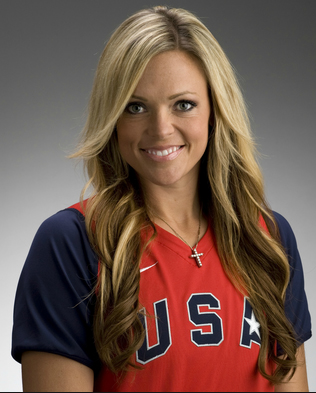 AE: You pitched in the 2004 and 2008 Summer Olympics where you and Team USA won gold in 2004. Where does winning the gold medal rank in your career?
JF: It is one thing to play for your university. It is another to play for your country. It is special in so many ways. To be surrounded by the best of the best was incredible. There were players that I looked up to and now I am playing with them. It was amazing to travel the world and play the game you love. Winning the gold back in 2004 was the highlight for me.
AE: Do you think baseball and softball will be back in the Olympics?
JF: I hope so. We will find out in the next couple of months. I am on the athlete advisory board to help grow the campaign and make sure we do everything to get the sport out there worldwide. There are over 140 countries that play softball and now that we are teaming up with baseball hopefully we can get these sports back into the Olympics.
AE: You were on "Celebrity Apprentice" a few years back. What was it like to be on that show and what did you learn from that experience?
JF: It was definitely a challenge. It was about raising money for a good cause. I was playing for the Breast Cancer Research Foundation. It was a great experience. I learned that I don't belong in the hustle and bustle of New York City. (Laughs) I made a lot of great relationships being on that show. I think you learn from every experience and I felt that I learned a great deal being part of that show. I enjoyed my time there. It was harsh at times. People were competing and there were tough times. Overall I have to say that it was good time.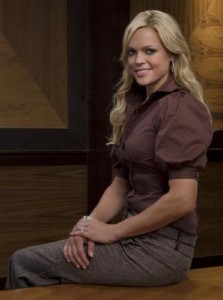 AE: Tell me about your softball camp and how you started that up?
JF: Right after college this how some softball players are able to make money. I loved being on the feild playing and teaching softball. I didn't like the fact that a camp had my name on it and I didn't know the logistics of what was going on. I wanted to make sure I was involved in a camp that did things right. I got a few of players that I know together to start up a camp.
I had the vision of creating my own camp to make sure I was teaching the campers what I wanted. Plus I picked other players that were good on the field and off so we could be great role models for these girls to look up to. I hope to inspire others and encourage them to go after their dreams.