Posts tagged
formula drift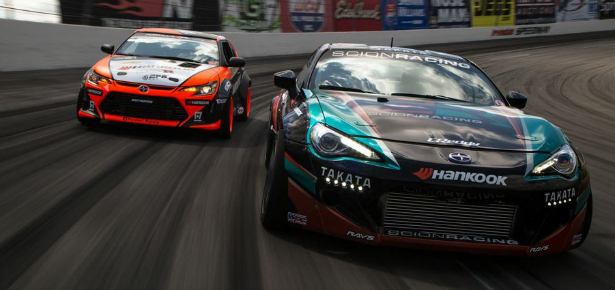 IRWINDALE- The sweet stench of burning rubber and al pastor tacos filled the air as I shoehorned myself into the passenger's seat of Ken Gushi's 1000 horsepower Scion FR-S. He waited patiently while I fumbled with my 5 point restraint. Click. Click. Click.
I'm suddenly confused as the sound from the gentle rumbling of the engine is replaced by the roar of some sort of screaming banshee and we must have just been shot out of a cannon or something because I am pinned in my seat and all I can smell is burning rubber and I am wishing I was wearing some sort of adult diaper because holy crap we are flying through the air.
Oh. No cannon. We're cool. That's just hot laps with Ken Gushi.
Ken Gushi is a legend in drifting circles. He was drifting his fathers Toyota AE86 by the age of 13, and won his first race before he even had a drivers license.
By race I mean a drifting race, which aside from quadruple digit horsepower and disintegrating tires bears more resemblance to March Madness and figure skating than NASCAR.
Drivers in the Formula Drift series race head to head in a bracket style competition. Each driver is given a score by judges based on optimum line, angle and style. The highest scoring driver moves on to the next round until one remains.
Wait, back it up. What exactly is drifting?
Yea. Now take your Dramamime and check out my view from the passenger seat.
Pretty bad ass. See it in person this weekend as Formula Drift kicks off their 11th season on the streets of Long Beach, California.