Posts tagged
Eton Rukus Solar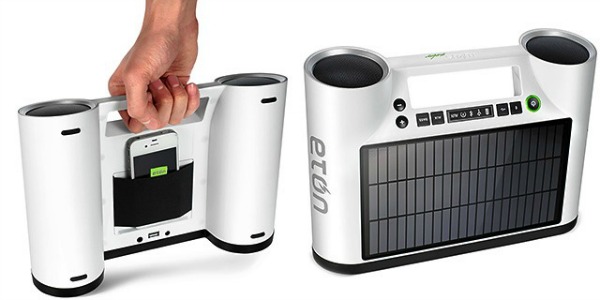 moneyman
My taste in music and my music consumption habits are decidedly old-school. I like to buy old lots of funk and soul 45ss on eBay. I usually find new music by flipping through dusty crates of 12 inches in flea markets and thrift stores. I don't choose vinyl because I'm a hardcore audiophile or anything, I just love records and I'm used to consuming my music through old analog means.
But I'm not a Luddite, either. I embrace new technology when it serves a purpose. I like to touch on high-tech from time to time. Sometimes you find a piece of new technology, a new method for doing things, and it makes you wonder how you ever lived without it. This is how I feel about the Eton Rukus Solar portable Bluetooth sound system.
I'm telling you, man, this thing is from the future. If you showed this device to the younger 80s or 90s version of me, I would think it was a prop from a Star Trek set or something. I wouldn't understand how it could function, let alone replace my boom box, computer speakers or home entertainment system.
After using this thing for a few weeks, I don't even remember how I used to listen to music before. Combine this Bluetooth sound system with an iPhone and Spotify, and you got the makings of powerful, portable, high quality system that sounds great indoors or out.
So this thing weighs four pounds. It's got a handle bar, a convenient pocket to hold whatever device is pumping music through it and oh yea, a friggin' solar panel. You charge the Rukus Solar and it's 7.4V Lithium-ion battery with a regular AC adapter. It gets to full juice pretty quick and takes less than six hours to get fully charged via the monocrystal solar panel. With a full charge, you can get over eight hours of continuous music play out of it. And that's just indoors or in the dark. Take it outside for a pool party, tailgating situation, day at the park/beach/anywhere sunny, and you get the added benefit of additional solar juice. It's a self-powering music station, dude.
What's this? You're portable speaker is juiced up, but you're iPhone battery is almost dead? Well, just plug your iPhone into the device using the USB port in the back. Charge it back up. Even if you're working with some music-generating device that isn't Bluetooth enabled, there's still an audio jack in the back you can use.
Most importantly, the sound quality is extra-impressive. Nothing tinny or weak sauce about it. I find it best to place the unit resting flat with the solar panel facing up. This gives you the best sound experience. The volume goes pretty high, too, especially for something so compact. It's got a decent bass boost as well, for those of you who like to hear your lows. One complaint I have is that the volume meter doesn't have any sort of digital display. Not a big deal, but it would be nice to know when you're at 50% volume or maxed out, etc.
I've been really impressed with this thing. It costs $150 and comes in white, green and black. Sounds like a lot for a speaker system, but the Rukus Solar is worth every penny. If you've ever been outside and wished you could just serve up some tunes from your phone or tablet or laptop, this the best way to do it. Or if you're listening to music at home and you just want to move around with your tunes, this thing is sick. Sure you'll find other Bluetooth/portable speaker systems that are smaller, easier to pack in a bag, etc. But splurge for the extra sound quality, extra volume and the ability to use the power of the sun to charge your phone and fuel your tunes. You won't be disappointed.