Posts tagged
Eli Manning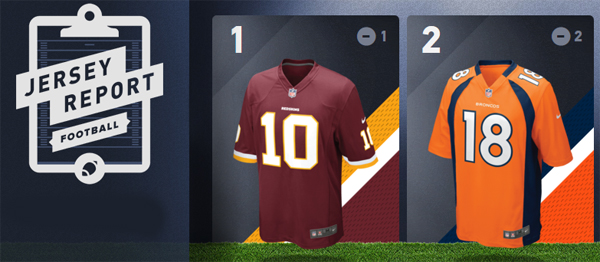 His team may not have the best record, but Robert Griffin, III has the best-selling jersey. Last week RG3's jersey outsold 29 other teams as a whole (Not the Giants or Ravens' jerseys). How do I know all of this? Well I checked the "Jersey Report" from DICK'S Sporting Goods.
DICK'S upgraded the "Jersey Report," to now include detailed graphs showcasing sales by player, team, position and division, as well as fan stories, expert analysis of how jerseys are rising and falling. As a football fan it was interesting to read the following stats on the sale of NFL jerseys.
Here are some quick hits on the sale of NFL jerseys
Monday Night Football:
•Last night's game had the current #9 overall team in jersey sales (Steelers) vs. the #13 team (Bengals)
•Troy Polamalu's jersey was the only defensive player to crack the top ten overall (last week) but has since fallen to #21.
•Heath Miller's jersey is the second most popular for the Steelers
•AJ Green was second in receiving yards after week 1 and is currently #14 in overall jersey sales (#1 on the Bengals)
In the past week of sales……
•RG3's jersey outsold 29 other teams as a whole (Not the Giants or Ravens' jerseys)
•LeSean McCoy's jersey joins QBs in top five
•1. RG3 2. Andrew Luck 3. Peyton Manning 4. LeSean McCoy 5. Eli Manning.
•Rising star – McCoy' jersey has jumped 24 spots since last week
•Over one-quarter of all jerseys sold are for the NFC East. The bottom two teams in the division are in the top three in sales, though, with WAS # 1 and NYG #3 overall.
•It's a QB league, more than 40% of jerseys sold are quarterback jerseys
Each week you can check out the Jersey Report to see which is the hottest selling jersey of that week and which one is losing popularity. It is like the stock market for jerseys.