Posts tagged
Duracell Virtual Stadium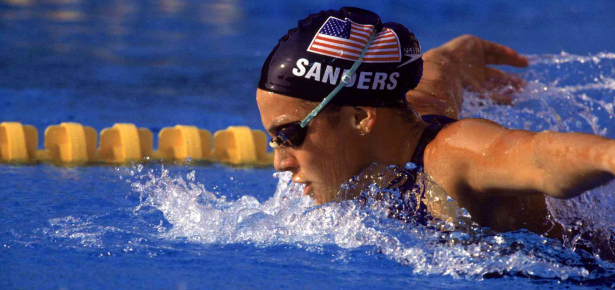 Oh man, back in the day, I had the biggest crush on Summer Sanders. She's a four-time Olympic medalist in swimming, but I knew her as the sexy-fit host of Sandblast, an MTV show from the mid-90s that featured two teams battling it out in fun events at the beach.
After racking up two golds, a silver and a bronze at the 1992 Summer Olympics in Barcelona, Summer flourished as a sports host/journo on shows like NBA Inside Stuff, US Olympic Gold, The Sports List and Skating with Celebrities. You've seen her in Jerry Maguire, Celebrity Apprentice, Good Morning America, the Winter Olympics, Rachel Ray and Inside Out with Summer Sanders. After hanging it up in '92, she's had a good run with this second career thing.
Summer's in London covering the Olympics, and I had the chance to chat with her last Thursday, just before the opening ceremony. Summer's working with Duracell to launch Virtual Stadium, a new interactive initiative that encourages friends, family members and fans to send message of support to Olympic athletes via Facebook and YouTube. Your photo, text or video message can fire up an Olympic hopeful, and you can also win prizes like a $500 Visa Gift Card or a trip to the 2014 Winter Olympic Games in Sochi.
Check out the interview below. We had some audio issues during the interview, so my questions are appear transcribed:
If you find yourself totally wrapped up in the Summer Olympics, visit the Virtual Stadium. Send a shout-out to an athlete that could use your support. All this social media stuff wasn't around back when, but with the right tools at your finger tips, your quick message of encouragement could go a long way.