Posts tagged
Doug Christie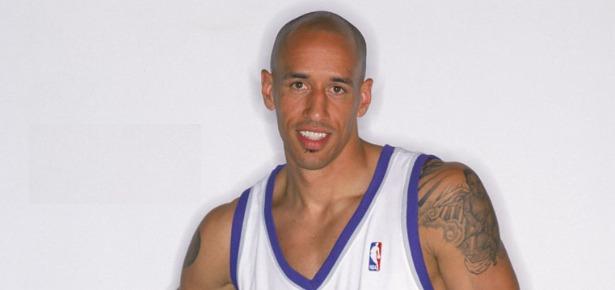 Doug Christie was a ridiculous defender during his 14-year NBA career. Since retiring in 2007, Christie has focused on his charity works, business ventures and his family. Christie home-schools his kids and every year, he and his wife get married on their anniversary – a full blown wedding to celebrate their vows. When he played in the NBA, Christie would signal to his wife countless times each game. A New York Times article published in 2002 detailed the strong bond that the couple shared. Christie and his wife Jackie even wrote a book about their relationship – No Ordinary Love. People like to give Christie shit about how his wife constantly keeps him in check and so on, but when talking to him, Christie sounded like a dude who's genuinely happy to have such a tight relationship with his wife. When he talks about how important his family is to him, it really comes across as honest and authentic. Christie is a family man and he's damn proud of it.
Christie and I discussed charity and sports management, married life for NBA players, trash talking,  how Kobe stacks up to Michael Jordan and Game 6 of the 2002 Western Conference Finals.  Here's the full interview:
CS: What do you want people to know about the organization you founded last year, Christie Sports Management?
DC: Well Chris, Christie Sports Management is about mind, body and basketball. I train athletes from youth – my son, he's nine, I train him – all the way to NBA. I trained Matt Barnes with the Lakers. I have an athlete in college at Washington State University, William Ayears. Obviously I love the game, but more than anything learning how to play the game the right way. The mind part of it is understanding how to break down your opponent, thinking the game, understanding clock management and all these different things. And then the body part of it is, you know, guys want to do all these fancy moves, Chris, and do all this stuff. And then you see guys breaking down like Greg Oden with knees and all these different things. But you have to strengthen your body. You have to understand how to move your body. And it's kind of like martial arts, and the more you learn and understand it, the better obviously you will be.
CS: So now do you have a bunch of different people who help out in this effort or is it really just more of a one-on-one approach where you're helping these athletes out?
DC: Well, it's just me. Christie Sports Management is me. I'm the main trainer and I work with them one-on-one. Sometimes we get together in groups. I did a workshop last year in Sacramento where I got together some guys, they were going to Europe – some guys going to Europe, some college guys up in that area – and I worked with them. I had like eight guys. So it just depends. But like with Matt I worked with him one-on-one. William, I worked with him and actually he has a little brother who is in high school in Washington so I work with them together. But most of the time it's one-on-one so I can really … one of the things I try to do is bridge the gap in communication. Because a lot of the times the coaches nowadays they just say one thing to everybody and you really can't do that. Everything isn't for everybody. So the methods that I give to one person, I'm giving somebody else the same message, but I'm giving it to them totally different so that they get it specifically for them.
CS: It's got to be pretty rewarding when these guys go on to have some success, right?
DC: No question. I think even more than the team success in all of that is the moment of what I call the "a-ha" moment. Like with riding a bike where you get it. And when I'm talking to them and I'm trying to get them to grasp a concept or something, and all of a sudden I see that they got it and it's like a-ha, that's probably one of the most gratifying parts of the whole process. Just watching them learn from all the different things that I have picked up from Pete Carril in Sacramento and Rick Adelman to Pat Riley to all the different coaches that I've had to pick stuff from. And then all of the studying that I've done with the body and different stuff, watching them grasp that is just the ultimate reward.