Posts tagged
Crown Royal XR Review

If you're going to buy your father a bottle of booze for his special day, why not go with something a bit classier than your standard whisky selection? Crown Royal is the top selling Canadian Whisky in the U.S., but if you're going to pick up a bottle of Crown for your pops, why not go the extra mile and get him something finer, something smoother, something extra rare.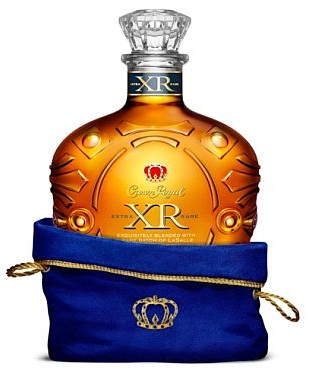 Crown Royal XR is limited-release blend of Crown Royal that's sold in numbered bottled. It's made out of the last batch of whiskies produced in the LaSalle distillery, located in Montreal. The distillery, which was built in 1924, had access to very fine water in the surrounding areas, and that smoothness is passed on to the bottle. This XR creation is the second Crown Royal XR release. The first came in 2006, and included whisky that was produced at the Waterloo distillery, another famous Canadian distillery that actually burned down in 1993.
So what does this XR stuff taste like? I think the most noticeable quality is the overwhelming smoothness of the whisky. It has some pretty strong flavors – there's definitely some power behind the maple-nutty sweetness that starts things off, but the bite that you'd expect out of a bold, 80-proof beverage never really manifests. It's the absence of a kick at the end that makes this whisky so nice. It just hits you with sweet, oaky flavor and follows through with a muted coating of friendliness. You expect a kick, but instead you're served a pillow of dry, tranquil aroma.
As you've probably already guessed, Crown Royal XR isn't cheap. It retails for $129.99. But if you're looking to give the gift of extra-smooth whisky-love to your dad this Father's Day, the price is worth it. You also get some sexy packaging – a clever bottle in a classy box with a gold silk lining that foreshadows the silky-smooth experience you're about to enjoy. It's better than presenting a liquor store bottle in a brown paper bag, that's for damn sure. So this Father's Day, get your dad something nice. Hook him up with some Extra Rare and he'll thank you for it.