Posts tagged
concept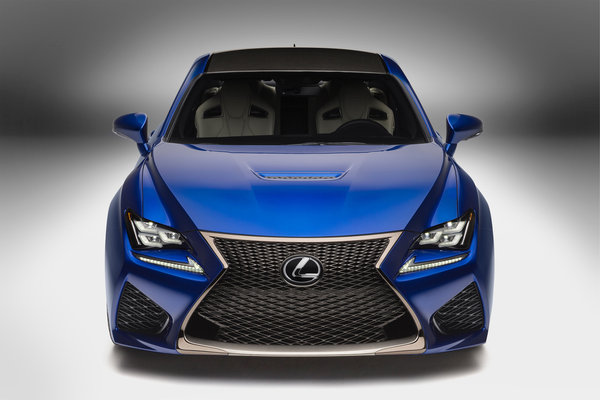 Want power, precision and passion? Lexus revealed its most powerful V8 engine in the all-new 2015 RC F performance coupe at the North American International Auto Show in Detroit.  The F performance model, based on the RC coupe, gets its powerful roar from more than 450 horsepower and more than 383 lb.-ft. torque.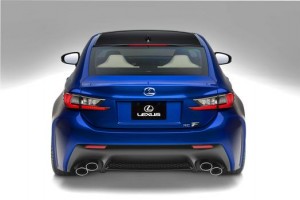 To get that amount of power efficiently to the ground the RC F will make use of a Torque Vectoring Differential (TVD) to ensure remarkable handling and performance. The power will transfer through a newly calibrated eight-speed Sports Direct Shift (SPDS) transmission with paddle shifters.
"I've built RC F to be enjoyed by all enthusiasts – no matter what their level of expertise," said RC F chief engineer Yukihiko Yaguchi.
"There's a misconception that racing cars are hard to drive. In fact, they're easy in the right hands because they've been purpose-built for the skill level of their drivers. It's the same with RC F.
"Electronics can be modified instantly on board to provide appropriate levels of performance and protection. But even at its basic setting, it's a blast."
Driving Dynamics with More Power and Usability
The RC F has an all-new 5.0-liter 32-valve V8 engine that will provide increased maximum power at higher engine rpm than previously possible. For the first time in a Lexus performance engine, the RC F uses the Atkinson cycle at cruising speeds for enhanced fuel economy and then switches to the Otto cycle at higher rpm to develop impressive performance levels.
Driver engagement has been made possible by purpose designed sound and power delivery. A uniquely tuned eight-speed Sports Direct Shift (SPDS) transmission improves linear throttle response.
It helps the driver control the torque and power precisely as it is applied.
The newly calibrated VDIM adds a vertical G-sensor to provide greater vehicle stability
Torque Vectoring Differential
The RC F uses a Torque Vectoring Differential (TVD), a first in a Lexus, to increase driving performance.  It has three operating modes:
Standard for a balance of nimble performance and stability;
Slalom for emphasis on nimble steering response; and
Track to help with consistent stability, ensuring the vehicle stays on the intended corning line as the driver applies more throttle.
Handling
The foundation for the vehicle's mechanical grip is the highly rigid body with large cross-section rocker panels and a very stiff front lower brace. Specialized Lexus manufacturing techniques are also used, including body adhesives, laser-screw welding, laser brazing and multi-spot welding. Grip is further enhanced through use of a wider tire and wheel assembly.
RC F has front and rear coil-spring independent suspension, with monotube gas-filled shock absorbers and ball-jointed stabilizer bars. Unsprung weight is reduced by the adoption of three new 19-inch diameter forged aluminum wheels which minimize tire/wheel assembly mass and maximize rigidity.
Exterior Design
Lexus RC F adds to the stylish body of the new RC coupe on which it is based. The RC F features its own version of the Lexus signature spindle grille which dominates the front of the vehicle from hood line to lower lip. The grille has a subtle F-mesh pattern on the lower half.
In profile view RC F has a unique front hood which raises the peak of the vehicle, creating a powerful side view.
The RC F takes design cues from the Lexus LFA supercar, especially in essential air cooling and aerodynamics. Its hood air vent, such as those on the LFA, combined with front cooling ducts contribute to engine cooling and overall vehicle stability.
As in the LFA, an active rear spoiler is incorporated into the trunk lid to provide down force at speeds of more than 50 mph. The active spoiler is a highlight of RC F's aerodynamic package which includes careful tuning of the underbody, the intakes in the grille and the front fender vents, and strategic placement of the aero stabilizing fins.
To the side, front fender ducts in the shape of an L also aid cooling performance while adding to the aggressive stance.
The RC F's available carbon fiber package offers a clear coated carbon fiber roof and active rear spoiler drawn from the LFA production experience.
Interior Design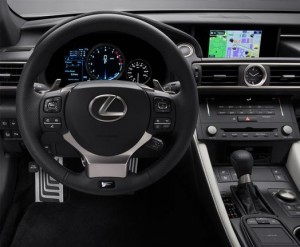 Uniquely designed components, including combination meters, the steering wheel, seats, ornamentation and pedals, convey a sense of connection with the driver that only a Lexus F performance model can achieve.
RC F's all-new combination meters are further developed from LFA while also referencing aircraft cockpit instruments. The meters provide a wide range of easy to read information for the various drive modes.
The combination meters include a large centrally mounted tachometer that alters according to drive mode, digital and analog speedometer, differential torque vectoring monitor, G-Force meter, oil and water temperature gauges, mileage information and a stopwatch.
The driver's connection to the RC F is paramount. The RC F debuts a Lexus-first elliptical cross-section thick grip steering wheel for greater control during performance driving. The placement, shape and operation of paddle shifters make it easier to change gears on the track and in other performance circumstances.
The all-new high back seats have been designed for exceptional holding performance. An integrated foaming technique creates a highly supportive and taut fitting seat with trim material that stays fixed.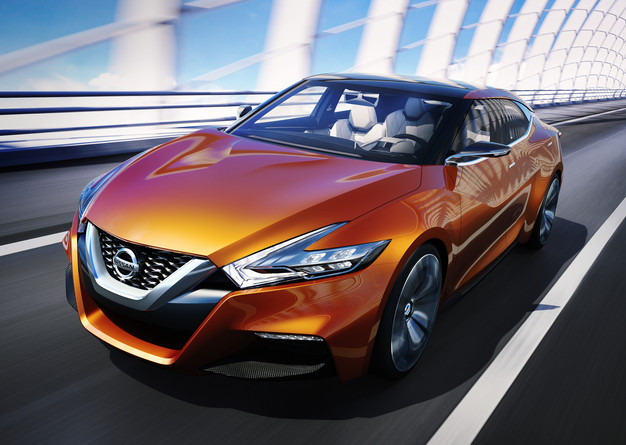 Design has long been a differentiator between Nissan and its competitors – along with performance, innovation and technology. Now, as the company celebrates its 80th anniversary, it is doing so with the world debut of the Nissan Sport Sedan Concept at the 2014 North American International Auto Show in Detroit.
The Sport Sedan Concept, a design study with a particular emphasis on next-generation design and sporty style, was created to embody the essence of a true sports sedan – that rare execution of 4-door sedan with the aura of a real sports car. It previews a future production vehicle intended for owners with a passion for cutting-edge design and driving dynamics.
"The Sport Sedan Concept shows a new, highly emotional and energetic design direction that takes Nissan's legendary approach of applying sports car principles to a sedan to the next level," said Nissan Senior Vice President and Chief Creative Officer Shiro Nakamura. "The Sport Sedan Concept captures that essence with bold and exciting sports car design and proportions."
Next-Generation Nissan Design Language
The Sport Sedan Concept joins a trio of advanced concepts that share signature design aspects that will be adapted to all future Nissans. Along with the Nissan Resonance and Friend-ME concepts that were introduced in 2013, the Sport Sedan Concept shares the new V-Motion front aspect, "floating" roof and boomerang-shaped headlights and taillights.
As demonstrated by the three diverse concepts, these distinctive design cues will be incorporated into a range of body types from sedans to crossovers.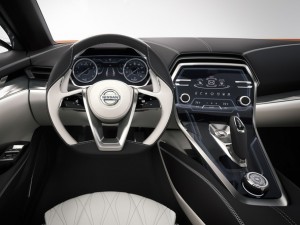 "Our new design direction mirrors the strength, power and capabilities of the engineering and innovation that serves as the foundation of every Nissan vehicle," said Nakamura. "Nissan is a brand for people seeking bold and passionate experiences, and who are willing to make choices outside of traditional boundaries. That's why Nissan is committed to breaking new ground in automotive design, as expressed in the stunning new Sport Sedan Concept."
The exterior of the Sport Sedan Concept is marked by low, wide proportions, with a lowered hoodline and reduced ground clearance compared to traditional sedans – elements that would be right at home in a sports car.
The "V-Motion" movement of the front end flows from the dramatic chromed grille up through the hood. The front of the Sport Sedan Concept also incorporates the large LED boomerang headlights, a deeply scooped front fascia and wide, sloped windshield.
The profile of the vehicle is equally powerful, with its dynamic bodyside lines adding a strong sculptural feel and connecting the wheels and tires – which are pushed out to the four corners.
There is a projection of motion, even when the vehicle is standing still. The Sport Sedan Concept rides on custom 21-inch aluminum-alloy wheels mounted with low-profile 275/30R21 tires.
The distinctive silhouette blends smoothly into the rear design, which is capped by the high deck, large chrome trunk accent and wide, deeply scooped rear fascia. As in the front, the boomerang rear combination lights accentuate the centered feeling and push outward to edges.
The unique "floating" roof adds a sense of openness and lightness in contrast to traditional sedans' heavy cabin appearance.
"The innovative roofline, which is also prevalent on Resonance and Friend-ME, makes it seem as if there are no pillars at all, enhancing the sense of athleticism and sportiness," said Nakamura. "The roofline also contributes to the Sport Sedan Concept's class-leading stance, which balances the look of the substantial lower body and a streamlined cabin."
The final exterior touch is the unique "Strad Amber" paint that was inspired by the craftsmanship and rich finish of noted classic violins – instruments capable of producing vibrant intensity at times and at other times a soft stillness. The elaborate candy color paint finish is achieved through application of an orange-amber topcoat over a base of gold paint, creating a distinctive depth and bespoke richness.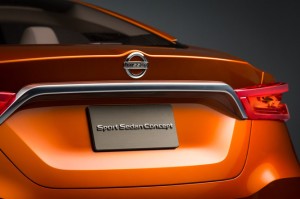 The Sport Sedan Concept's interior also offers cues to future production designs. Premium materials are found throughout, with the use of diamond-shaped graphics on the quilted seats, stitching and panels enhancing the sense of dynamic motion. Rather than traditional flat surfacing, the diamond treatment adds three-dimensionality. The edgy and geometric look was inspired by modern furniture, apparel and accessories. The interior also features high-contrast colors and facet metallic accents. All these aspects finely express Nissan's individual authenticity and modernity.
The front-wheel drive Sport Sedan Concept is powered by a 300-plus horsepower 3.5-liter V6 engine backed by a sport-tuned Xtronic CVT® and features an innovative suspension layout with performance dampers.
The Nissan Sport Sedan Concept was created by Nissan Design America in San Diego, California and developed at the Nissan Global Design Center in Atsugi, Japan.