Posts tagged
clear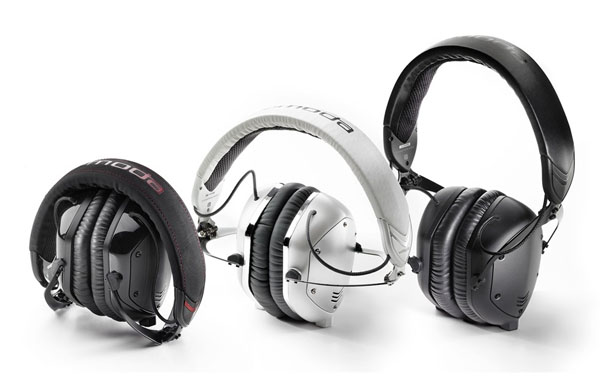 The V-Moda Crossfade M-100 delivers a bass-heavy sound with a design that is pleasing to the eye. Just like the M-100's predecessors it has the diamond shaped metal ear cup plates that can be customized to your liking. The M-100's are tough too! The Kevlar cable is tangle-free and when you travel you can put your headphones in its exoskeleton carrying case.
Going with the traveling theme the M-100s can transform into an almost ball like state. The ear cups collapse and don't take up too much space. There is also a 1 button microphone cable, a shareplay cable, and V-Corks. What is a V-Cork you might ask? Well the V-Corks can plug up one of the inputs when you are not trying to share music or if you were linking up two sources at the same time.
V-Moda headphones have a crystal clear sound to them. These babies produce a very powerful bass output. The design of the M-100s with the 50mm dual diaphragm driver and with a frequency response of 5 – 30 kHz, place the emphasis on the bass sound.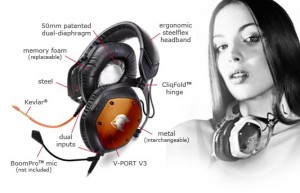 Besides the M-100's having a powerful bass system the sound is very detailed and crisp. There are some headphones the require batteries for enhanced sound. V-Moda says no to batteries or artificial processing. The M-100 is powerful and has a clear sound without the two extra digital-to-analog conversions that are needed to be battery-powered. Those other headphones can sometimes pollute the purity of your music. Also the Crossfade have minimal sound leakage so you can immerse yourself in your music without others being able to hear your playlist.
Another thing I look at for headphones is how comfortable are they. Well the M-100 has plush memory foam cups which makes for an enjoyable wear around the ears. No matter if I am at the gym, editing a podcast, or working around the house I could wear these for hours.
The Boom Pro microphone instantly transforms the M-100 into the ideal headset for gamers, podcasters and broadcast professionals. You can even get laser engraving customization service with logos, artwork, text, numbers and multiple plate colors.
For more info on the V-Moda M-100 check out their website!