Posts tagged
Chromeo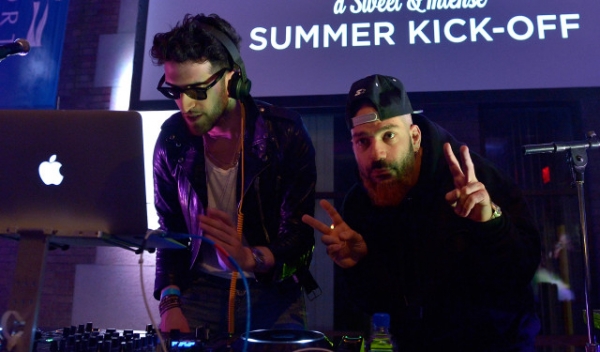 On Thursday, June 19, thousands of partygoers flocked to Boston's Seaport District for a chance to see – and drink from – the World's Largest Ice Luge by Johnny Appleseed Hard Apple Cider. Ice Pro of Central Florida began hauling pieces of the giant ice sculpture into the Seaport World Trade Center as early as 6 a.m. on Thursday, completing a massive build-out of the World's Largest Ice Luge by 5 p.m. for the evening event.
The event, which coincided with Saturday's official start of summer, included a performance by electrofunk duo Chromeo, whose hit song "Jealous" is featured in Johnny Appleseed's national television spot and was recently named to Time magazine's "Best Songs of 2014" list. Boston's hometown-turned-national sports reporter Jenny Dell was a natural in the role of sideline serving as host and emcee for the evening.
At 25 feet tall, the World's Largest Ice Luge surpassed the current record holder by two feet and weighed in at an impressive 25,000 lbs. And while the luge itself required 600 man hours to build from start-to-finish, the party heated up quickly, resulting in nearly 1,200 gallons of melted ice that was donated to the Johnny Appleseed Trail Association to water the trees and flowers along the trail.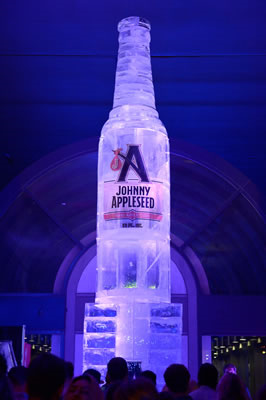 I was able to chat with Chromeo and ask the guys how they started working with Johnny Appleseed, touring,  and which artists influenced them and their sound.
Art Eddy: How did you guys start up working with Johnny Appleseed?
Chromeo: They used our song "Jealous" in their commercial. We wanted to make it an even more organic partnership, hence the idea of doing an event that the fans can enjoy and participate in.
AE: You guys are in Boston to be part of the biggest ice luge in history. What will you guy be doing there?
Chromeo: DJing and performing Jealous. And hopefully interacting with fans, taking pics. And marveling at a 25 foot ice sculpture in the middle of June.
AE: How did you guys meet and was it around music?
Chromeo: Absolutely. We met in high school and discovered funk and soul music together. That's how we bonded: jamming and record shopping.
AE: Who has influenced you guys as musicians?
Chromeo: Prince, Zapp, Hall & Oates, Rick James, Robert Palmer. But also Daft Punk, Justice and Stuart Price. And hip hop producers like Pete Rock and J Dilla whom we used to worship growing up.
AE: Who would be the number one artist you would love to work with on a future project?
Chromeo: Haim! They're our gals.
AE: Are you guys touring this summer?
Chromeo: Yep, all summer and beyond. Every major American festival, we're hitting.
AE: What is the funniest moment that has happened to you guys while on tour?
Chromeo: Bribing Serbian border agents with cigarette cartons in the middle of the night just so we could get our equipment in the country — after the legit protocol had been followed to a tee of course.
AE: What you most like about the music scene today and what is the worst thing?
Chromeo: Can't think of a worst thing. I love everything about it: especially the fact that music is more democratic and shareable than ever. You can be a kid on a laptop and have a hit record. Music discovery is facilitated and accelerated by platforms like SoundCloud and Bandcamp. It's limitless. Dizzying sometimes, but limitless.