Posts tagged
Christina Hendricks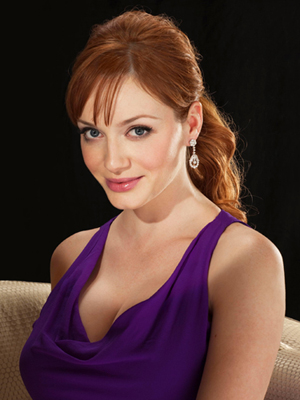 The poster girl for ginger-buxom voluptuosity gets attention from all sides. Christina Hendricks, the red delicious apple-bottom beauty from Mad Men, doesn't just get hit on by dudes. Oh, no. Chicks dig her too.
"Women hit on me. My husband thinks it's so odd that so many women hit on me," Hendricks told Harper's Bazaar.
I can see that. What woman wouldn't want a piece of that? And if I were her husband I wouldn't mind chicks checkin' out my lady on the regular. But wait, there's more. Hendricks also gets hit on by gay guys.
"They say to me, 'Well, I'm not straight, but if I was …' " Hendricks says. "I think it's so flattering."
Hell yeah it's flattering. If you can turn the heads of heteros and homosexuals, you know you're sitting at the table with a full stack of chips.
Hendricks is bringin' curvy back and God bless her for it. Hollywood was obsessed with the wafer-thin, cokehead-girl look for way too long. It's nice to see old school curves making a comeback. And judging by the attention Hendricks gets, it seems like people of every gender and sexual preference agree.