Posts tagged
Christian Mccaffrey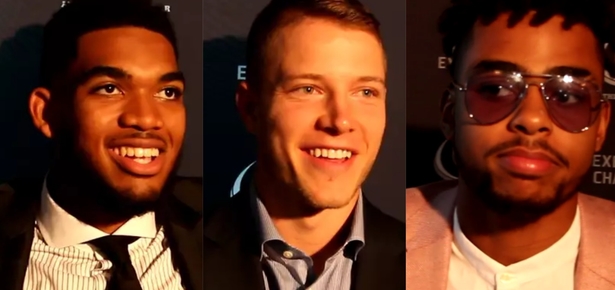 Last month we did our annual tour of today at the Gatorade Player of the Year Awards, an event that we always enjoy. The overall message and vibe of these events are consistently positive.
Gatorade has been recognizing elite high school athletes across the country since 1985. The criteria for selection is based on three different consideration points: athletic excellence, academic achievement and exemplary character. State Player of the Year awards are issued to male and female athletes in all fifty states (and the District of Columbia) across 12 different sports. The 606 state winners are then paired down to a final pool of 12 athletes. From this pool of finalists, one female and one male athlete are awarded Athlete of the Year in Los Angeles just prior to the ESPY Awards. The winners are voted on by a panel of about 400 people, including sports journalists, coaches and other athletes.
Past winners at different levels include some of the most successful professional athletes in recent memory. Kobe. LeBron. Peyton Manning. Clayton Kershaw. Allyson Felix. The list goes on and on. For many of these top-notch amateur athletes, this event is their first big spotlight moment – a chance to rub elbows with the elite professional athletes they all hope to become. It's day for recognizing excellence, nurturing potential and honoring the people who make it possible for young athletes to pursue their dreams in sports. All very positive stuff.
We got to spend time chatting with three professional athletes who are involved with the program: Christian Mccaffrey, Karl-Anthony Towns and D'Angelo Russell. Here are the interviews: