Posts tagged
Bud Light Lime-a-Rita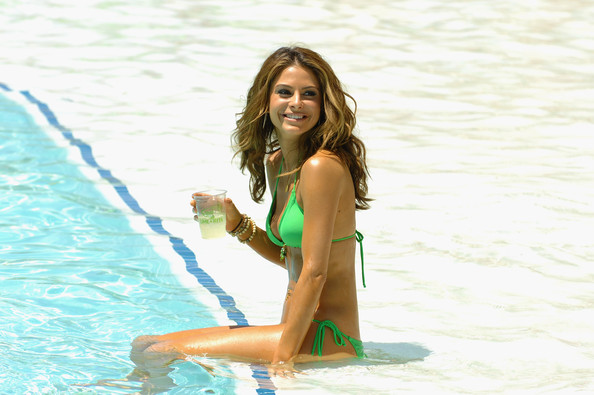 It was a fun weekend in Vegas. The weather was great, it was Cinco de Mayo and you had quality sports on at all times (Mayweather-Cotto, the Kentucky Derby, playoff basketball and hockey games, the English F.A. Cup, baseball, etc.). It was a good time to schedule a Vegas trip.
I was in town for a bachelor party, and we all spent the day on Saturday soaking up some sun poolside at the Mandalay Bay. The whole crew went to the Bud Light Lime-a-Rita Cinco de Mayo launch party and we all had a blast.
The launch party wasn't overly packed, which was a good thing. Maria Menounos hosted the event in a green bikini and she got some pool time in with the rest of the crowd. There was good music, cool people, tasty pretzels and all the Bud Light, Bud Light Lime and Bud Light Lime-a-Rita you could drink.
The Bud Light Lime-a-Rita is more marg than brew. It's a malt beverage that's pretty refreshing on a hot day, but it's just way better when served cold, ideally over ice. The taste is a bit acidic, but if you enjoy margaritas, this sensation will be nothing new to you. This isn't the kind of beverage that you want to slam back to back to back to back. It's more of a nice sipping compliment to a warm day of beer drinking.
But back to the party. The music was solid throughout and Jermaine Dupree took over DJ duties for bit and really got the crowd going. Nelly was there having fun on the stage by the pool. I saw this guy trying to pull off the Will.i.am look and I thought to myself, whoa guy, that's a strong look to try to pull off. But he was real convincing about it, and I'm like 95 percent sure that it wasn't an imitation. Will he was indeed.
So with the summer season right around the corner, this Bud Light Lime-a-Rita stuff is worth checking out. It's a mellow malt beverage that provides some chill, revitalizing  refreshment and serves as a great compliment to pool party beer drinking.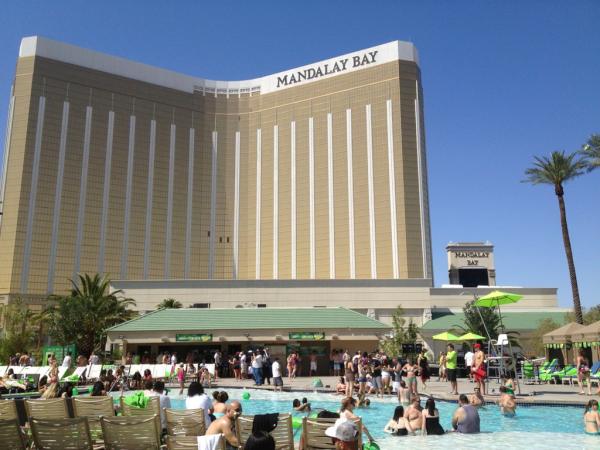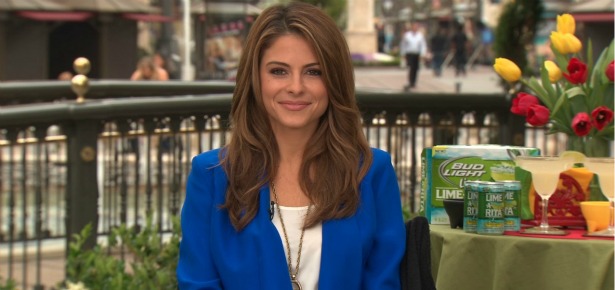 It's a Cinco de Mayo weekend, people! And if you're having a hard time deciding what to drink – beers or margaritas – Bud Light has a solution for you. The Bud Light Lime-a-Rita is an 8oz can of 8% alcohol that's a combination of weekend-ready margarita and a splash of Bud Light Lime. Best served over ice, this malt beverage will take the guesswork out of your weekend drinking plans. It's an all-in-one, all-inclusive answer to your Cinco de Mayo party needs.
To celebrate the launch of Bud Light Lime-a-Rita, we spent a few minutes chatting with the beverage's lovely spokeswoman, Maria Menounos. Menounos was born in Massachusetts. Her parents are Greek immigrants and she can speak fluent Greek and Spanish. In addition to being an absolute stone-cold fox, Maria balances a sporty/beauty pageant/journalism background with acting, TV hosting, celebrity dancing and even professional wrestling duties. Basically she does it all.
And when she's not putting up perfect scores on Dancing with the Stars, interviewing President Obama and the First Family, catching touchdowns from Joe Montana, winning tag team matches at Wrestlemania or losing Super Bowl bets that require her to sport a bikini in the middle of winter, Menounous still finds time to enjoy a beer or a marg or in this case, a beer-marg combo like the Lime-a-Rita.
We talked with Maria about the upcoming Bud Light Lime-a-Rita kickoff party this weekend at the Mandalay Bay Hotel & Casino in Las Vegas, dominating dancing and wrestling, staying so damn fit, what her Greek parents think about her racy photo shoots and a whole lot more. Here's the full interview:
We're heading out to the kickoff party in Vegas this weekend. We'll let you know how it goes! Have a safe and fun Cinco!