Posts tagged
Brickyard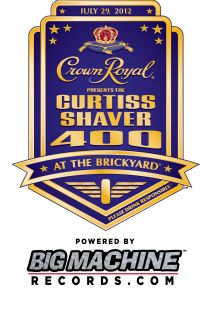 Crown Royal's been running a cool contest that honors one local hero for their service by giving them naming rights to a NASCAR Race at the Indianapolis Motor Speedway. The Sprint Cup series race that will take place in Indy on July 29 is now called Crown Royal Presents the Curtiss Shaver 400 at the Brickyard powered by Big MachineRecords.com. The winner of the contest, Curtiss Shaver, is a firefighter from Troy, Alabama.
Shaver lost his lower left leg in a farming accident, but his life was saved by local firefighters. After this incident, Shaver began a lifelong career as a firefighter and EMT. He's also a huge NASCAR fan.
After Shaver was selected, Crown Royal held a ceremony in Troy that included laying a replica "Yard of Bricks" in the downtown area. Shaver participated in this effort to bring a piece of the fames Brickyard in Indy to his hometown. He laid the final brick which featured an engraving of his name and the race logo.
There will be a bunch of events and celebrations in Indy on race weekend that will honor Shaver. He'll ride his own pre-race pace car, kiss the bricks and even deliver the trophy with his name on it. Shaver's's the sixth person to be awarded race naming rights. After making the final five this year, Shaver was voted the winner by adult fans who voted on the Crown Royal Facebook page.
I'm heading to Indy for race weekend and I hope to congratulate this guy in person. Seems like a pretty cool honor for a very deserving dude.