Posts tagged
Become One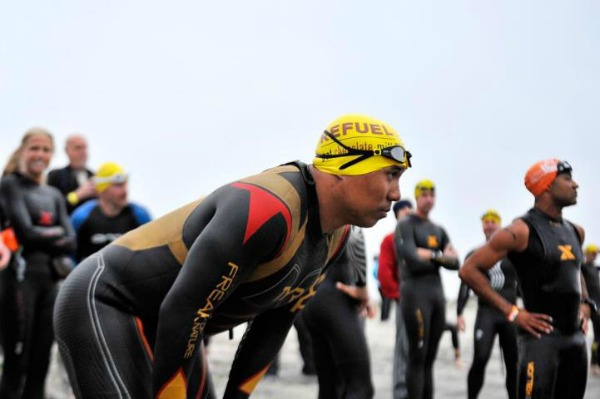 Hines Ward's REFUEL web series, BECOME ONE, highlights the former football star's training efforts as he prepares to compete in the 2013 IRONMAN® World Championship triathlon in Hawaii this October. in our Hines Ward interview that we posted a few weeks back, Ward talked about BECOME ONE and the training that goes into triathlon prep. The first episode of the BECOME ONE documentary web series can be seen at gotchocolatemilk.com.
Being a Steelers fan and a big supporter of anything involving chocolate milk, I definitely wanted to follow along as Hines makes the transformation from retired football menace to endurance athlete extraordinaire. Here's a look at the second episode of the 10-part BECOME ONE series:
This past weekend , Hines competed in the St. Anthony's Triathlon in Florida. Ward must've been happy that the swim portion was cut short due to choppy waters. He completed the triathlon in 2 hours, 26 minutes and 37 seconds. His splits were 15:53 for the swim, 1:33:27 for the 40-kilometer (24.9 mile) bike ride, and 51:27 for the 10-kilometer (6.3 mile) run
To help promote Ward's journey and the BECOME ONE series, we've partnered up with REFUEL | got chocolate milk? to provide a sweet giveaway for one lucky reader. The winner of this giveaway will receive three pieces of REFUEL branded Nike gear: two pro-combat dri-fit black t-shirts and one white mesh cap. We'll even throw in an autographed football from Hines himself.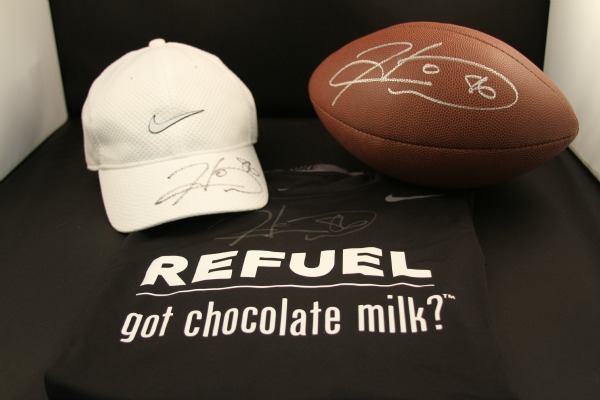 To enter, just follow us on Twitter (@MANjr) and drop us an email below. Good luck!
The first episode of the BECOME ONE web series is now up on www.gotchocolatemilk.com. We interviewed Hines a few weeks back and told you about his quest to become an IRONMAN. In the first episode of BECOME ONE, Hines is introduced to his new coach, 8-time IRONMAN World Champion Paula Newby-Fraser.
The series will run all the way through the IRONMAN World Championship in October. You can follow all the action on www.gotchocolatemilk.com.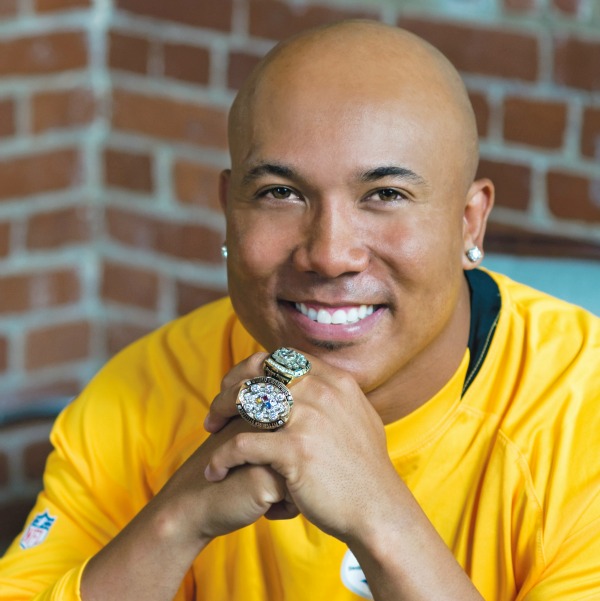 Former Steelers wide receiver Hines Ward was a vicious blocker who made big plays in the passing game when it counted most. Taken in the third round of the 1998 NFL Draft, the former Georgia standout played 14 years with the Pittsburgh Steelers and hauled in 1,000 receptions for 12,083 yards and 85 touchdowns. He owns the Steelers career receiving records for all three of those categories. He was a four-time Pro Bowler, a two-time Super Bowl champion and Super Bowl XL MVP. He also won Dancing With the Stars, appeared in the last Batman film and played a zombie in last night's episode of The Walking Dead.
So the guy's accomplished some things. And he's done it all with a big smile.
Well now Hines has his sights set on another challenge, a 140.6-mile swim, bike and running challenge to be exact. That's right, Hines Ward is teaming up with REFUEL | 'got chocolate milk?' in his quest to conquer the 2013 IRONMAN World Championship. But he's not doing this IRONMAN thing solo. He's taking two weekend triathlete warriors with him.
Hines will train over the next year to compete in the IRONMAN World Championship Kona-Kailua, Hawaii on October 12, 2013. Two everyday athletes will join him in a program called BECOME ONE. Their journey with Hines will be filmed as part of an online documentary that will air next year.
Think you got what it takes to compete with Hines? Visit www.gotchocolatemilk.com to learn more about the BECOME ONE program and how chocolate milk can help you recover from workouts.