Posts tagged
Balsamic Vinegar of Modena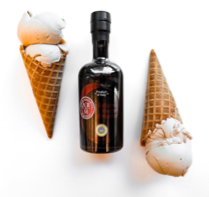 During the pandemic, ice cream sales have soared. People need treats in their lives. And if you're going to leave the house for some socially distant enjoyment, might as well schedule something that's a bit out of the ordinary, right?
Well it doesn't get more out of the ordinary than Balsamic Vinegar gelato. Yes, you read that right. The Consortium of Balsamic Vinegar of Modena (Aceto Balsamico di Modena) has partnered with Gelato-Go to offer up a limited-edition gelato flavor that can only be sampled this week at the Gelato-Go in Hollywood (5633 Hollywood Blvd) and Beverly Hills (252 S. Beverly Drive).
I can attest to the quality of the gelato at Gelato-Go in El Segundo (the dark chocolate is fantastic), but I have not yet had the pleasure of sampling this limited edition Aceto Balsamico di Modena flavor that's available in Hollywood.
If you want to check out this non-traditional collab treat, make sure you hit up the Hollywood or Beverly Hills locations before August 30th!