Posts tagged
Bacon


Leave it to Jack to give bacon lovers what they want. A bacon triple-threat – the new Bacon Insider burger from Jack in the Box restaurants takes bacon to unprecedented levels with a "craveable" sandwich featuring a juicy beef patty with savory bacon pieces mixed right in, sandwiched in-between six-half slices of hickory smoked bacon, and topped with a creamy bacon mayo sauce. And if that's not enough, you also get lettuce, tomato and American cheese – all served on Jack in the Box's new gourmet brioche bun. The Bacon Insider is available for a limited time only at participating Jack in the Box restaurants.
MANjr is going to help you get to try the Bacon Insider by giving away some Jack Ca$h to some lucky readers. Just fill out the contest form and follow MANjr on Twitter.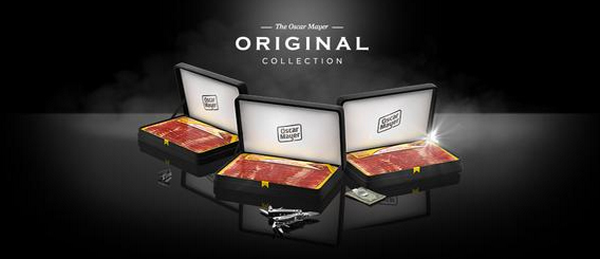 Just in time for Father's Day Oscar Mayer is presenting the "Oscar Mayer Original Collection." Available only online you can pick up these elegant bacon boxes for you or your dad. There are a total of three specialized bacon boxes.
The three gift packs are being sold exclusively on the Oscar Mayer website, Say It With Bacon, which showcases the boxes in a way that pokes fun of jewelry ads, with a script headlines of "When words aren't enough, say it with bacon", and "Give the world's most tasteful gift."
Here are your choices. Each case has it's own distinctive quality.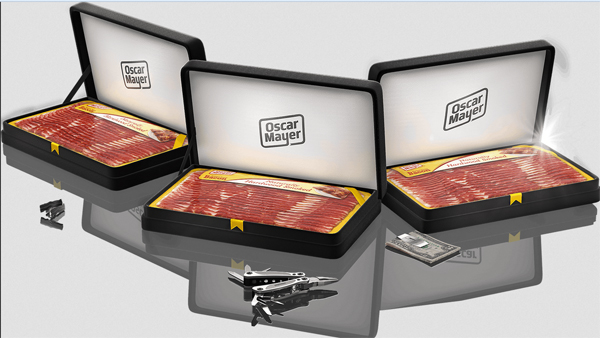 The Commander ($22) The Commander comes with a stainless steel money-clip engraved with the words "Bringin' it Home" and an image of a bacon strip.
The Matador ($28) This one features two handsome bacon strip cufflinks.
The Woodsman ($25) The Woodsman which includes a rugged 12 function multi-tool with a bacon strip image carved into the handle.
Plus this is not just for Father's Day. Oscar Mayer thinks you can use these one of kind gifts for birthdays and anniversaries…or even just because.
If you check out the website and see a sold out sign, well don't fret. The company keeps on replenishing their stock of their commemorative boxes. To stay on top of all things bacon just follow @OscarMayer on Twitter for restocking alerts.
They even put together a hilarious video mocking those over the top jewelry store ads. Have to hand it to Oscar Mayer for this one. It is funny and deals with bacon. What more does a guy need?