Posts tagged
Ahnu Woodacre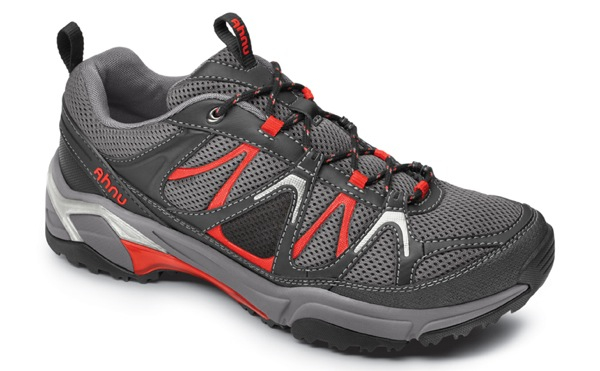 I'm not a big running guy. Never was. Recently, though I started running on the regular. What can I say, I was getting large and it was just time to get fit. It happens to us all. Well, it didn't take me long to realize that running on a daily basis sucks without proper running shoes. The day-to-day Sauconys just weren't cutting it. I would get random-ass pains like mid-shin and I felt like I was coming down with early onset plantar fasciitis. I needed an upgrade. I needed shoes that were designed for actual running. As luck would have it, Ahnu sent us a pair of Ahnu Woodacre running shoes to review. And I've been really happy with them.
As soon as the Gargoyle-colored kicks arrived at my door, I put 'em to use. They arrived pre-laced and all tied up. I didn't bother wearing them around the house to break them in. I just slipped them on and started running.
I haven't had to untie them since. You can slip right in them and you don't have to labor your way through breaking them in. The shoes provide arch, heel and toe support that just fits right. The tongue and heel have these V-shape cuts so they just form-fit to your foot with minimal movement. There's padding for the bottom of your feet, but nothing that would be described as over-cushy. I have pretty wide feet, but these things seem to contour well to almost any foot shape.
I live in Southern California, so I haven't tested these things in serious terrain or hazardous weather conditions. But they're designed to be "light enough for running and tough enough for hiking." The Ahnu NUMENTUM™ HIKE technology and Traverse Technology provide extra stability that's designed to center and guide your foot for a balanced and stable stride. These shoes are super breathable and the red and black Gargolye color combo perfectly matches my red and black track suit (note: your preferred track suit colors may vary).
So like I said, I'm not big on running. I'm just getting comfortable with daily jogs and such. I've never been professionally fitted for running shoes, but I just like how the Ahnu Woodacre shoes fit on my feet. There's no wiggle room, but there's no overcompensation in the support areas either. You just slip 'em on and they work.
You can find these shoes online for around $100. If you don't want to invest in crazy-expensive running shoes, but you want something sporty and form-fitting that'll provide proper support and a little bit of style, these kicks are definitely worth checking out.