Posts tagged
49ers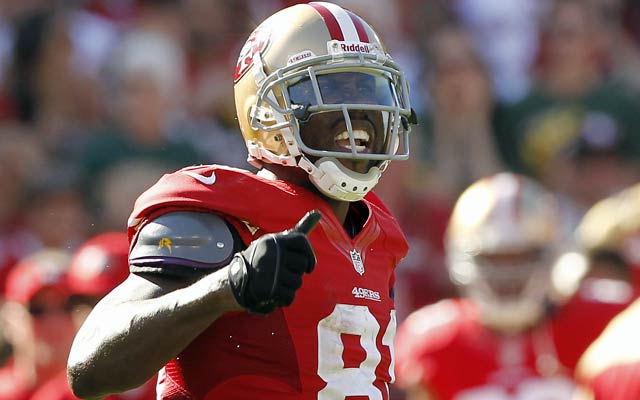 We all know that NFL players are tough. To me some are tougher than others. One guy that sticks out to me is San Francisco 49ers wide receiver, Anquan Boldin. He is one of the toughest both mentally and physically in the game today.
Boldin started his NFL career in 2003 when the Arizona Cardinals drafted him from Florida State. In his first year he made an impact by winning the NFL Offensive Rookie of the Year. Not one for personal accolades though, Boldin wasn't satisfied until he helped the Baltimore Ravens win Super Bowl XLVII.
The three time Pro Bowler is even more impressive off the field. In 2004 Boldin started up the Anquan Boldin Foundation to help those in need here in the United States and around the world. Anquan has a caring heart and it shows with the many programs his foundation provides for the youth.
I had the great pleasure of talking with Anquan about playing in the NFL, his foundation, and how it feels to be called a Super Bowl champion.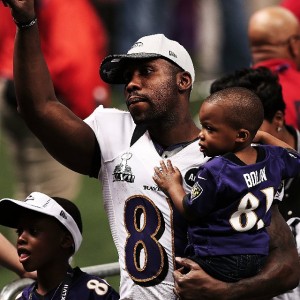 Art Eddy: You have reached the top of the NFL mountain when you helped the Baltimore Ravens win their second Super Bowl title in 2012. When the game was over and you were able to be called Super Bowl champion how long did it take for reality to set in?
Anquan Boldin: It took a while. It didn't hit me right away. It is what you work your entire life for. To eventually get into the NFL and win a championship on that level is something. For me it was a dream come true.
AE: What was your mindset like when the lights went out during the Super Bowl?
AB: In disbelief. (Both laugh.) It is the biggest game in the biggest sport in the U.S. and here we are with the lights off. We were trying to figure out what was going on, but at the same time trying to say warm because at some point we had to continue playing the game.
AE: 2003 was your rookie year and you made your presence known by winning the NFL Offensive Rookie of the Year award. Playing at the pro level is tough, so what did winning that award mean to you?
AB: I guess it is something that you can look back on once your career is said and done. It is something to be proud of. I am not into the individual accolades. Had we been a team that made it to the playoffs and had a winning record it might have meant more to me, but we struggled that year. We were probably 4-12 or something like that. Even though I had a great year individually, we had a long and rough year as a team.
AE: You have definitely showed toughness many times on the field. I remember watching the game against the New York Jets where you got injured. That was a scary scene. Still you just told the media that if you were really worried you wouldn't get back on the field. So I want to ask you where do you draw your strength from after taking a hit like that?
AB: My parents. Both of my parents are strong. They are the type of people that don't let anything get to them. Also being a product of my environment. Growing up in Pahokee (Florida) you have to be tough. It is a place of poverty. It is a place that lacks opportunity. So in order to make it you have to be tough. That probably had a lot to do with it.
AE: From trying to hear audibles at away games, tough defenses, staying healthy, and so on what is the most challenging aspect for you playing in the NFL?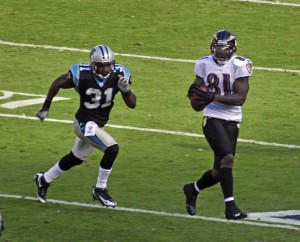 AB: The physical part isn't challenging at all. If you go out and prepare the right way and take care of your body I don't think that part is tough. I think for me just balancing the whole football part and being a husband and a dad. I think that is the toughest part for me.
You want to be there for your family as much as possible. I am going on 12 years in my career. It seems that my whole family has revolved around when dad has a game on Sunday. I don't want it to be that way. I want my life to revolve around my family. If my son has a game I want to be there for him. If my wife has something I want to be there to support her.  So for me that is the hardest part.
AE: You started the Anquan Boldin "Q81″ Foundation ten years ago. Congratulations on a decade of success for your foundation. You do a lot of great work here in the states and around the world. What inspired you to start up the foundation?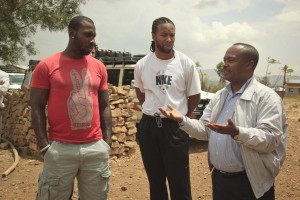 AB: For me it was something that I always wanted to do. Even if I didn't make it into the NFL giving back is something that is close to my heart. Like I said I didn't grow up in the best of situations. Definitely wasn't raised with a silver spoon in my mouth. There were a lot of things that I went without growing up.
As I said earlier I grew up in a place where there wasn't a lot of opportunity. Whatever opportunity you do have you have to make the most of it. Being in a position to help out and give back was what I wanted to do. If an opportunity wasn't there for a certain kid for whatever reason I want to help create that opportunity. There is a lot of talent where I grew up, but there is not a lot of opportunity for them to show that outside of athletics. For me I want to give them that opportunity.
AE: Talk to me about your annual "QFest" and how that came to be?
AB: It is the tenth year that we are doing this fest. At this point in consists of three events. Thursday we have a celebrity golf event at the PGA National, which is a course that everyone is dying to play. We are getting the champions course and the Palmer's course. So we will be playing two courses that Thursday.
Friday is the celebrity basketball game. We play it at my Alma mater high school in the gym in Pahokee. We usually get around 25 to 30 NFL guys to just have fun and play basketball. On Saturday we have a fun day at the park. We have a lot of activities going on. We feed everyone that comes out. We have entertainment and prizes on Saturday.
It started out as just a celebrity basketball game. It was my way of saying thank you to my community for supporting me over my career. They have always done that since high school. They have always backed me and supported me. So it is my way of saying thank you and it has grown from there.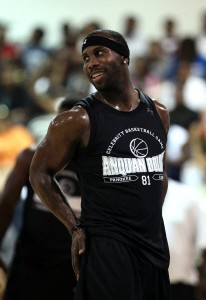 AE: Since the basketball game came first I take it that your basketball skills are better than your golf game.
AB: Yeah. (Both laugh.) Still working out some kinks in my golf game, but we are getting there.
AE: How do you pick your teams for basketball?
AB: The basketball thing is just random. We put guys on each team. It is just random. We don't really decide who is going to play for each team.
AE: How can people help out your foundation?
AB: We are always looking for people who have the same heart as us. If people are really wanting to help other people there are definitely things that they can do. We do a number of programs with my foundation that is not just athletically based programs.
One program that I am very proud of is one that we started a few years ago. I think that this will be either the third or fourth year that we will have it. We have a summer enrichment program. It is an eight week program where we help kids that are falling behind in school. We help them get back on track to graduate. That is a program that we are really proud of.
We have done a great job of getting kids back on track to graduate. Our percentage rate is really high in that program. Those are the type of things that I am more proud of than the athletics part. We do camps and things like that, but I am really just trying to help make a difference in kids' lives apart from athletics.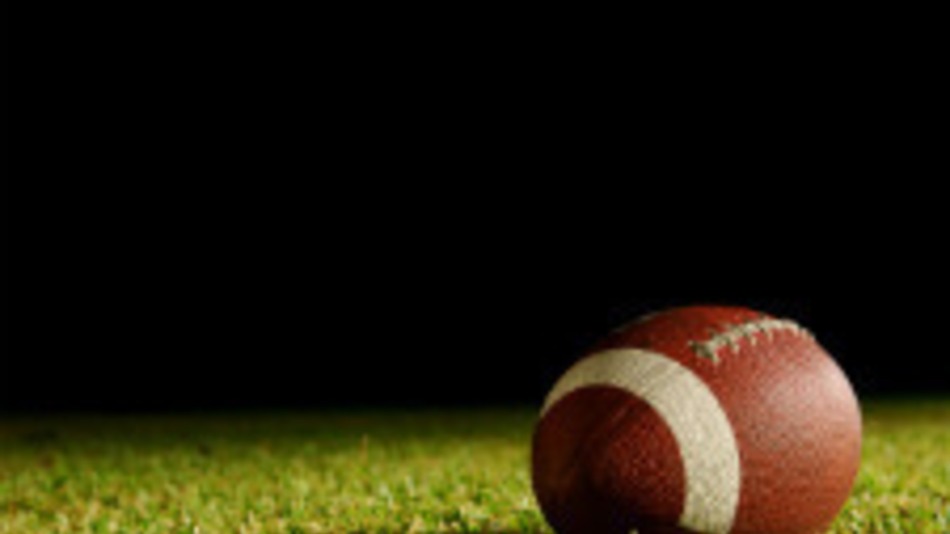 This weekend the NFL preseason began with the Hall of Fame festivities in Canton. Saturday saw Cris Carter, Jonathan Ogden, Dave Robinson, Larry Allen, Bill Parcells, Curley Culp and Warren Sapp enter into the hall. The Dallas Cowboys and Miami Dolphins will play the first preseason game of the 2013 season tonight. This means that we are now less than a month away from the kickoff to the regular season.
I can't wait for this time of the year. It means watching the games and starting up fantasy football leagues. If you are like me you are in at least three to four leagues per year. With all the time and effort spent on building the best team out there you want to see a return on your investment. Here are five ways to help you get an edge in your fantasy league.
1. Podcasts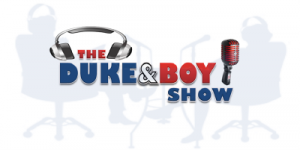 Just like any other topic there are many podcasts on fantasy football. The good thing about these podcasts are that the hosts put in all the time and effort into researching the best players. Make their hard work pay off for you. One podcast that I listen to for solid fantasy football insight that also makes me is laugh is the "Duke and Boy Show."
These guys are funny, but they get you ready week in and week out with great analysis. Plus they have very knowledgeable guests on their show. Writers from CBS Sports, Sports Illustrated, and more. They even have NFL players on the show to breakdown players in the league as well. So the next time you are at the gym or in your car just listen to the "Duke and Boy Show" to help with your fantasy team.
2. Watching Preseason Games
Now there are NFL fans out there that can't stand to watch the preseason games. For the life of me I don't get those people. I love watching any NFL game that is on the TV. Watching these games help you pick out the sleepers for this year's draft. The more games you watch you get to see what players are making a constant contribution to their team. Not only are you noticing those players, but the coaching staff is doing that as well.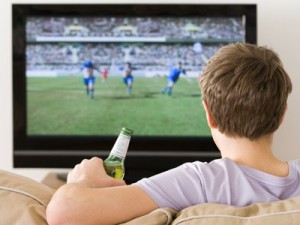 When you are drafting in the late rounds you can pick up another kicker or the running back that looks to steal the spotlight from an aging veteran. I have had a few successes (and fails to be fair) of a drafting a few sleepers by watching games in the preseason.
3. Be the Commissioner of Your League
Now by no means am I suggesting you use your powers as the commissioner to break the fantasy football code of ethics. Fantasy football karma is real and you don't want to abuse your power. Being the commissioner of your league allows you to reach out to those friends and family members you want in the league.
If you don't like the people that win on beginner's luck don't invite a newbie. If one guy keeps on stealing your draft picks each year, don't invite him. You get the picture? Set up the league with friends who make the league competitive, but not the ones that drive you crazy.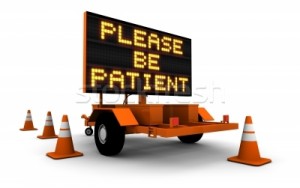 4. Be Patient
You will find each week a guy you either want to drop or pick up. WAIT! Don't make any foolish moves or trades. You drafted that guy for a reason. Give that player at least three weeks to see if they pan out. Some players jump right out of the gate, while others need a few games under their belt. If your bench can handle that latter player keep him there. One he might start scoring points for you or you can use that player as trade bait.
5. Don't Be a Homer
Not talking about Homer Simpson, but "that guy" who drafts everyone from his favorite team. One or two players sure. Let's say if you are a New Orleans Saints fan drafting Drew Brees and Jimmy Graham is definitely the smart move. Taking all the wide outs, tight ends, and running backs from the Saints is a big faux pas. Be a homer by wearing all your favorite team's gear, not by drafting them.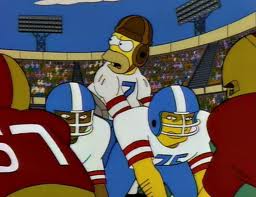 Hopefully these tips can make you the champion in your league. If you do win the championship by using this article I don't mind a few dollars thrown my way. Just sayin!