Posts tagged
3M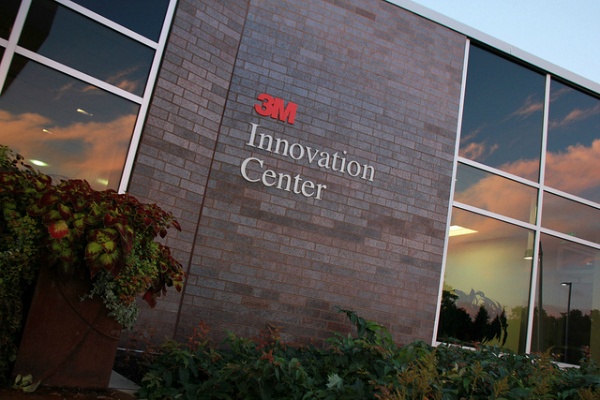 Do you know how many products 3M makes besides Post-It Notes and Scotch Tape? It's crazy, man. I didn't know the scope of their product line until I attended 3M's Auto Boot Camp. I thought 3M just did paper and tape. I really had no idea how diverse 3M's technological research was until 3M flew my out for a tour of their Innovation Center as part of their introduction to Auto Boot Camp. There, I saw all the interesting technologies they were developing from silent velcro to heat-resistant window film based on nanotechnology.
3M Innovation Center
The star of the Innovation Center is a large domed room that showcases 3M innovations past, present and future. It is divided into themed exhibits such as Microreplication and Nanotechnology. This room contained so many interesting, hands-on exhibits. It was like a science center on steroids. I could have spent an entire day in this room with my son totally immersed in all the interesting demonstrations and not get through half of it. Seeing all these innovations makes you curious about a company that invents so many different products across a wide range of markets.
Have you ever wondered how things like Post-Its actually get invented? Who has time to invent something like notepaper that's sticky on the back? Do they get paid to sit at their desk and play with paper and tape all day in the hopes of inventing something we never knew we needed?
15% Time
Well, at 3M Post-its were invented during an employee's 15% time. 15% time means that employees must spend 15% of their work hours working on a personal project. You may have heard Google has a similar policy. Well, 3M had this policy for decades before Google even existed. Technical Director Kurt Beinlich said that he "can't remember any wildly successful 3M product that was ever conceived due to corporate strategic decisions."
Core 3M innovations, including Post-It Notes, Masking Tape and a host of others across many sectors, came about from employees spending 15% of their time working on personal projects under no direct orders from superiors. Some inventions happened because engineers like Dick Drew explicitly ignored his boss when he was told to stop working on an innovation. You have to love a company that encourages independence and ignoring your boss.
3M Auto Boot Camp
Another thing I was unaware of was how long 3M had been supplying components for automobile companies. As a non-car guy my experience is limited to asking a body shop how much before I cringe and decide to keep the little imperfection in my car. Their Automotive Aftermarket division now offers products directly to people like me who have let small little dings go unrepaired rather than taking the car to a body shop. Everyone I know has experienced that sinking feeling when your car gets scratched. The scratch is just too small to justify taking your car to a repair shop so usually we just let that minor damage go unfixed and cry a little inside whenever we see that scratch on our front door. To my surprise 3M's car care products can make anyone, even someone with clumsy hands like myself, capable of fixing all the minor damage your car has collected over time. They also have how-to videos on their website to demonstrate how easy it is to use all their products, even for a non-car guy like myself. Here are some of their products that were most useful to me: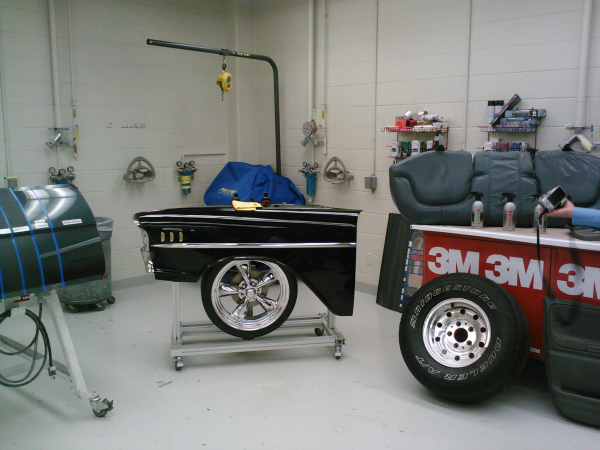 3M Windshield Repair Kit
Have you ever been at the car wash and had some sales person identify a tiny chip in the windshield and offer to fix it for some large fee or you run the risk of some giant spider web crack appearing? Those people annoy me. Yes, I know my windshield has a chip. It's been there for 2 years without ever expanding. Yes, I want it fixed, but I'm not going to overpay you to do it so stop threatening me with a windshield apocalypse that's going to result from a tiny crack. I have one of those tiny chips from driving up and down the I-5 from San Francisco to LA and I would like to find a solution at some point that doesn't involve these pushy windshield people.
Enter 3M's Windshield Repair Kit. This kit makes fixing these little cracks a simple process. It comes with everything you need so you don't have to have an extensive garage to make these repairs. It's based on a gel that you apply using a simple bridge with suction cups that sticks on your windshield. Once the bridge is set you twist the gel tube down until it is over the crack. You then apply a little gel to seal the crack. Make sure the gel gets in all of the little hairline cracks. Let it dry for a few minutes and your car is healed.
3M Scratch Removal Kit
If you park your car in crowded parking lots you understand the pain of returning to your car and seeing a lovely little scratch that some inconsiderate monster has left on your car door. These are just horrible, horrible people that do this. Why can't they take the time to open a door slowly? Unfortunately they exist, and if you are like me and park in crowded parking lots often you might even have a nice series of these scratches on your car door due to these bulls in a china shop. Unlike a battle scar on your body, these don't add "character" to your car. I've had these on my car a while but never wanted to take the car to a body shop just to fix a few minor scratches. I have tried touch-up solutions in the past and have been less than impressed with the results.
3M's Scratch Removal Kits are pretty legit. These kits provide an easy means for anyone, including the mechanically clueless like myself, to quickly and efficiently remove these types of car scratches. The multi-step process only takes about 15-20 minutes and can effectively remove any minor scratches on your car. You start by cleaning the area around the scratch. Then you spray the included abrasive square with water and sand a 4×4 inch area around the scratch. After you ensure the scratch is no longer visible, you use the included purple pad and apply the rubbing compound, and buff the area around the scratch. With this process, it's is easy to remove minor scratches that you probably have on your car just like I do. Here's an extensive how-to video that shows you how it's done:
3M Paint Protection Film
If we really want to save our cars from the Parking Lot Monsters, 3M's Paint Protection Film goes the extra step. Instead of just fixing the problem after the fact, why not prevent it from happening in the first place? The Paint Protection applies a thin, invisible multi-layered film to different areas of your car such as the car doors, the hood, the trunk and front bumper. The protective film won't stop a bullet, but it's great protection from the aggressive car door opener and the bad driver who can't parallel park and bumps your car. Paint Protection Film can stop these people from ruining your day. Also if you tend to place groceries on your hood or trunk, it can protect against something accidentally scratching the surface. This is not a do-it-yourself product though (unless you are experienced in cutting film and applying it to curved surfaces like cars). It's definitely harder than it looks as the demonstration showed so best leave the installation to a professional in this case. Although you can purchase each car area separately if you are only worried about one particular area.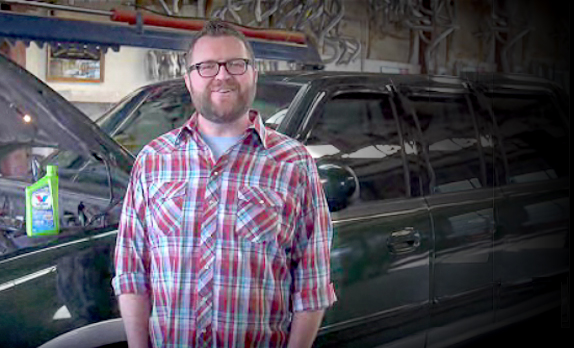 (Editor's Note: The following guest post is from Rutledge Wood, the host of Top Gear U.S. on the History Channel, a NASCAR correspondent on SpeedTV and Valvoline spokesperson.)
Everyone knows car maintenance is important, but if you're not a gear head – someone who loves working on vehicles – the idea of doing routine car maintenance can be very intimidating.
Whether on the set of Top Gear, at NASCAR races or just in my garage at home, I'm fortunate enough to be around cars a lot. I love driving them, repairing them and tinkering with them. However, for a lot of people, cars can be a confusing and even intimidating piece of machinery to work on.
To help people feel more comfortable in maintaining their vehicles, here are some simple tips that can make anyone feel like a gear head.
Change your oil
While many don't find the prospect of being under a car messing with greasy filters their idea of a fun Sunday afternoon, changing a car's oil isn't as daunting a task as it seems.   Here are a few easy tips:
1. Make sure your engine is cool before you start, then safely jack up your car and support it with jack stands. Lay a piece of cardboard under the engine, just in case you spill any oil.
2. Position a recycling container under the oil pan that's on the bottom of your engine, then undo the drain plug and let the old oil pour into it. When the old oil's out, put the drain plug back on and tighten it to your car's torque specification.
3. Next, remove your old oil filter using an oil filter wrench; turn the filter counterclockwise until it's free, but watch out you don't spill the old oil that's still in it. Make sure the rubber gasket comes out with the old filter.
4. Then, taking your new oil filter, lubricate the rubber gasket with some new oil and fill the new oil filter with oil to about two-thirds full.
5. Carefully screw the new oil filter clockwise into place (holding it upright); tighten only as much as you can with one hand, don't overdo it or else it can cause a leak.
6. Now it's time to fill the engine with oil, so unscrew the oil fill cap on the topside of the engine and insert your funnel. It's smart to check your owner's manual to find out how much oil your engine holds if you're unsure, then pour a little more than three-fourths that amount into the engine.
7. Finally, start your vehicle and let it run for about a minute. During that minute, take a peek underneath to make sure you don't have any leaks. After a minute, turn off you vehicle and check the oil level on the dipstick, adding more if necessary.
I use and recommend Valvoline NextGen Oil. It works great and since it's made with 50 percent recycled oil, it's good for the environment as well. To sweeten the deal, they've even come out with a 'Close the Loop' program where they'll give you a $20 mail-in offer  if you return your used oil at participating auto parts stores and buy five quarts of NextGen for your next oil change.
Clean up cloudy headlights
It may seem obvious that your headlights are one of the most critical safety features on your car, but what's not always top of mind is how quickly they can become yellowed, hazed or dull from rough road conditions and exposure to the sun. This can lead to severely diminished visibility for yourself and other drivers, especially when driving at night or in poor weather.
Replacing or professionally restoring headlight lenses can cost hundreds of dollars. Options like the 3M Headlight Restoration Kit – No Tools Required allow you to use basic DIY skills and a little elbow grease to sand, smooth, and polish your way to clearer lenses from the comfort of your own garage.  This easy-to-use kit includes a series of hand-held abrasives and rubbing compound that's used to remove yellowing and surface blemishes, and then refine and polish the lenses to reduce and remove scratches.
Check your tires
Worn treads are a major safety issue while on the road, leading to hydroplaning, poor traction as well as reduced fuel efficiency. Luckily, checking your tread wear is simple. Look at the tread pattern. You'll probably see something called "tread wear bars." These are small bridges between your treads. Look at the tread pattern and you'll see the beginnings of these bars start to form between the treads, or running across the tires. As the tires wear, these bars will become flush with the tire's tread. If they are, then it's time to change your tires.
Another simple trick is to head for the change jar. Just grab a penny and place it upside down with Lincoln facing you in the center of the tread (at the thickest part of the tire). If you can see the top of his head it's time to get new tires.
By following these tips, you might not quite be ready to join a NASCAR pit crew just yet, but you'll be well on your way to becoming a true gear-head.