Propel Your Star Wars Love With These Drones

When Force Friday II happened last month a lot of my fellow geeks were feeling the same way I was, which was pure joy. One of the reason was because Propel had their Star Wars drones for sale. These are not your average drones. These are legit drones. From the packaging to the design to the presentation to the actual flying of these drones you will feel one with the Force as you steer each drone.
Propel did a fantastic job with these drones. The detail is incredible. Once you open up the box you will hear music or audio from the movies and the box lights up to display each drone. There is some assembly required, but it is not that extensive. You are able to fly your drones in a matter of minutes.
Some of the features are that the drones can go faster than 35 MPH. you can battle with other drones and people if they have the other Star Wars drones. There are push button aerial stunts and multiple speed settings which helps if you are a beginner pilot with drones. For you collectors you will be happy to know that each drop is hand painted and numbered, You get a 2.4 GHZ controller. There is a charge time for about a half an hour and a run time of 8 minutes. Here are the three drone types.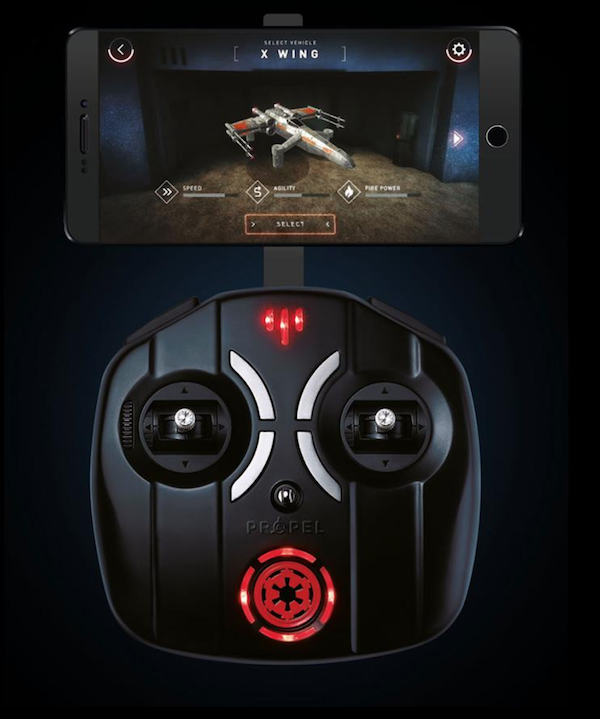 T-65 X-WING STARFIGHTER
The X-wing played a major role in the Galactic Civil War following its capture on Fresia and the defection of its designers to the Alliance. It was heralded as the fighter that, in the hands of Luke Skywalker, destroyed the Death Star.
Later in the war it formed the backbone of the Alliance Starfighter Corps, defending Alliance ships and leading attacks on Imperial vessels and installations. Most importantly, when handled by an experienced pilot, it could perform on near equal terms with the Empire's high-performance TIE fighters.
74-Z SPEEDER BIKE
Speeder bikes, also known as jumpspeeders, were open-air repulsor lift vehicles that maximised speed and maneuverability over stability.
The model that saw service during the Clone Wars was the 74-Z speeder bike. These bikes were usually piloted by scout troopers and were able to jam comlinks. They were considered by some to be "death traps", but the speeder bikes were equipped with a head up display (HUD) showing information about the terrain ahead from sensors.
TIE ADVANCED X1
Darth Vader's fighter boasted greater speed and heavier firepower than standard Imperial TIE Fighters. It featured fixed-mounted twin blaster cannons and a cluster missile launcher.
High-performance solar cells were fitted into the fighter's curved wings.­­ Vader specified a custom cockpit to accommodate his armored suit.
For more info and to purchase the drones go to propelrc.com/pages/star-wars.
Related Posts
Comments are closed.