All Up In The Mix Like Star Lord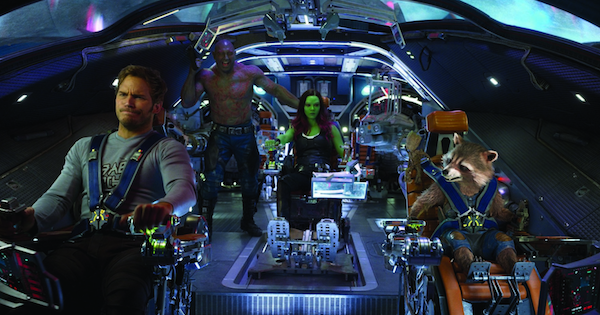 Music is an essential part of life. It can make you happy, sad, and even give you a jolt of energy when you are trying to beat your fastest mile. If you have seen either of Marvel's Guardians of the Galaxy films you know the main character, Peter Quill aka Star Lord has a passion for music.
In the first film his mother made him a mix tape that he cherishes. Those songs mean something to him. Those songs are part of his identity. I think we can all relate to Peter. For me music was introduced to me first by my parents. My dad and mom introduced to me artists like The Beatles and Michael Jackson.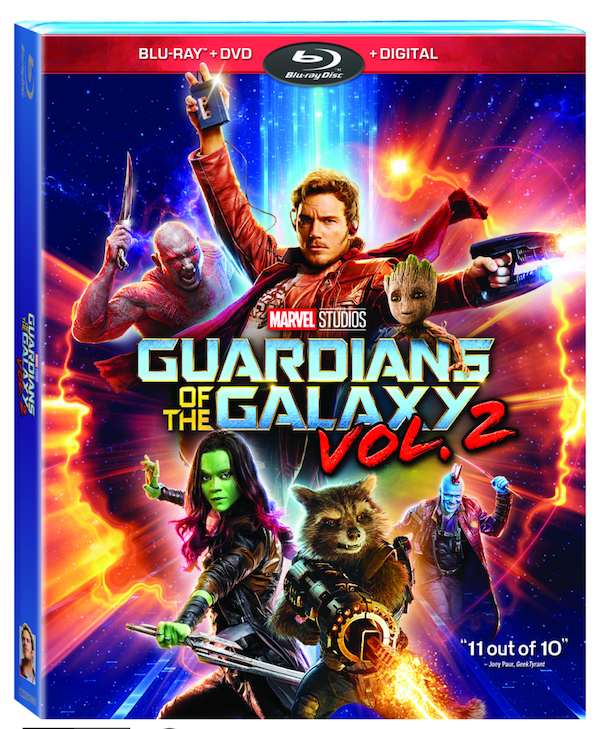 As I got older I started finding my own music. In high school artists like 2 Pac, Outkast, Young M.C. were part of my soundtrack at that time. As I got older more and more artists and songs got put into my soundtrack.
What is your soundtrack? What songs mean the most to you? Tell me your playlist and you could win a very cool Guardians of the Galaxy Vol. 2 Prize Pack from Marvel Studios.
You can win the Blu-ray of Guardians of the Galaxy 2 Vol 2 that is out now on Digital HD and will be released on Blu-ray on Aug. 22nd. Plus you can win a Groot Plush, Rocket Funko Pop, Soundtrack CD, Sound Machine, and a Puzzle. Just share your playlist with us and you will be entered to win the Guardians of the Galaxy Vol. 2 Prize Pack.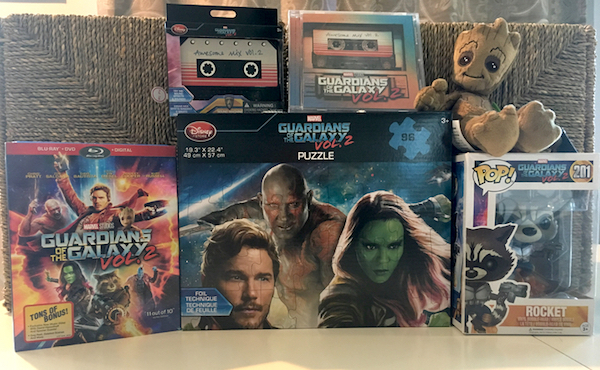 Two months after defeating the fanatical Kree terrorist Ronan, the Guardians of the Galaxy continue to soar the spaceways, fighting for justice, and trying to get along with one another. The team's leader, Peter Quill, takes them on a new mission. Their journey leads them to a powerful cosmic being named Ego, and his charge, the empathic Mantis. But they also find a new threat to the galaxy, and Quill, Gamora, Drax, Rocket, and baby Groot must do all they can to save the lives of billions.
Set to the all-new sonic backdrop of Awesome Mixtape #2, the film's storyline continues the team's adventures as they traverse the outer reaches of the cosmos. The Guardians Chris Pratt as Peter Quill/Star-Lord, Zoe Saldana as Gamora, Dave Bautista as Drax, Vin Diesel as the voice of Groot, and Bradley Cooper as Rocket must fight to keep their newfound family together as they unravel the mystery of Peter Quill's true parentage.
Here is my playlist below. Share yours to win the prize pack. Good luck!
Old School – 2 Pac
Smooth Criminal – Michael Jackson
Know How – Young MC
Blackbird – The Beatles
Crossroads – Bone Thugs N Harmony
ATLiens – Outkast
The Message – Nas
Free Falling (Cover) – John Mayer
Gone Going – Black Eyed Peas ft. Jack Johnson
Juicy – Notorious B.I.G.
Related Posts
Comments are closed.