You Are Not Gonna Want To Sleep On The Latest From Goose Island Beer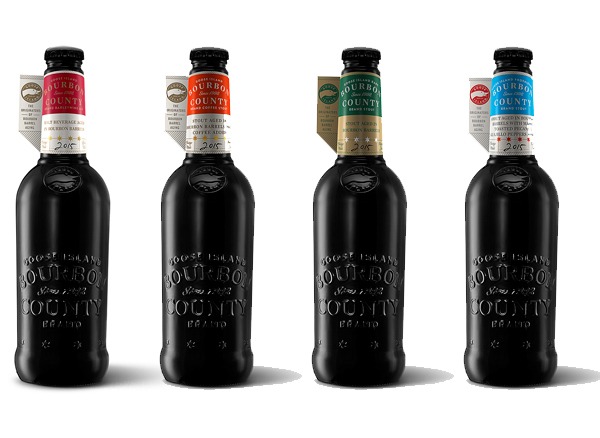 The good folks over Goose Island Beer Company, who are the pioneers of bourbon barrel aged beer are lettings us now what is in store for the end of 2015. There are six variants with a new bottle design of the award-winning Bourbon County Brand Stout that will once again hit shelves of select retailers on Black Friday, on a limited basis.
The 2015 Variants are:
Bourbon County Brand Stout: The Original. Its nose is an intense mix of charred oak, chocolate, vanilla, caramel and smoke. One sip has more flavor than an average case of beer. Available nationwide.
Bourbon County Brand Coffee Stout: Everyday Goose Island smells Intelligentsia's coffee roasting next to the brewery. This world class roaster puts the same craftsmanship into their coffee as Goose Island does with its beer. Each year this excellent coffee stout is made with a different bean variety, chosen in collaboration with our brewers and Intelligentsia's experts. With the change in coffee comes a change in the flavor profile, making each release truly unique from the previous years. The 2015 incarnation features Intelligentsia Los Delirios coffee from Nicaragua. Available nationwide in limited quantities.
Bourbon County Brand Barleywine: Aged in the third-use barrels that were once home to Kentucky bourbon and then the renowned Bourbon County Stout, this traditional English-style barleywine possess the subtlety of flavor that only comes from a barrel that's gone through many seasons of ritual care. The intricacies of the previous barrel denizens – oak, charcoal, hints of tobacco and vanilla, and that signature bourbon heat – are all present in this beer. Hearty and complex, Bourbon County Brand Barleywine is a titan and a timeline; a bold, flavorful journey through the craft of barrel aging. Available nationwide in limited quantities.
Bourbon County Brand Regal Rye Stout: Stout aged in rye whiskey barrels with blackberries, Luxardo candied cherries, fresh sour cherries and sea salt. Developed by the team of Goose Island brewers, this year's recipe was especially collaborative. The brewers submitted recipes, held a roundtable discussion dissecting each and in the end landed on Bourbon County Brand Regal Rye Stout. Available nationwide in limited quantities.
Proprietor's Bourbon County Brand Stout: The third annual release of Proprietor's is aged in bourbon barrels and features maple, toasted pecans and guajillo peppers and is the brain child of female brewery, Di Rodriguez. This variant is meant to show Goose Island's immense gratitude to their neighbors in Chicago – the loyal and adventurous fans whose support helped bring Bourbon County Brand Stout to towering new heights. Each year this release will differ from the previous year; a special variant created for Chicago and unique to the year it was released. Available only in Chicago.
Goose Island Rare Bourbon County Brand Stout: Back in 1979 the folks at Heaven Hill Distilleries filled a handful of new freshly charred American white oak barrels with some of their finest whiskey. It is rare for Bourbon to age in barrels for more than twenty-three years. But these barrels patiently sat for over thirty years. The extra years developed a distinct and complex character that makes them truly one-of-a kind. We filled those barrels with Bourbon County Brand Stout, and then stored them away in our Chicago Barrel House to age for two more years. With these rare barrels from our friends at Heaven Hill we believe this is one of the finest beers we have ever produced. This is Goose Island Rare Bourbon County Brand Stout for 2015.
In 1992, Goose Island pioneered bourbon barrel aged beer, paving the way for an entirely new category in the beer industry. This year, in addition to debuting six variants, including Rare, Goose Island's in-house production team will release a short video series on the iconic beer brand called 'Grit & Grain'.
The nine part Grit & Grain video series follows the full story of our iconic and highly coveted Bourbon County Brand Stout. From the loggers that down the trees used to make bourbon barrel staves, to the distillers themselves, the series will reveal a unique cast of characters and locations while informing viewers on what it really takes to make Bourbon County Brand Stout ready by Black Friday.
Related Posts
| | | |
| --- | --- | --- |
| | Print article | This entry was posted by Art Eddy III on July 31, 2015 at 10:35 am, and is filed under Lifestyle. Follow any responses to this post through RSS 2.0. Both comments and pings are currently closed. |
Comments are closed.