CALL OF DUTY: Black Ops 3 Shadows of Evil Looks To Be Fantastic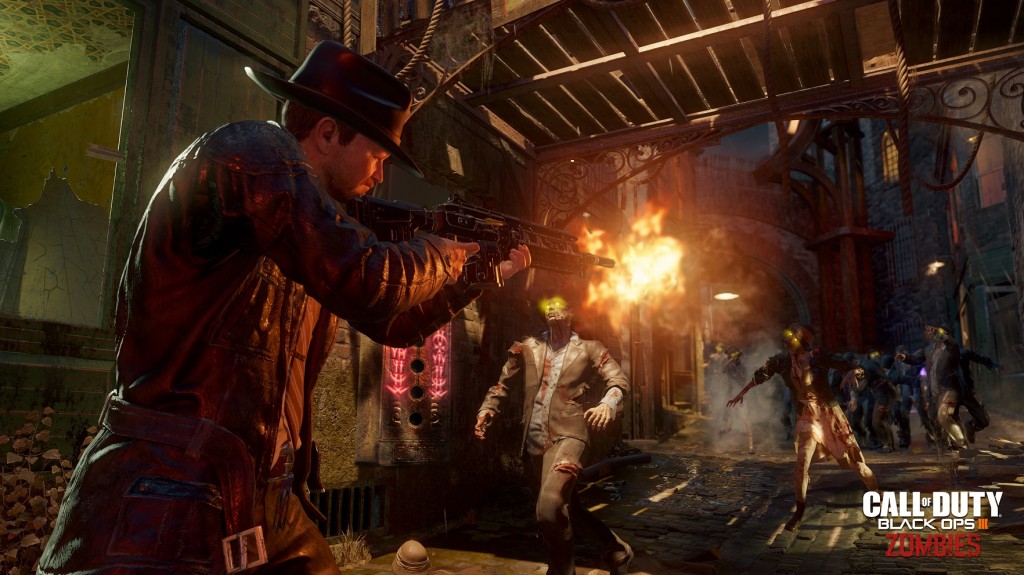 The next installment of Call of Duty looks to be epic. Treyarch, the creators of Call of Duty Zombies is back with, Shadows of Evil, the all-new undead survival co-op mode launching on November 6 with Call of Duty: Black Ops III. Shadows of Evil made its world-wide debut at San Diego Comic-Con. Players are introduced to an all-star cast of characters, including Jeff Goldblum, Heather Graham, Neal McDonough, Ron Perlman and Robert Picardo.
"Treyarch has crafted a totally unique and face-melting gameplay experience for our loyal Zombies community, with Call of Duty: Black Ops III: Zombies – Shadows of Evil" said Mark Lamia, Studio Head, Treyarch. "The development team has packed Shadows of Evil with more gameplay and fun than any other experience before it, and has an appropriately twisted and deep narrative, performed by fantastic acting talent, that will keep our fans spinning."
Call of Duty: Black Ops III: Zombies – Shadows of Evil drops players into a recognizable yet terrifyingly unfamiliar world, as they uncover the secrets and challenges laid out for them by a shadowy figure, who holds their fate in his hands.  Set in a 1940's film-noir era, Shadows of Evil introduces four unwitting characters – The Magician, The Femme-Fatale, The Cop and The Boxer – into an unraveling experience masterminded by the mysterious Shadow Man. Featuring voices and likenesses, the characters are played by Jeff Goldblum (Jurassic Park, Independence Day), Heather Graham (The Hangover 1-3, Californication), Neil McDonough (Captain America: The First Avenger, Band of Brothers), Ron Perlman (Sons of Anarchy, Hellboy) and Robert Picardo (Star Trek: Voyager, Stargate SG-1).
Activision Blizzard launched an exciting campaign with charity fundraising platform Omaze, which gives Call of Duty fans a chance to become a zombie in Call of Duty: Black Ops III.  This effort will raise money for the Call of Duty Endowment, a non-profit organization founded by Activision Blizzard CEO Bobby Kotick, which funds best-in-class nonprofits helping veterans find good jobs after their service.
Activision Blizzard is also matching each donation dollar for dollar up to $1,000,000.  Starting today, and running through August 31, 2015, fans can enter by donating $10 or more to the Call of Duty Endowment via Omaze for a chance to be zombified at Treyarch and appear in Call of Duty: Black Ops III DLC.  The winner will also have their name immortalized in a Zombies mode level, have lunch with Treyarch Studio Head Mark Lamia, and receive a behind-the-scenes tour of the studio behind the game.  For more information, fans can visit omaze.com/callofduty.
Related Posts
Comments are closed.