Cal Ripken Jr. Tells Us How He Never Misses a Game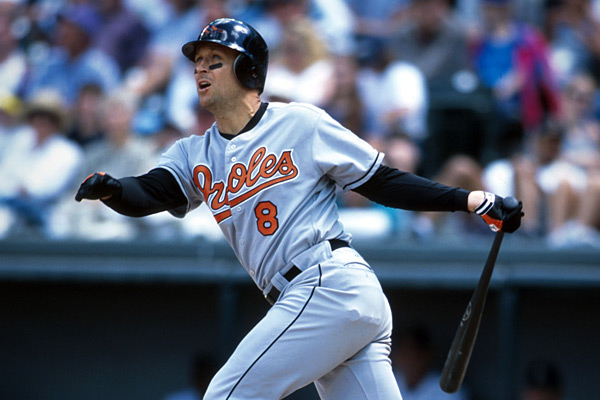 There are those athletes who talk the talk and then there are those athletes who use their actions to do all the talking. One of the best players to step on the diamond has to be Cal Ripken Jr. The Hall of Famer who played 21 season all with the Baltimore Orioles is a two time Gold Glove winner, a 19 time All-Star, and won the American League MVP award twice.
Oh, there is the other small thing where he passed Lou Gehrig's 56-year-old record for consecutive games played. That is when he got the nickname of "Iron Man" for never missing a game. The first ballot Hall of Fame inductee in 2007 has even won the Home Run Derby in 1991.
Now since retiring from the game Cal is still showing his love for baseball as he is teaming up with Kellogg's for their "Never Miss a Game" promotion. Kellogg's and Cal are encouraging fans to love every moment this baseball season, and share the lengths they've gone to never miss a game. Tweet them at @Kelloggs_US ,@Ricekrispies or @Cheezit using the hashtag #nevermissagame. You can win some great prizes by sharing your story.
I had the honor to chat with Cal about this campaign, baseball, and who he enjoys watching now play in the big leagues. I even shared my story with Cal about how I never missed a game.
Art Eddy: First off let's talk about the great campaign you are working with Kellogg's called "Never Miss a Game." Tell me about what you are doing with Kellogg's and how fans can participate?
Cal Ripken Jr.: The "Never Miss a Game" campaign is really a celebration of baseball fans who go to great lengths to never miss a game. I guess I was a somewhat obvious choice because I never missed a game in 17 years. (Both laugh.)
We encourage you to share your stories with some of the great lengths that you go through. Whether you put a flat screen up in your wedding reception or anything like that. I can relate to this because when I really wanted to watch a game I had to go to a dinner at the White House. It was the championship game of the National League. I befriended a secret service agent and he kept giving me updates as I sat at the President's table. (Both laugh.)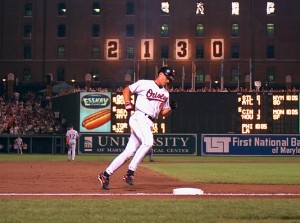 Maybe I will submit that story. We are encouraging all the baseball fans out there to use the hashtag "Never Miss a Game" and submit your story. You could win a bunch of prizes like MLB game tickets, flat screen TVs, and the grand prize still has not been divulged yet. I guarantee that it is something that every baseball fan would desire.
AE: Sounds like an awesome promotion. I can relate as well. My wife and I got married in 2004. I am a Red Sox fan. I remember Game 3 of the ALCS was supposed to be played on our wedding day. It was postponed. I remember watching the greatest comeback in all of Red Sox history in Spanish while I was on my honeymoon.
CR: You should submit that story. That was a good one!
AE: I think I just might. Thanks Cal. You played your whole career with the Baltimore Orioles. For you was that something that was important to you in an era of free agency?
CR: Yeah. Ultimately I was a hometown kid. I rooted for the Orioles when I was a kid wanting to be a baseball player like every other kid. I wanted to play for the Orioles and my dream came true. Against all odds I made it to the big leagues and played my whole career there.
When we went through rebuilding phases, especially when they fired my dad, I thought about playing elsewhere. In the end I wanted to stay in my hometown and my home community. There were many other factors that went into it. I thought I was young enough to go through the rebuilding parts of the team in my career. I think most players would like the stability that I had playing in my hometown and playing in front of my own fans.
AE: You have accomplished such a long list of milestones during your amazing career. I have to say though watching you pass Lou Gehrig's 56-year-old record for consecutive games played was a priceless. Where does that record rank when you look back on your career?
CR: It is part of who I was as a player. It is my identity. Some people ask me if I feel it overshadows other accomplishments I made in my career. To me who you are is how you are going to be remembered. It was important every day. If you are an everyday player you are always in the lineup.
I understood that responsibility. I learned that from Eddie Murray. He was a player that was in the middle lineup and encouraged me to play. I was lucky enough to play through some injuries and be able to contribute. I didn't set out to do it, but it was just something that happened. I am very proud of the fact that I was able to be there for my team every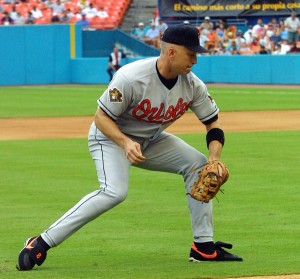 single day. That was really the motivation for coming out.
AE: When you got the call about being inducted into the Baseball Hall of Fame what was your initial reaction?
CR: It is one of those things that when your career is said and done you have a chance to be elected to the Hall of Fame that only a few players are selected for. I wouldn't say it is your goal to make the Hall of Fame when you play. It sure is nice to be recognized.
I think all of us want to leave a mark on a game and leave it better since you played it then it was before. I had a chance to make a mark. I had a chance to play and be a kid all that time. To be elected to the Hall of Fame is really special. To look around and see all the game's great players and for you to be considered one them is quite an honor.
AE: For you what was the best part of playing baseball day in and day out?
CR: Again I reduced it to where you are playing a kid's game. You shouldn't forget that you are getting paid really well. It is hard. You are under scrutiny. There is a lot of pressure. At the end of the day you are playing for a living. You are not working. (Both laugh.)
So I think the best part of it is that I had the joy for the game every time I put on that uniform. I had a smile on my face every time I did that. I think that is the best joy. You get a chance to be a kid and you don't have to grow up until you are done playing.
AE: Which player or team do you love to watch the most now?
CR: I am curious about the whole league. The Orioles are a team that I pay close attention to. Manny Machado is a player that I like to watch. I am curious to see him at shortstop, but I also love J.J. Hardy. I wouldn't move J.J. Hardy.
I like to watch Mike Trout. I like to watch Bryce Harper down the street. They are young players that have really come on. They are super, super talents that have made an impact early on in their careers. It is going to be fun to watch them develop.
Related Posts
| | | |
| --- | --- | --- |
| | Print article | This entry was posted by Art Eddy III on April 7, 2014 at 6:48 am, and is filed under Sports. Follow any responses to this post through RSS 2.0. Both comments and pings are currently closed. |
Comments are closed.