Warren Leight and Jonathan Silverman Talk Law & Order: Special Victims Unit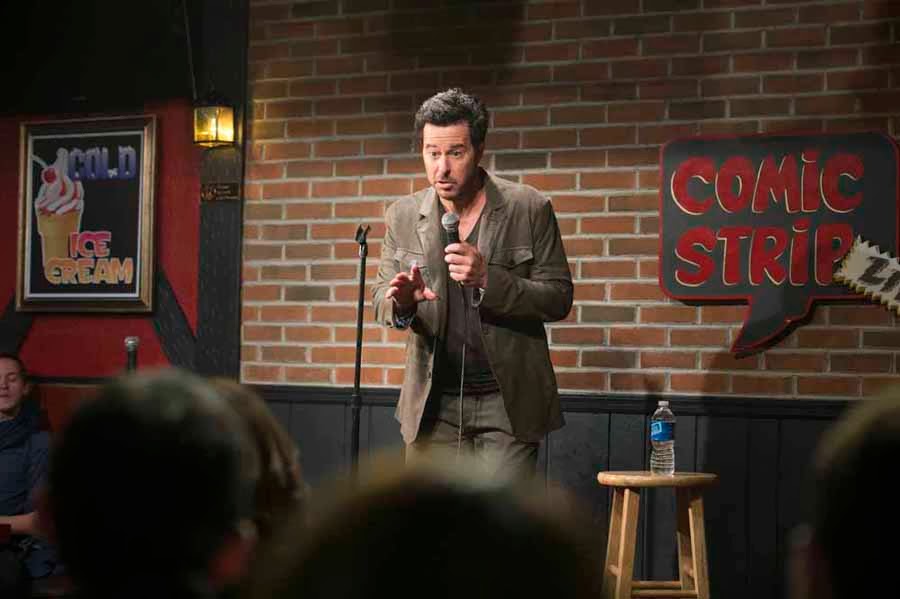 Yesterday there was a conference call with Executive Producer and Show-runner for Law & Order: Special Victims Unit, Warren Leight. SVU guest star Jonathan Silverman who will be in this Wednesday's episode called "Comic Perversion" also joined the conversation.
Here is some of Leight's and Silverman's answers during the Q&A session over the phone.
Warren was asked about Benson's attack by Lewis this season and her eagerness to arrest men. The question of Benson's judgment seems at stake. Would her decline continue throughout this season or can we expect her to gain some stability?
Warren Leight:  Okay, well this is Warren. I guess I'm responsible for her decline so I'll take that. I think that, you know, she's suffering from PTSD and I think she's working through it. I think in the next few episodes we see her comfortably in command of her squad. Although in this current episode Comic Perversion, I think you see some of her – I think you see some anger still leaching through. But I feel like unless Lewis returns maybe the worst is over for her. That's a big unless.
Jonathan Silverman was asked if actors like to play characters who are vulnerable. Silverman responded by saying the following.
Jonathan Silverman: That's a great question. First of all, Warren Leight is a god in my eyes and he knows I would do anything to work with him again. I was lucky enough to be in the – at least the West Coast Premiere of his wonderful play, Glimmer, Glimmer & Shine at the Mark Taper Forum probably. When was that Warren, 12 years ago?
Warren Leight: 1904 I think something like that.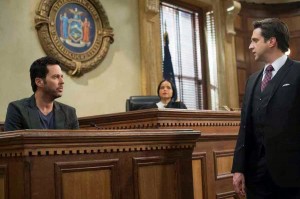 Jonathan Silverman:  Yes, 1904. It was done in black and white even live on stage. Honestly he knows. I would do anything to work with him. So when he presented me with this script I was blown away by how powerful it was and a little scared about just the workload involved. And then of course my next reaction was, "Oh, can I do this?" You know it's obviously a subject matter that is very delicate and to me, to my wife, to some of our dear friends.
And I was somewhat hesitant and even, you know, I had to discuss it with my reps, with my manager, with my agents. And we ultimately decided, you know, this is what I do for a living. And you don't always get to play reputable characters. Sometimes you get your hands a little dirty literally and play the bad guy.
And I'm so glad I did. Obviously I hope people don't respond to my character's inclinations on and off stage. But it was a wonderful opportunity to portray and to get this message out so I'm thrilled I did it.
Warren Leight:  I will say it was very brave with Jonathan. I will tell you now, there's probably not a standup comic in the country who would have dared to do the part because and I am very comfortable with Jonathan because we had done this play together. And I knew he could land every beat of this thing.
And, you know, it has worked out well for Pablo Schreiber playing one of our villains. And I think it will – it should work out well for Jonathan. But it is interesting to me how many people tell me how much they want to be on SVU but they don't want to play a pedophile or a bad guy.
And really that's what we have for, you know, to offer. Our good guys are already on the squad. And I'm very glad that Jonathan stepped up. And he, you know, he's – like Pablo, he didn't flinch for a moment. You know you have to drive into the skate of these characters and man did he drive into this good.
Warren was asked about Twitter and social media. Does social media tend to affect the way the show is produced?
Warren Leight: I like it. I like Twitter. You know I don't have – it's great because you can just – if you have two minutes of downtime you can go on, see what's going on. Drop a couple of bombs and get out. And I like doing that.
And it's – I feel it does get a dialogue going with the fans. And of course with the haters which is also fun. But it gets – it's a way – we're 15 years in so it's not – we have to figure out ways to reach our fans directly. We're not going to – there's not going to be a ton of promo for us or a ton of ads for us.
What I like about Twitter is we get to speak directly to the fans and kind of – it's also good when there's about 30 rumors a week that go out and trying to shut those down as fast as I can. So I enjoy it. Most of the time I enjoy it a lot and we have the entire writing staff now tweeting. We have an SVU writers of account, the entire cast tweets. And it's also a way of just since none of us actually talk to each other in real life, it's a way of finding out what each other's doing all the time.
Jonathan Silverman: I'm amazed by it. And my wife is on Twitter. And actually she just got me on Instagram so I'm going to start playing around with that. I'm just always a couple of years late to the party on all this stuff. So I'll join soon. I promise.
Warren was then asked if we expect to see for the end of this season, can we expect to see any more guest stars?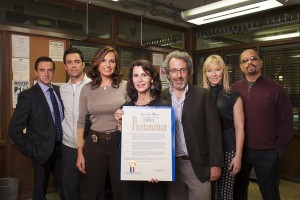 Warren Leight:  Well I think word is out that we have Alec Baldwin will be coming up. I think everyone – he's shooting today in a story. I hope the paparazzi are leaving him alone. And he's shooting in an episode directed by Mariska that will air March 19th. We also have Donal Logue and Sherri Saum airing the week before that.
So we the guest stars will keep coming. It depends on how much money's left in our budget. But I think that they're going to keep coming.
Next Jonathan was asked about what it was like to go from comedic films that people knew him from to kind of doing a more serious show like Law and Order SVU.
Jonathan Silverman: I relish doing anything that's a bit out of, you know, the norm and out of my wheelhouse. I supposed there's a certain comfort level for me in doing comedy. But I've certainly done my share of dramas and anytime I get a chance to play a somewhat nefarious bad guy I leap at it. What was interesting about this is probably around 70% of what I do in this episode is up on stage being a comic.
Lastly Warren was asked if there was going be some big surprises this season. Is the squad going to get a new captain anytime soon and if so can you give us a hint who will play him or her?
Warren Leight:  We're not sure where we're going with that. I have liked Olivia in charge a lot. But there is in certain – there are certain circumstances that could cause her to not be allowed to be in charge of the squad room.
And if – I'm being as – I think now I'm being kind of vague here. But there's certain cases she would not be allowed to handle for her own safety. And if one of those comes up she may be in – she may get boot. She's – as we speak Mariska has been redecorating the captain's office by the way. She's directing our episode now.
And she's been moving in. She moved a plant in. She moved some survivor handbooks and things like that in. So she's making that office a home. But I think technically she's only a sergeant and she's acting commander of the squad. So eventually NYPD may – and we play a lot about – of late we've been writing a lot about the politics of NYPD. Usually when something's going well NYPD likes to muck it up bureaucratically.
And so I think the better the job she does as acting commander of the squad, the more likely it is the Peter Principle will apply and they'll bring somebody else in. It's – I've been loving watching her in command. She's – it's – she's 15 years in. She knows what she's doing, you know.
Make sure to check in to Law & Order: SVU this Wednesday on NBC at 9/8c
Related Posts
Comments are closed.