Are You That Car Guy?
We've all heard the phrase "don't be that guy…" It's tossed out to prevent an undesirable action in a number of situations and most cases we support the rule of thumb. For example, we support not being the guy who double dips at party.  We also support not being the guy who posts every single meal to Instagram because you're a self-proclaimed "foodie." That said, we believe in certain cases that rule doesn't always apply. Particularly when it comes to awesome car features. Our friends at Cars.com put together a list of the greatest "show-off" features in new cars and if you're looking to be that car guy, take a look and head over to Cars.com to learn more. We salute you!
1. 2014 Mercedes-Benz SL-Class Magic Sky Control Roof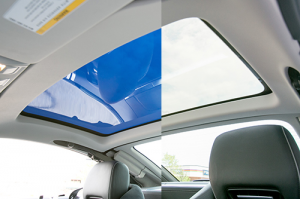 Mercedes doesn't include the word "magic" in its features frivolously. We can't say the same for Honda's Magic Seat, which just folds differently. What happens inside of the SL- and SLK-Class roadsters is indeed some form of sorcery. An electrically charged film on the sunroof transforms the glass from transparent to opaque with the push of a button and is guaranteed to get a "Whoa" from passengers.
2. 2014 Audi A8 Retractable Bang & Olufsen Tweeters
Fire up the audio system in a Bang & Olufsen-equipped Audi A8 and you're in for a surprise as two tweeter towers automatically extend out of the dashboard. Is it awesome? Yes. Will it break? Probably. But when it does work, all eyes in the car will be on those precisely aligned speakers as they rise from the dashboard.
3. Self-Parking Systems
The art of showing off often starts from the very first time you ride a bicycle hands free, shouting "Look, Ma, no hands." When equipped with a self-parking system like on the 2015 Lincoln MKC, drivers can utter the same phrase. The car identifies a parking space and automatically steers into place while the driver modulates the brake and accelerator pedal. Even your mom would be impressed.
4. Multimode Exhaust Systems
Nothing makes your presence known like a gloriously loud exhaust system on a bright red sports car. Automakers like Chevrolet and Porsche have embraced the experience with tame exhaust systems that transform into head-turning loud on demand. The 2015 Chevrolet Corvette's electronically controlled valve in the optional Performance Exhaust System opens a lower-resistance path in the mufflers, meaning loud. The Porsche 911's optional sports exhaust is one of the most boisterous out there and can set off car alarms in parking garages with a rev of the engine.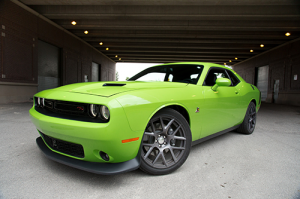 5. 2015 Dodge Challenger Sublime Green Paint
It's not a feature, but the Sublime Pearl Coat green paint on the 2015 Dodge Challenger is one of the most eye-grabbing colors laid onto any new car shell. The retina-burning green is like a bug zapper for gearheads. Be prepared to cite horsepower, torque and quarter-mile times to multiple onlookers, daily, while sitting at a stoplight, loading groceries or refueling.
6. 2015 Chevrolet Corvette Performance Data Recorder
Chances are an exhaust system or other feature on this list will only garner the attention of a few people at a time. With Chevrolet's Performance Data Recorder, you can show off your shiny new Corvette's track day or coastal cruise to the entire internet with an onboard high-definition video camera and telemetry-recording capabilities. Telemetry like vehicle speed, engine speed, gear speed, braking force and more can be overlaid on the video, recorded and then transferred to a computer for editing and sharing.
7. 2014 Mercedes-Benz S-Class Hot-Stone Massaging Seats
No one will be able to see it but you're bound to turn a few heads when talking about the spa inside the Mercedes-Benz S-Class. The available "hot stone" massaging seats use up to 14 individual heated air cushions in the seatback of the front and rear seats, mimicking a hot stone massage at the spa. Complete the spalike experience with a selectable cabin fragrance.
8. Launch Control (Various Models)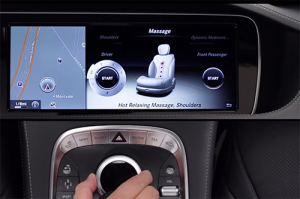 Launch control goes by many names, but it really should be called "Hold on to your butt" mode, because that's what you say to warn passengers. Launch control is an exhilarating experience for both the driver and passenger in a supercar like the all-wheel-drive 545-horsepower 2015 Nissan GT-R with its neck-snapping start from 4,000 rpm that pins you to the back of your seat.
9. Chrysler SRT Performance Pages
Chrysler's high-performance SRT models include a suite of digital acceleration timers to promote shenanigan show-off behavior — at the track, of course. Called Uconnect Performance Pages, these electronic displays have timers for zero-to-60 mph, elapsed timers for eighth- and-quarter-mile times and cornering g-force loads. In addition to simply displaying the times, the best time is saved as a reminder of the number you have to beat.
10. 2015 Jeep Wrangler Removable Doors, Roof
Not all show-off features have to break new ground. You can show the town you're a fun person and like to have a good time by driving a new Jeep Wrangler with doors and roof removed just like in the classics. It's a guaranteed way to have a good day and attract a few eyeballs.
Related Posts
| | | |
| --- | --- | --- |
| | Print article | This entry was posted by Art Eddy III on October 14, 2014 at 6:27 pm, and is filed under Cars. Follow any responses to this post through RSS 2.0. Both comments and pings are currently closed. |
Comments are closed.